This edition of Today in Books is sponsored by How Long 'Til Black Future Month – the "Dazzling" (NYT) first collection of short stories from three-time Hugo Award winner N. K. Jemisin.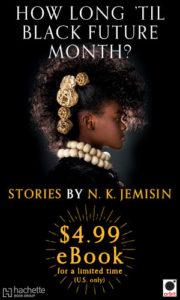 ---
Woman Finds $4,000 In Book!
Cathy McAllister, a book sale volunteer, found $4,000 inside a hollowed out copy of The Rise and Fall of the Roman Empire. The book had the owner's address label inside and McAllister returned the money–in case you were wondering if honest people still exist.
Jill Abramson Responds To Accusation Of Plagiarism
"The notes don't match up with the right pages in a few cases, and this was unintentional and will be promptly corrected," Abramson wrote to the AP. "The language is too close in some cases and should have been cited as quotations in the text. This, too, will be fixed." For more on how the story has been unfolding, information on Merchants of Truth, and statements all around, click here.
Bookstore Designed Entirely For People With Special Needs
In April Words Bookstore will open a second location in Livingston, N.J. that has been designed for people with special needs and will feature things like wider aisles and lights adjusted for sensitivity. For more info on this awesome store click here.