Welcome to In The Club, a newsletter of resources to keep your book group well-met and well-read.
Well the good news is I'm back from Winter Institute and it was phenomenal! I vastly underestimated how energizing it would feel to be around so many like-minded people all gathered for the love of bookselling. The discussion groups were in-depth and purposeful, the authors and speakers were gracious, and yoooo I'm still not over Margaret Atwood telling us we were only excited to hear her speak because we're all afraid she's gonna die soon. That Margaret, I tell ya!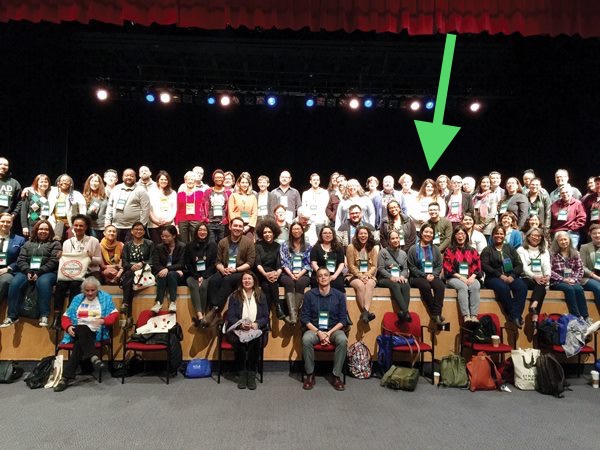 A big, beautiful group of diverse booksellers (self-identified). That brightly-lit, frizzy-haired thing = me.
The bad news is that the weird series of contagions that I've been muddling through for 8 weeks now seems to have been aggravated by Albuquerque's super dry weather, or my run-down immune system gave in to travel germs. Either way, ya girl now has a flu of an… errr… porcine variety. The worst! Again, take your vitamins and wash your hands, friends! Fevers and chills aren't where it's at.
---
This newsletter is sponsored by The Floating World by C. Morgan Babst, new in paperback from Algonquin Books.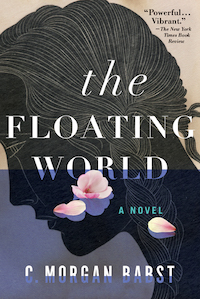 In her dazzling debut about family, home, and grief, C. Morgan Babst takes readers into the heart of Hurricane Katrina and the life of a great city. The Floating World tells the story of the Boisdorés, a Creole family whose roots stretch back nearly to the founding of New Orleans. When Katrina strikes, they must attempt to reassemble both their lives and their family in the wake of the devastation. "This wrenching and hypnotic book will give you chills," Bustle wrote, and you and your book club will be swept up in the storm's emotional impact on those who lived through it.
---
Reads in a Pod – We all know finding books is never the problem; it's deciding which ones to read. Rioter Michelle put together this list of bookish podcasts to help you pick your next read. A little site named Book Riot even made the cut!
James. Marlon James. I have had the galley of what James himself has called an African Game of Thrones since it was sent to me months and months ago, but wooooow did this New Yorker piece make me want to ditch all of my work-related reading to dive into it right this second. Read the piece and then get ready for Black Leopard, Red Wolf.
Book Club Bonus

: A discussion I always find interesting is whether it's appropriate to describe works by marginalized voices as the <insert diverse angle> + <super popular book>, i.e. "the African

Game of Thrones"

(obviously it's fine in this case since it's Marlon himself who dubbed it that way). I have seen the reverse, i.e. Nnedi Okorafor insisting, and with good reason, that

labelling The Akata Witch "the Nigerian Harry Potter" is in fact reductive

. What do you think? Is it a helpful device? Is it limiting? A little of both? Take this chat to book group.
No Borders, More Books – One of my favorite panels at Winter Institute was on a program called Bookselling Without Borders, a partnership of presses that awards fellowships to American booksellers to attend international book fairs and overseas bookstore residencies. In the last couple of years, they've sent folks to book fairs in Turin, Frankfurt, and Guadalajara (yes to aaall of those), adding India and Bologna to the list of destinations this year. *goes starry-eyed in Spanish*. Tell all of your bookseller friends to apply here!
Book Club Bonus:

A topic discussed at length during the panel was the importance of reading work in translation as part of our commitment to reading diversely. I know this is something I'm aiming to do a lot more of in 2019. Use

this list of recently translated works

to get your book club in on that very goal.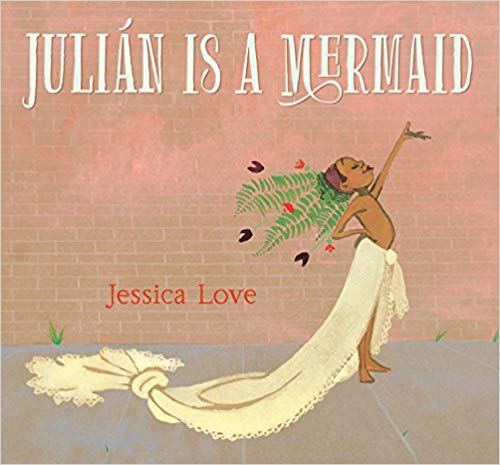 ALA All Day – If you weren't live streaming the awards yesterday (or following along via my buddy Tirzah Price's Twitter from bed like I was), you may not be privy to the uh-mazing list of winners of the American Library Association Youth Media Awards. Winners include Book Riot faves The Poet X by Elizabeth Acevedo, Anger is a Gift by Mark Oshiro, Julian is a Mermaid by Jessica Love and so many more.
Book Club Bonus

: Reading through this list of winners plus just having recorded a Read Harder episode about diversity award-winning middle grade titles have me in the mood to explore kid and teen book clubs. Have your book club explore options with local school or libraries and see if there are programs in place that you might get involved with, or start some clubs of your own in your community. The themes being addressed in so many of these profound works of children's literature have invaluable lessons to teach our youth and I'd love to see our kids start having those conversations now.
---
Thanks for hanging with me today! Shoot me an email at vanessa@riotnewmedia.com with your burning book club questions or find me on Twitter and the gram @buenosdiazsd. Sign up for the Audiobooks newsletter, get it on the Read Harder podcast, and watch me booktube every Friday too.
Stay bad & bookish, my friends.
Vanessa
More Resources:
– Our Book Group In A Box guide
– List your group on the Book Group Resources page