Hello and happy Tuesday, archers and aeronauts! Today we're talking about Robert Jordan's first ever novel, another bookish lawsuit for Netflix, another exciting adaptation deal, A Spark of White Fire by Sangu Mandanna, and more.
---
This newsletter is sponsored by Mulholland Books.
In a strange alternate society that values law and truth above all else, Laszlo Ratesic is a nineteen-year veteran of the Speculative Service. He lives in the Golden State, a place very similar to California, a place where like-minded Americans retreated after the erosion of truth and the spread of lies made public life and governance impossible. In the Golden State, knowingly contradicting the truth—speaking a lie—is the greatest crime. Stopping those crimes is Laz's job. A mind-bending vision of America, Golden State is a wild journey into our post-truth society, a Fahrenheit 451 for our anxious times.
---
Let's start out with a little book news, shall we?
Here's a cover reveal for Fran Wilde's new novel in the Gemworld series.
Tor is publishing Robert Jordan's first-ever, previously unpublished novel, and I would like to be on the record as unsure whether this is every a good idea.
Fans of the She-Ra reboot, rejoice! We're getting a novel that ties into the first two episodes.
And in the adaptation world:
The Wheel of Time TV show starts production this fall, which means we'll probably actually get a show at some point.
Empire of Sand (reviewed here) has been optioned! Huzzah!
Here's the Umbrella Academy trailer.
Nicholas Hoult is going to play JRR Tolkien in this biopic and I feel old, anyone else remember him in About a Boy?
The hits keep coming for Netflix (the not-good kind); now they're being sued by Chooseco, makers of Choose Your Own Adventure novels, over Bandersnatch.
Buzzy new releases for this week:
King of Scars by Leigh Bardugo
Vigilance by Robert Jackson Bennett
And here are some deals for your digital library:
A Study in Honor by Claire O'Dell, $1.99
Empire of Sand by Tasha Suri, $4.99 (just read it already)
The War of the Worlds by H.G. Wells, $4.99 (old school)
Today's review is for a novel about a space princess set in a world inspired by Indian mythology, and some of you are already sold.
A Spark of White Fire (The Celestial Trilogy #1) by Sangu Mandanna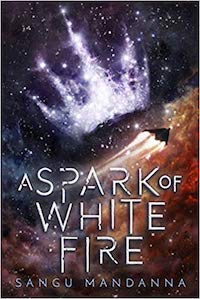 I heard a lot about this book when it came out, and I am happy to report that the reading experience lived up to the promise. How far would you go for family? The characters in A Spark of White Fire must each find an answer, and their answers will change the world.
Our heroine Esmae has grown up an orphan on Wychstar, exiled from her family by a curse and hidden away in obscurity. She yearns for nothing more than to be reunited with them, and has spent years of her young life planning and training for that day. (She's basically Cinderella on Deep Space 9, and I am here for it.) Opportunity has come knocking: the king of Wychstar built a sentient, gods-blessed, unbeatable spaceship called Titania, and he's holding a contest. The victor of the contest will win Titania, and every royal in the galaxy will be competing. It's a beautiful plan: Esmae will win the contest and the ship, and then take it to help her deposed family regain their throne on Kali. Despite the warning of the goddess Amba, she sets out to do just that — and learns that even with her brilliant tactical mind, the best laid plans often go awry. There's an enemy prince who turns out to be much more complex — and much more interesting — than she could have imagined; her long-lost family is less than overjoyed to see her; and the deeper into her plot she gets, the less people seem to be who she thought they were.
Esmae is prickly, headstrong, and so believable. She knows her faults, but she also knows her strengths, and watching her defy everyone, even fate itself, to work toward her goals was both harrowing and a joy. I also loved how Mandanna depicted her community; so many heroines, both in YA and adult, are loners or lacking in support, and it was a real pleasure to watch someone with friends and found family from the start, and to see her struggle with all the emotions (positive and negative) that go with those ties. Then there's the world-building, lush and evocative, a breath of fresh air in the space opera genre.
Complicated family dynamics, tangled loyalties, political backstabbery, a sentient spaceship, and an inclusive cast of characters (in sexual orientation, ability, and ethnicity) — it's reader catnip, I tell you, catnip! And while I know the basics of the Mahabharata, from which Mandanna is drawing her inspiration, I think this book will be accessible to readers regardless of their familiarity with her source material. (For those who would like to know more, here's an interview.)
And that's a wrap! You can find all of the books recommended in this newsletter on a handy Goodreads shelf. If you're interested in more science fiction and fantasy talk, you can catch me and my co-host Sharifah on the SFF Yeah! podcast. For many many more book recommendations you can find me on the Get Booked podcast with the inimitable Amanda, or on Twitter as jennIRL.
May your arrows fly true,
Jenn