Happy Friday, fellow readers! Before jumping into links from the week, I want to take a quick little diversion into a recent nonfiction discussion that may cause ripples over the next several weeks.
---
Sponsored by our Unusual Suspects giveaway of $100 to the bookstore of your choice!
We're giving away $100 to the bookstore of your choice! Enter to win by signing up for Unusual Suspects, our mystery/thriller newsletter about new releases, book recommendations, book deals, and more. Enter here.
---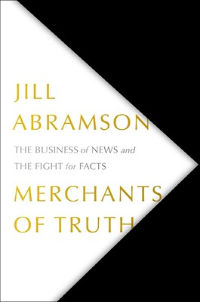 Jill Abramson, former executive editor of the New York Times, has a book coming out in early February, Merchants of Truth: The Business of News and the Fight for Facts. Journalists love writing about the media, so I think this book is going to get a lot of attention when it's officially released. But, Abramson's fact-checking in the book is already raising some critical concerns. This article in Vox does a good job of summing up the whole affair, but I'll try to give a quick-and-dirty version here too.
After galleys – uncorrected review copies – began to circulate, several journalists started tweeting about errors in the book. Arielle Duhaime-Ross, a correspondent for HBO's VICE News Tonight, issued a Twitter thread that pointed to six specific errors in a single paragraph. Abramson responded to this criticism and others (on Twitter) to say that the screencaps are from galleys, not from the finished book. So… basically wait and see what the finished version looks like before you get mad.
I'm not a publishing expert, but that feels like kicking the can down the road a bit since the errors are significant. It also brings attention to one of publishing's sort of secrets – fact-checking isn't really part of the process for the publication of nonfiction books, unless the author specifically chooses to do it. I'm very curious to see what the response is once critics have finished copies in their hands. Again, that Vox article sums everything up really well, so take a few minutes to read it!
And with that, on to some other news of note this week:
The finalists for the National Book Critics Circle Awards were announced on Tuesday. On the nonfiction side, the awards recognize the best autobiography, biography, criticism, and nonfiction of 2018. The press release noted that the autobiography category was especially strong this year, resulting in six finalists rather than the usual five. It also has two of my favorites of the year, All You Can Ever Know by Nicole Chung and Educated by Tara Westover. I am disappointed, however, that there aren't any female finalists on the nonfiction list (although there are many on each of the others). The winners will be announced on March 14.
Another one of my favorite books read in 2018, Never Caught: The Washingtons' Relentless Pursuit of Their Runaway Slave, Ona Judge by Erica Armstrong Dunbar, has gotten a YA adaptation. The book is specifically geared for readers ages 9 to 13, and definitely fills a gap of engaging, diverse nonfiction about people of color. The article also notes that the book has been optioned for the big screen – very cool!
Speaking of nonfiction for teens, last month Beacon Press announced they would be publishing a line of "radical histories for teens." According to Publisher's Weekly: "The series will debut in 2019 and draw from Beacon's decade-old ReVisioning American History series, bringing forward youth-focused adaptations of titles that emphasize the stories of underrepresented groups in American history."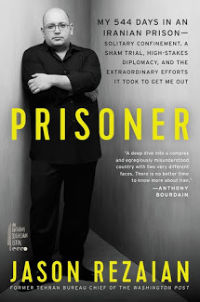 I'm constantly in awe of the danger foreign correspondents put themselves in, so I can't believe I missed including Prisoner by Jason Rezaian in Wednesday's new releases newsletter. In the book, Rezaian recounts his 544 days as an Iranian prisoner, accused of being a spy for the United States. This week he was interviewed for Fresh Air, a piece that's worth a read/listen.
There are a lot of pieces about New Year's reading recommendations, but I particularly liked these recommended listens from Libro.fm. The five books are interesting picks that I haven't seen repeated on other lists – LikeWar by P.W. Singer and Emerson Brooking is going in my audiobook queue ASAP.
And that's it for this week! You can find me on Twitter @kimthedork, on email at kim@riotnewmedia.com, and co-hosting the For Real podcast here at Book Riot. Happy reading! – Kim