Hola, Audiophiles!
I took a quick break from packing to put the newsletter together this week: I'm hopping on a plane to Albuquerque for ABA's Winter Institute! It's my first time attending and I'm super jazzed to learn some things, meet other booksellers, and go nuts in the galley room. Did I mention one of the keynotes is by Erin Morgenstern AND Margaret Atwood? Wish me luck!
---
Sponsored by Princeton University Press Audio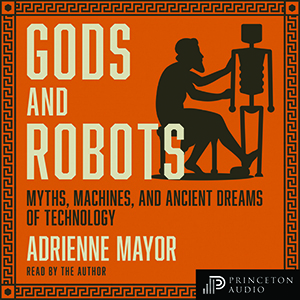 More than 2,500 years ago, long before medieval automata, and centuries before technology made self-moving devices possible, Greek mythology was exploring ideas about creating artificial life—and grappling with still-unresolved ethical concerns about biotechne, "life through craft." In this compelling, richly illustrated book, Adrienne Mayor tells the fascinating story of how ancient Greek, Roman, Indian, and Chinese myths envisioned artificial life, automata, self-moving devices, and human enhancements—and how these visions relate to and reflect the ancient invention of real animated machines. Start Listening Now!
---
Listens to Look For
The week leading up to this trip has been low on sleep and high on work-related reading of the non-audio variety, so today's newsletter isn't going to feature my latest listens. Instead, here are a few books coming out this week and next that weren't in the new books edition at the top of the month.
(Publisher's descriptions in quotes)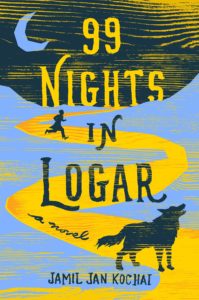 99 Nights in Logar by Jamil Jan Kochai, narrated by Ali Nasser (January 22)
It's been six years since twelve-year-old Marwand visited Afghanistan. When he returns to this place that's supposed to be home, he tries to make friendly with the terrifying but treasured dog that guards his family's compound in the rural village of Logar. The dog isn't just some beloved family pet you can stride right up to though, a lesson learned when Marwand gets his finger bit off and the dog dashes off into the night.
Marwand isn't much fazed though; he "must get the dog back, and the resulting search is a gripping and vivid adventure story, a lyrical, funny, and surprisingly tender coming-of-age journey across contemporary Afghanistan that blends the bravado and vulnerability of a boy's teenage years with an homage to familial oral tradition and calls to mind One Thousand and One Nights yet speaks with a voice all its own."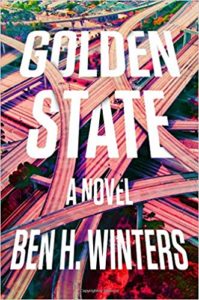 Golden State by Ben H. Winters, narrated by Kiff VandenHeuvel (January 22)
The Golden State is "a nation standing where California once did, a place where like-minded Americans retreated after the erosion of truth and the spread of lies made public life and governance impossible." Hey! So! Apparently y'all are all coming to my state sometime soon? Cool cool cool. See ya soon.
Laszlo Ratesic is a veteran of the Speculative Service in the Golden State, where knowingly contradicting the truth is the greatest crime and it's his job to stop it. "But the Golden State is less a paradise than its name might suggest. To monitor, verify, and enforce the truth requires a veritable panopticon of surveillance and recording. And when those in control of the facts twist them for nefarious means, the Speculators are the only ones with the power to fight back."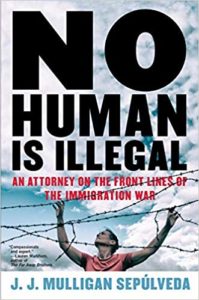 No Human is Illegal: An Attorney on the Front Lines of the Immigration War by J. J. Mulligan Sepulveda, narrated by Robertson Dean (January 22)
The practice of referring to undocumented immigrants as "illegals" just… sets my teeth on edge. It's no surprise then that I was naturally drawn to this title, an account of lawyer J.J. Mulligan Sepulveda's fight for immigrants and asylum-seekers in the thick of rising xenophobia and build-the-wall stupidity. Mulligan Sepúlveda's quest is personal, the son and husband of Spanish-speaking immigrants himself. He shares his experience "visiting border detention centers, defending undocumented immigrants in court, and taking his services to JFK to represent people being turned away at the gates during Trump's infamous travel ban." My heart hurts just thinking about the stress of this vocation, and swells with gratitude for all those who undertake it.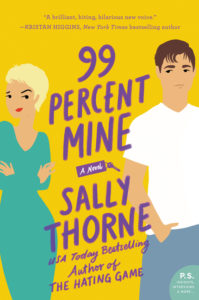 99 Percent Mine by Sally Thorne, narrated by Jayme Mattler (January 29)
Photographer Darcy Barrett has known that Tom Valeska was her dream man since the ripe old age of eight. The problem is that Tom is her twin brother Jaime's BFF, and in spite of her efforts at seduction, Tom has chosen to remain loyal to his buddy. When Darcy and Jaime's grandmother passes and leaves them a run down cottage and instructions for its restoration & sale, guess which super successful house-flipper is down to pitch in? I have a feeling some sexy hijinks may ensue.
Side note: I think I'm a liiitle too fresh off my bedridden Game of Thrones marathon because I definitely made a face when I realized this book featured a twin named Jamie. *shivers* Don't worry, no apparent twincest here.
King of Scars by Leigh Bardugo, narrated by Lauren Fortgang (January 29)
It's Leigh Bardugo, y'all. Just do it.
Fine. A description: "Nikolai Lantsov has always had a gift for the impossible. No one knows what he endured in his country's bloody civil war – and he intends to keep it that way. Now, as enemies gather at his weakened borders, the young king must find a way to refill Ravka's coffers, forge new alliances, and stop a rising threat to the once-great Grisha Army.  
Yet with every day a dark magic within him grows stronger, threatening to destroy all he has built. With the help of a young monk and a legendary Grisha Squaller, Nikolai will journey to the places in Ravka where the deepest magic survives to vanquish the terrible legacy inside him. He will risk everything to save his country and himself. But some secrets aren't meant to stay buried – and some wounds aren't meant to heal."
From the Internets
Wintery weather got ya down? The Washington Post suggests these three audiobooks to cuddle up with & stave off the winter blues. I don't have any right to claim said blues since my version of cold here in San Diego is a lot of y'all's "f*ck yeah! Shorts!" weather. The post did however teach me that 2019 marks 100 years since P.G. Wodehouse introduced to the world to Jeeves!
Hallmark Enters the Audio Game – Hallmark has announced a partnership with Dreamscape Media to produce and distribute audiobooks. Twenty titles are set to release over the summer, but the first title will be a Valentine's Day themed production called The Secret Ingredient. Sounds cozy!
Over at the Riot
Audiolibros + Language – Want to hear me talk real fast and geek out over books too? I put together a quick YouTube video about using Spanish audiobooks to practice your Spanish. Audiobooks are a great tool to accompany your language study, no matter your level of comprehension or pronunciation.
---
That's all I got today! Shoot me an email at vanessa@riotnewmedia.com with audiobook feedback & questions or find me on Twitter and the gram @buenosdiazsd. Sign up for the In The Club newsletter, peep the Read Harder podcast, and watch me booktube every Friday too!
Stay bad & bookish, my friends.
Vanessa