Hello and happy Friday, djinns and direwolves! Today we've got linky goodness from around the interwebs including military sci-fi, some ungreat news about the Earth's magnetic pole, vampires, a review of The Kingdom of Copper by S.A. Chakraborty, and more.
---
This newsletter is sponsored by Nightchaser by Amanda Bouchet.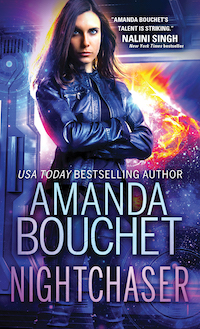 Captain Tess Bailey and her ragtag band of thieves are wanted criminals. They steal from the "haves" to give to the "have nots." Even though her heart is in the right place, her actions still get her into trouble – and there's no trouble greater than the dreaded Galactic Overseer Novalight. After stealing a top-secret military laboratory and inciting Novalight's rage, Tess and her crew manage to escape—and miraculously survive. Docked on their new planet, Tess encounters the tall, dark, and haughty bounty hunter Shade Ganavan, who has to decide if he wants to turn them over to the Galactic Overseer and be set for life, or if the real payoff is winning Tess's heart.
---
Been hearing about Nnedi Okorafor but not sure which of her books is for you? There's a Reading Pathways for that.
Always wanted to get into military sci-fi but not sure where to start? We've got a guide! (And a shout-out to Ninefox Gambit, very good.)
Need more vampires and/or manga in your life? Have we got a list for you.
If you're not sure what you should be picking up this month, Swapna has a January round-up for you.
And if you need more SF/F by Latinx authors in your life, this list is VERY GOOD (Malka Older! Silvia Moreno-Garcia! Plus new names for me!).
I feel like I've been reading fiction about the flipping of the magnetic poles since I was a teen — and apparently we're getting a lot closer to that actually happening, so keep 'em coming.
Now listen, I know I put "books to read if you like Doctor Who" lists in here on the regular, but this one is actually made up of books ABOUT Doctor Who!
I don't even know how to begin talking about this sequel, let's see what happens.
The Kingdom of Copper (The Daevabad Trilogy #2) by S.A. Chakraborty
Y'all. Have you read The City of Brass yet? If not, save this newsletter for a later date, because I don't even know how to begin talking about the sequel, The Kingdom of Copper, without spoilers. If you need a short pitch for the series, it's an Islamic-mythology inspired epic fantasy featuring a thief/con artist heroine, a powerful djinn with a very dark past and a lot of secrets, and a magical city being torn apart by tribal warfare and prejudice.
Let the spoilers begin!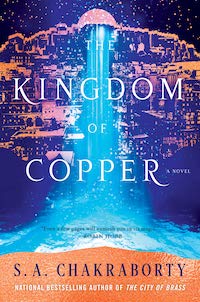 When we last left our fictional babies, Nahri was about to marry Muntadhir, Alizayd had vanquished Dara and then been banished, and Ghassan al Qahtani was busy being the absolute worst. Kingdom of Copper opens up with a prologue featuring Nahri's wedding night, Ali's wanderings through the desert, and … a thing I refuse to spoil for you. I do have my limits!
Then we jump five years into the future, which initially made me nervous — five years is, after all, a BIG jump. But Chakraborty clearly knows where she's going, and after a quick adjustment so does the reader. Nahri has claimed her healing power but is still struggling to retain any agency outside the sickroom, while Alizayd just wants to be left out of his family's politics and also figure out what the hell that marid did to him. When Ali is forced to return to Daevabad and sucked right back into the city's unrest, he and Nahri find themselves working together on an ambitious project that they hope will heal the growing rifts between the tribes. (They are very wrong.)
This is not a short book, and the pacing varies between almost frenetic action sequences and slower character vignettes. But that was fine by me — I'm very attached to these characters, and the action had me on the edge of my seat. I also had an intense need to reach into the book and strangle certain characters until they made better choices and/or pulled their heads out of their asses, which is what makes this sequel so compelling. And the cliffhanger at the end! If you thought the last chapter of City of Brass was rough, just you wait.
Chakraborty continues expandin her world and mythology, offering new insights into her characters, tackling the fall-out from prejudice and bigotry, and creating an immense amount of tension in the meantime. I will be over here anxiously awaiting the next installment, if you'd care to join me.
And that's a wrap! You can find all of the books recommended in this newsletter on a handy Goodreads shelf. If you're interested in more science fiction and fantasy talk, you can catch me and my co-host Sharifah on the SFF Yeah! podcast. For many many more book recommendations you can find me on the Get Booked podcast with the inimitable Amanda, or on Twitter as jennIRL.
May the wind be ever at your back,
Jenn