Hello, Kid Lit friends!
Happy 2019!
I hope the new year is off to a great start for you and your loved ones. As for my family, we had a whole assortment of sicknesses in our home in the last month. Colds, the flu, strep, a sinus infection, and the stomach flu! I am hoping we have all gotten this out of our system by now!
I love the new year because there are so many new books to look forward to. This week I'll talk about some of the picture books I'm excited about, next week I'll chat about fun chapter books, and the week after that will be exciting middle grade book releases. Are you ready?
---
Just for Book Riot readers: sign up for an Audible account, and get two audiobooks free!
---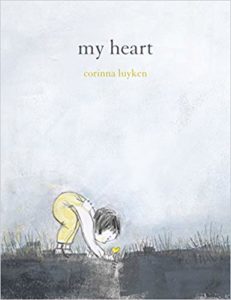 Have you ever read The Book of Mistakes by Corinna Luyken? It is a gorgeous book, filled with wisdom for people of all ages. I often suggest this book to parents who have kids that are perfectionists. Corinna has a new picture book out this Tuesday called My Heart (Penguin), and it is gorgeous. I love Corinna's illustration style, and the book is so sweet and beautifully written. You should definitely check it out!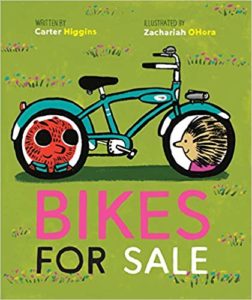 Bikes for Sale by Carter Higgins and illustrated by Zachariah OHora (Chronicle, 4/2/19) is a fun, clever book about two bike-loving animals who take different paths to work every day. When an accident occurs, they finally meet, and the result is adorable! As always, Carter's writing is spot on, and Zachariah's bold and colorful illustrations are fun and inviting.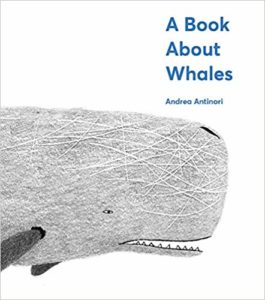 A Book About Whales by Andrea Antinori (Abrams, 5/14) is right up my ally. I love reading and learning about whales. As you might recall, I recommended Whales: An Illustrated Celebration by Kelsey Oseid a lot last year. So when this new whale book arrived at my apartment, I knew instantly I would love it. Definitely put it on your list if you or anyone you know loves whales or the ocean!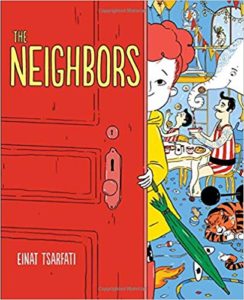 The Neighbors by Einat Tsarfati (Abrams) is out this Tuesday, and it's a fun, creative, quirky book about what a child thinks is inside each apartment in her building. The spreads are so fun and full of creativity and zaniness, and I think I love it so much because I love imagining what is inside people's homes.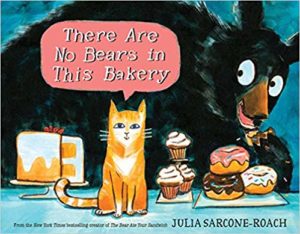 There Are No Bears in This Bakery by Julia Sarcone-Roach (Knopf, 1/8) won me over by the title and cover. And, of course, I love that it is set in a bakery. I will read any book that includes baked goods in it. In this story, Muffin the cat is adamant that no bears enter The Little Bear Bakery. When a hungry bear cub arrives, Muffin knows just what to do!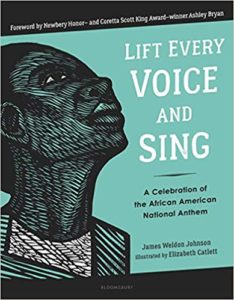 Lift Every Voice and Sing: A Celebration of the African American National Anthem by James Weldon Johnson, illustrated by Elizabeth Catlett (Bloomsbury, 1/18) was originally published in 1993 and it features gorgeous linocuts by Harlem Renaissance artist Catlett. This reissue includes a new Foreword by Newbery and Coretta Scott King Honoree Ashley Byran (one of my favorite author/illustrators!).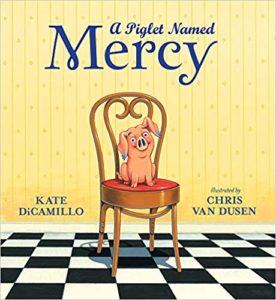 And I know you've been waiting to hear what Mercy Watson was like as a baby piglet! A Piglet Named Mercy (Candlewick, 4/2) by Kate DiCamillo, illustrated by Chris Van Dusen, is the picture book prequel to the bestselling Mercy Watson chapter book series. This is all about how Mercy came to live with Mr. and Mrs. Watson on Deckawoo Drive, thus disrupting the Watson's perfectly predictable lives.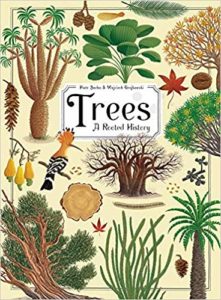 Trees: A Rooted History by Piotr Socha and Wojciech Grajkowski (Abrams, 4/2/19) is an oversized nonfiction nature book, so basically I knew I was going to love this book the second I saw it. The illustrations are gorgeous and the information is both informative and interesting. Trees explores the important roles trees play in our ecosystem, takes an up-close-and-personal look at the parts of trees (from roots to leaves), and unpacks the cultural impact of trees from classification systems (like family trees) to art forms (like bonsai trees).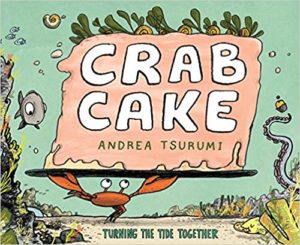 I absolutely loved Crab Cake: Turning the Tide Together by Andrea Tsurumi (HMH, 2/5), a delightful book about a crab who loves to bake. I adore the illustrations which are full of charm and with plenty for young readers to explore and analyze. The story has a message of conservation as well, presented in a way that will make you want to save the oceans.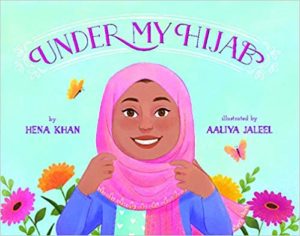 Under My Hijab by Hena Khan, illustrated by Aaliya Jaleel, is a lighthearted look at the hijab and the girls and women who choose to wear it. As the young protagonist observes the women in her life wearing it, she dreams about the possibilities in her own future and how she might express her personality through her hijab.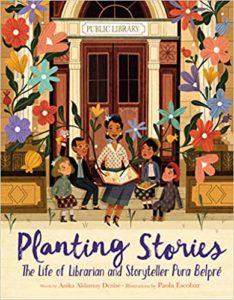 The cover of Planting Stories: The Life of Librarian and Storyteller Pure Belpre (HarperCollins, 1/15) by Anika Aldamuy Denise, illustrated by Pablo Escobar, is stunning. I loved learning more about Pura Belpré and her life and work and advocacy. On the eve of her death on July 1, 2082, Pura received a Lifetime Achievement Award from the New York Public Library and now each year the American Library Association recognizes outstanding works of literature by Latinx authors and illustrators with the Pure Belpré Award. You can see a complete list of Belpré winners on the ALA website here. The Spanish language edition, Sembrando historias: Pura Belpré: bibliotecaria y narradora de cuentos, will publish simultaneously.
I got a chance to read a few wonderful books over the holidays in between being sick. One was Gordon Korman's new book, The Unteachables (Balzer + Bray, 1/8), which includes his characteristic funny humor, as well as The Friendship War by Andrew Clements (Random House, 1/8) about a school-wide scuffle over buttons. I finished a graphic biography called The Life of Frederick Douglass by David F. Walker, Damon Smyth, and Marissa Louise (Ten Speed Press, 1/8), which was wonderful (but I would suggest for older middle grade readers).
I would love to know what you are reading this week! Find me on Twitter at @KarinaYanGlaser, on Instagram at @KarinaIsReadingAndWriting, or email me at karina@bookriot.com.
Until next time!
Karina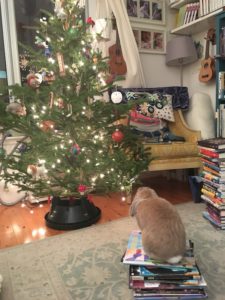 *If this e-mail was forwarded to you, follow this link to subscribe to "The Kids Are All Right" newsletter and other fabulous Book Riot newsletters for your own customized e-mail delivery. Thank you!*