Hey YA readers! I'm thrilled to bring you this guest piece today from a debut author.
"What's Up in YA?" is sponsored by the Class of 2k19 books: 20 authors, 20 MG and YA novels debuting in 2019.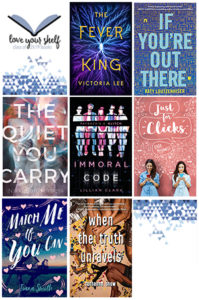 The Class of 2k19 books' stellar spring YA recommendations:
IMMORAL CODE: "Fast-paced, audacious, and laugh-out-loud funny." – Caleb Roehrig
THE QUIET YOU CARRY: "Her message: Quiet no more." – Nikki Grimes
JUST FOR CLICKS: "Breezy and fresh meditation on privacy and relationships." – Kirkus
THE FEVER KING: "A plague as scary as Stephen King." – Sarah Rees Brennan
MATCH ME IF YOU CAN: "Enchanting and fun." – Rebecca Phillips
WHEN THE TRUTH UNRAVELS: "For every teen girl trying her best, fearing she isn't enough."- Rachel Solomon
IF YOU'RE OUT THERE: "Funny, engrossing, and one-of-a-kind." – Becky Albertalli
---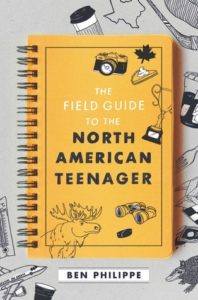 I love a good fish out of water book, and Ben Philippe's debut novel The Field Guide To The North American Teenager checked all of my boxes. This humorous book follows Norris, a black French Canadian teenager who is forced to move to Austin, Texas, for his mother's job. Norris feels out of place in many ways, but uses this experience to document what he sees about the "typical" American high schooler.
Norris is an unlikable character, fully flawed, and at times, he's downright off-putting and a bully. Yet…he's utterly sympathetic, too. It's hard not to see why he chooses the role of observer, rather than participant, when he's already in his position as an outsider.
I'm thrilled to have Ben Philippe here today to talk a bit about Field Guide, his main character Norris, and what it means to write an #OwnVoices story.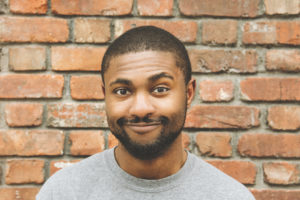 Ben Philippe is a New York-based writer and screenwriter. He has a Bachelor of Arts from Columbia University and an MFA in Fiction and Screenwriting from the Michener Center for Writers in Austin, Texas. He teaches screenwriting at Barnard. This is his debut novel. You can visit him at benphilippe.com or on Twitter @gohomeben.
____________________
When I was 15, my uncle drove me to my very first "real world" summer job interview. After wishing me good luck in the parking lot of the imposing two-floor grocery store, he looked me up and down, taking in my Sears tie, Sears cornflower-blue dress shirt, and Sears braided belt — and handed me a pair of glasses from inside his jacket pocket. My 20/20 vision didn't matter; they were fake glasses. "A black guy interviews better with glasses," he explained. it was an avuncular moment for him — bestowing wisdom he had learned the hard way to a kid that vaguely looked like him, now making his way into the world.
I wore the glasses and got the low-stakes job, spending the summer cropping images of various foods for the family grocery's bi-weekly store flyer. During that summer, I learned to navigate the minute differences between being a black guy with glasses and being a black guy with glasses quickly tucked into his back pocket. The transformation would happen instantly. I was goddamn Sailor Moon, frankly. Little old ladies looking around the store and needing assistance? Glasses. The immigrant stock room guys, complaining about their treatment and smaller-than-they-ought-to-be paychecks?
Most of this was in my head, mind you — I'm aware I don't look particularly different with glasses. But, little by little, I learned the intricacies of deepening/heightening my voice, smile, and enunciation. If nothing else, these performances affected my confidence when I went to hand my mockups to my employer – a woman who disliked the fact that her own son was now getting into hip-hop "music" and liked to pantomime the quotation marks when consulting me about whether or not she ought to ban it from her house.
Code-switching is fiction, and I spent that summer training myself to become a fiction writer without even realizing it. You weave your ethnicity in when it's convenient and keep it at a distance when it's too much of an X-factor. Haitian flavors and meals are painted in vivid technicolor. You unleash black rice and soup joumou recipes on dates and when hosting dinner parties, performing your ethnicity. No glasses; this is the real you.
But the image of your mother wailing in the living room learning she lost half her former colleagues in an earthquake that downgraded the country from "third world" to "shithole" in the minds of many? Well, that part you just sidestep. "I'm Canadian," you say when people ask about that event. "We got to Montreal when I was five: I barely remember that country."
Glasses.
When writing took over for me in college — and a takeover is very much what we're talking about here; I was briefly an Econ major before my first writing workshop — I didn't quite know whether or not to wear my performative glasses when writing. "Be truthful," my first Fiction teacher said. "That's all there is to it. Get at something true."
Sci-fi or contemporary, alternative history or memoir, Zee Craft of writing prizes authenticity above all else. And in many ways, both the bespectacled and the bare-faced versions of myself were authentic. The code-switching was simply in the internal mapping out that took place before each new encounter. The slight shame at the option you were picking not to display. And writing was no different.
The concept of #ownvoices was an intimidating hashtag floating above my hand when I started to write The Field Guide to the North American Teenager, to be completely honest. It was a set of expectations and identities I had spent years alternating between as convenient. Something to be decoded along the map of 'race' and the expectations therein.
Which Ben was the world asking for: the bare-faced or the bespectacled? Which Ben would the world like more? Should I weave in my politics or keep them out? Should I fictionalize a ghetto for protagonist Norris Kaplan to navigate, even though I myself had been raised in aggressively middle-class French Canadian suburbs? He would certainly not be the first YA black protagonist, but there was a tradition there. Should he play football? Should he breakdance?
I loved teenage characters; always have. To me, it's a joyfully intense stage of life in which you start navigating the world in the first person, pointed forward by hormones, false bravado, obsessions, and insecurities. But could I afford to write a teen as snarky and unlikeable as all my favorite teen protagonists? Would they be treated differently from Holden Caulfield, Ignatius J. Reilly, or Piggy from Lord of the Flies? Shouldn't my teen be aspirational? Those are the ones we remember, after all. Those who suffer and leave the world to reflect on their sufferings afterward. Should my black teen die at the end?
…When it's all said and done, it's a heck of a thing how easily your own voice fits once you allow yourself slip into it, free of those real-world concerns for 350 pages.
I've played coy about whether or not I'm Norris Kaplan. My story was very specifically Haitian, Canadian, and American, and so is Norris Kaplan's–but they are wholly different tales. Norris' brazenness is something I never had, for one. He is a protagonist that compulsively speaks his mind, constantly pushing at the world and preemptively labeling it under the presumption that everyone else will inevitably label him first. As foreign, as black, as lame (the greatest high school offensive).
But at the end of the day, Norris Kaplan never once carried fake glasses and wouldn't bother wearing them. And that's why I love that snarky little sh*t-stirrer so very much and am grateful for the freedom of writing a protagonist that is unbothered by all the questions I spent my teen years looping in my head.
____________________
Thanks for hanging out, and we'll see you again on Thursday!
— Kelly Jensen, @veronikellymars on Instagram and editor of (Don't) Call Me Crazy and Here We Are.