Hola, Audiophiles!
Well, friends, it's time. It's our last Audiobooks newsletter of 2018! To wrap things up for the year, today I'll be sharing my favorite audiobooks of 2018 plus a couple of small updates + announcements.
Thank you all SO MUCH for welcoming me so warmly into your inboxes this year and for joining me in love of all things audiobook! I can't wait to keep the audiophilia going in 2019 and hope you'll all stay along for the ride.
Xoxo
---
Sponsored by The Kingdom of Copper by S. A. Chakraborty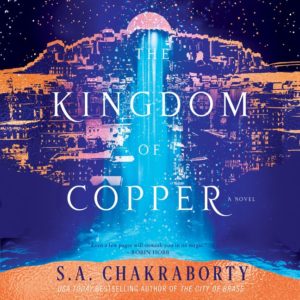 In The Kingdom of Copper, S. A. Chakraborty continues the sweeping adventure begun in The City of Brass—"the best adult fantasy I've read since The Name of the Wind" (#1 New York Times bestselling author Sabaa Tahir)—conjuring a world where djinn summon flames with the snap of a finger and waters run deep with old magic; where blood can be dangerous as any spell, and a clever con artist from Cairo will alter the fate of a kingdom. The Kingdom of Copper is on sale 1/22/19 in audio, hardcover, and ebook formats. Experience it before everyone else by entering for a chance to win one of 250 early digital downloads of the audio edition performed by Soneela Nankani!
---
Fa-la-la-la Favorites
It's been another great year for audiobooks and it was sooo tough to pick just five faves! This is by no means meant to be a "best of" list – there are tons and tons of awesome other titles that are every bit as worthy of a listen. I ultimately went with these for making me laugh the hardest, teaching me things, and providing a distraction from … ya know, all of the garbage!  They gave me an extra dose of happy in 2018 and I hope they'll do (or did!) the same for you.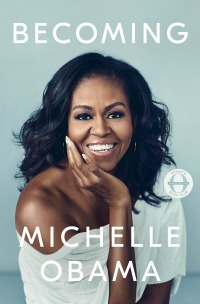 Becoming by Michelle Obama – I don't really need to tell you why this was a favorite, right? The candor, the wit, the vulnerable sharing of both her peaks and valleys… hearing it all narrated by Queen Meesh herself was everything I needed this book to be and more. P.S. that engagement story? Barack really pulled a Chandler Bing! Anyway… long live the queen.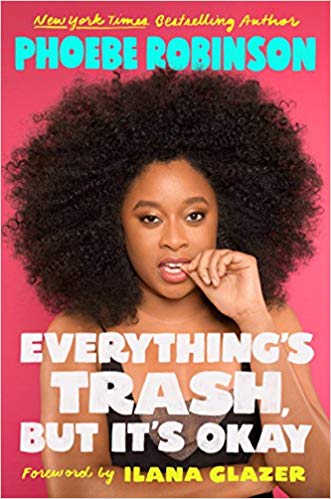 Everything's Trash, But It's Okay by Phoebe Robinson – I shared this fave with you all in my very first Audiobooks newsletter! Phoebe Robinson is a comedian, actress, writer, and one half of the Two Dope Queens podcast (and HBO special!) whose first book You Can't Touch My Hair, And Other Things I Still Have to Explain had me hollering in public. This second effort did not disappoint; Phoebe's narration of personal anecdotes had me cry-laughing and cringing at the same time. Really though, it's her cultural criticism and musings on feminism, politics, body image, workplace parity, and dating that really set it off. It's the essence of Phoebe: smart, and a little extra.
And yes, my favorite line is still absolutely the following: "For instance, I'm anti-misogyny, but that hasn't stopped me in the past from basically busting out a rhythmic gymnastics routine complete with ribbon work when Jay Z's Big Pimpin' comes on."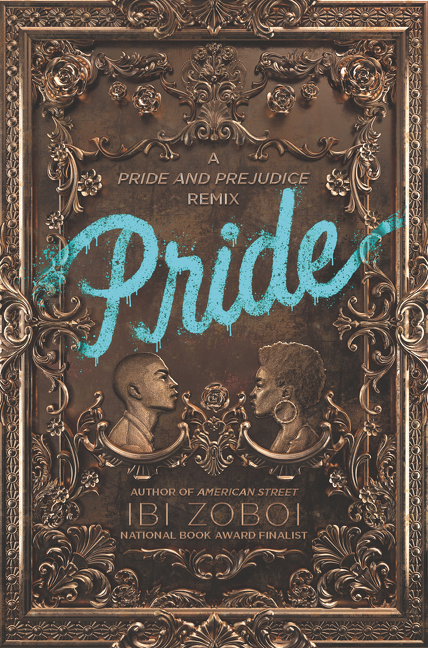 Pride by Ibi Zoboi – I have been out here embarrassing myself on the internet with how many times I've either talked about this book or hit that like button on related posts. It's that good! Here's my recent blurb from our big, beautiful, Best Books of 2018 post.  
"Remixes of classics and myths are already an easy way to get my attention, but the premise of Pride is like Grade A, extra-strength, deluxe edition catnip. A Pride and Prejudice remake set in Bushwick with all characters of color and Afro-Latinas as the Bennet (Benitez) sisters that tackles gentrification, classism, and identity politics?! SOLD. The audio version takes the awesome up a notch with narration by Elizabeth Acevedo (swoon), whose tone and cadence are a perfect match to the swagger and attitude of main character Zuri. It's poetic and soulful, Jane Austen classic with Afro-Latinx heart."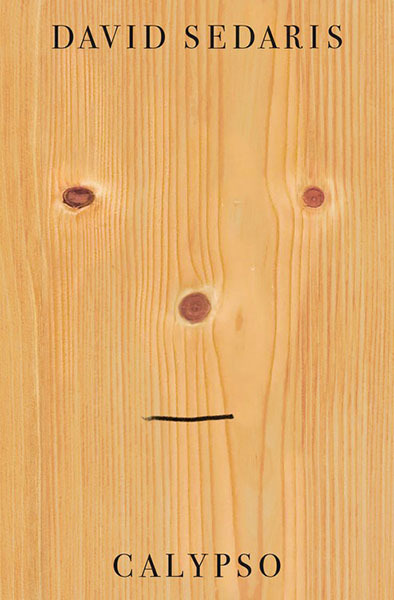 Calypso by David Sedaris – This latest collection may just have clipsed Me Talk Pretty One Day as my favorite Sedaris work. It's everything you already know the inimitable David Sedaris to be: irreverent hilarity mixed with poignant reflection, this time in ponderance of aging and mortality as Sedaris stares down middle age. He reflects the recent loss of his sister to suicide and his complicated relationship with his father but manages to keep readers in stitches in between. He named his seaside vacation home "The Sea Section," for crying out loud: it's not to be missed.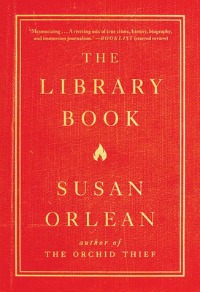 The Library Book by Susan Orlean – As nowhere enough of us know, an arson caused the Central Library branch of the Los Angeles Public Library to burn for over seven hours in April 1986. Hundreds of thousands of books were either damaged or destroyed. The horror! As I mentioned in an earlier newsletter, I'd have been on the sidewalk that day yelling "MURDERER!" in dramatic telenovela Spanish at anyone who even looked like they might have been careless with a cigarette.
This history lesson and love letter to libraries, written and narrated by the acclaimed author of The Orchid Thief, is a perfect read for history buffs, true crime lovers, and anyone with a serious case of bibliophilia.
Over at the Riot
Talk Spreadsheet to Me – Why yes, that is Careless Whisper you hear in the background because oh yeaaaah: it's the Bigger, Badder 2019 Book Tracking Spreadsheet. While this isn't exclusively about audiobooks, it is a pretty sexy spreadsheet for keeping tabs on your reading. Since audiobooks are a huge part of tracking and meeting reading goals for us audiophiles, you may want to get in on all this good.
Read Harder – It's here! It's here! The 2019 Read Harder Challenge has been released! Check out the list of 24 tasks here or watch Rincey break them down on YouTube over here.
And don't forget! Yours truly will be hosting the 2019 Read Harder podcast! My co-host Tirzah Price and I will provide reading recs for each of the tasks on a biweekly basis and the first episode airs on January 8, 2019. Huzzzah! The show is available exclusively to Book Riot Insiders. Not a member yet? Sign up here and start your free two week trial today!
---
Thank  you so much for hanging with me in 2018!  Shoot me an email at vanessa@riotnewmedia.com with audiobook feedback & questions or find me on Twitter and the gram @buenosdiazsd. Sign up for the In The Club newsletter for book club tips & tricks and watch me booktube every Friday too.
Happy holidays y feliz año nuevo, my friends! And as always, stay bad & bookish.
Vanessa