Hi, Kid Lit Friends!
"The Kids Are All Right" is sponsored by The Secrets of Winterhouse and Macmillan Children's.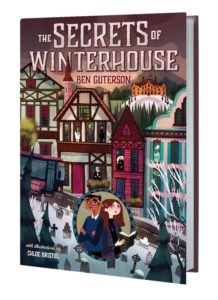 Orphan Elizabeth Somers's malevolent aunt and uncle ship her off to the ominous Winterhouse Hotel, owned by the peculiar Norbridge Falls. Upon arrival, Elizabeth quickly discovers that Winterhouse has many charms—most notably its massive library. It's not long before she locates a magical book of puzzles that will unlock a mystery involving Norbridge and his sinister family. Even more bookish puzzles, phantom mysteries, and evil curses await as Elizabeth returns to Winterhouse in the second installment of this magical series. Back at the hotel for another holiday season, Elizabeth and Freddy dig deep into the mystery surrounding Riley S. Granger, a hotel guest who left behind odd artifacts—one being a magical book that the evil Gracella Winters attempted to use to gain destructive power. . .
---
Last week I put together a gift guide for middle grade books, and today I present you with a gift guide for picture books! I adore picture books – I read picture books to my kids (ages eight and ten) almost every day – and our living room bookshelf is bulging with picture books. Here are some of my favorites from 2018, sure to bring joy to your young readers! Like my previous gift guides, these recommendations are based on themes from classic children's books.
*Please note that all book descriptions are from Goodreads.
If you liked The Snowy Day by Ezra Jack Keats, try…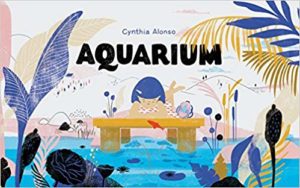 Aquarium by Cynthia Alonso
A girl ventures to the water's edge, dreaming of a new friend. And, just like that, a beguiling red fish leaps into her life. But is friendship a sea these two can navigate together? From debut Argentinian author-illustrator Cynthia Alonso comes a wordless picture book about the timeless beauty of nature, the transcendent power of connection, and the importance of letting go.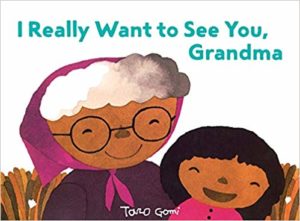 I Really Want to See You, Grandma by Taro Gomi
Yumi and her grandmother have the same great idea: They want to see each other. So they each head out to do just that, only to completely miss each other along the way! No problem—they'll just head back home and wait for the other to return. The trouble is that they have the same great idea—again—resulting in the ultimate missed connection! Will this duo ever find each other?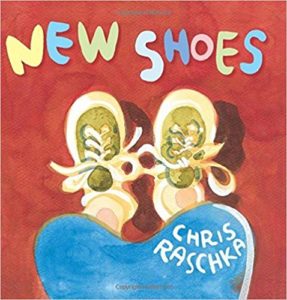 New Shoes by Chris Raschka
When a young child discovers a hole in a sneaker, mother and child embark on a big childhood adventure—a trip to the store to pick out new shoes. From having feet measured and making a selection to finally showing off the new shoes to a friend, this momentous child moment is treated with respect, excitement, and page-turning energy in a wonderfully age-appropriate picture book.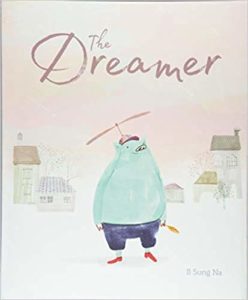 The Dreamer by Il Sung Na
Once, there was a pig who admired birds. But he could never join them. Or could he? Thus begins the journey of a pig with big dreams, and the perseverance to make them come true. He develops flight plans, builds experimental contraptions, and has far-flung adventures, but at the end of the day, his favorite thing to do is still to sit and watch for those he loves best: the birds. Il Sung Na creates a world at once whimsical and aspirational, where anything is possible and, yes, even pigs can learn to fly.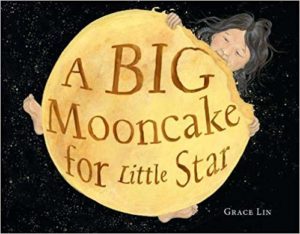 A Big Mooncake for Little Star by Grace Lin
Little Star loves the delicious Mooncake that she bakes with her mama. But she's not supposed to eat any yet! What happens when she can't resist a nibble? In this stunning picture book that shines as bright as the stars in the sky, Newbery Honor author Grace Lin creates a heartwarming original story that explains phases of the moon.
If you liked Lyle, Lyle Crocodile by Bernard Waber, try…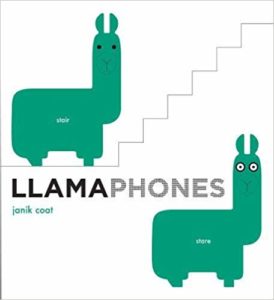 Llamaphones by Janik Coat
Llamaphones, Janik Coat's much-anticipated follow-up to Hippopposites and Rhymoceros, features witty words that sound the same but are spelled differently—and have different meanings. Like the other books in the series, this one features surprising novelties, including a touch-and-feel element, making homophones an easy and fun concept to learn. This is a board book designed for the very youngest readers.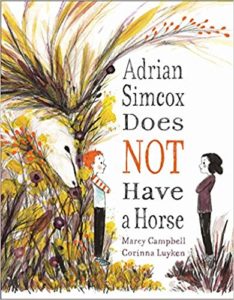 Adrian Simcox Does Not Have a Horse by Marcy Campbell, illustrated by Corinna Luyken
Adrian Simcox tells anyone who will listen that he has a horse–the best and most beautiful horse anywhere. But Chloe does NOT believe him. Adrian Simcox lives in a tiny house. Where would he keep a horse? He has holes in his shoes. How would he pay for a horse? The more Adrian talks about his horse, the angrier Chloe gets. But when she calls him out at school and even complains about him to her mom, Chloe doesn't get the vindication she craves. She gets something far more important.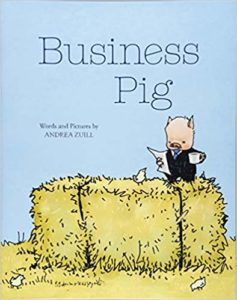 Business Pig by Andrea Zuill
Right from the start, everyone at the barnyard could tell Jasper wasn't like his siblings: "I believe what we have here is a gen-u-WINE Business Pig!" No wallowing in the mud or rooting for grubs for Jasper; he'd rather help with the bookkeeping or conduct a meeting. Though everyone at the animal sanctuary loves him, Jasper longs for a forever home. But no matter how many business cards he hands out, no one wants to adopt him. Can this above-average pig find his special person to cut deals with?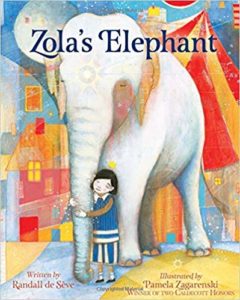 Zola's Elephant by Randall de Seve, illustrated by Pamela Zagarenski
When Zola moves into the neighborhood, her new next-door neighbor is too shy to go over and introduce herself. Plus, Zola already has a friend to play with—an elephant! What we imagine is not always true, as the little girl discovers. Luckily, she also discovers that being brave can lead to new friendships—and even richer imaginary worlds—in this heartwarming book about friendship, moving, and the power of imagination.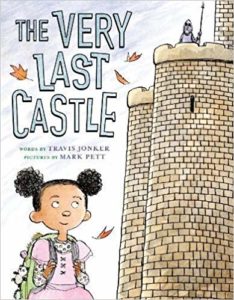 The Very Last Castle by Travis Jonker, illustrated by Mark Pett
A curious little girl watches the man who guards the last castle in town. Every time she passes by him, she tries to catch his eye. While the other townspeople fear what may be locked up inside the mysterious castle, the girl finally gets up the courage to knock on the door and find out what's really behind the gate. A story about overcoming fear of the unknown, trying new things, and reaching out to make new friends, The Very Last Castle shows that bravery comes in packages both big and small.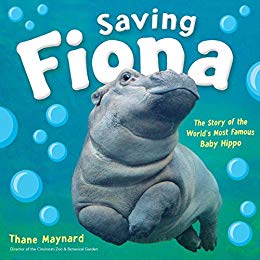 Saving Fiona by Thane Maynard
On a cold January day in 2017, nearly two months before due date, Nile hippopotamus Bibi gave her keepers at the Cincinnati Zoo & Botanical Garden a big (little) surprise—a tiny newborn hippo, no bigger than a football.  The first premature hippo born and raised in captivity, baby Fiona was an underdog from the start:  she couldn't nurse, she couldn't stay hydrated, and she wasn't thriving. But the staff at the zoo knew they could save her.  It would take creative thinking and teamwork.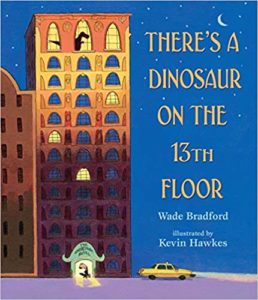 There's a Dinosaur on the 13th Floor by Wade Bradford, illustrated by Kevin Hawkes
Will Mr. Snore ever get some shut-eye at the busy Sharemore Hotel? The room on the first floor is too noisy. The room on the second floor is too crowded. The room on the third floor is too damp. Everywhere Mr. Snore goes, with a dutiful bellhop leading the way, he encounters something that's bound to keep him awake. Why is it so hard to find some peace and quiet? Perhaps Mr. Snore will have better luck on the thirteenth floor. . . .
The Adventures of Esther the Wonder Pig by Steve Jenkins, Derek Walter, and Caprice Crane, illustrated by Cori Doerrfeld
When Steve and Derek adopted a mini pig named Esther, they had no idea that she would turn out to be not-so-mini after all. When her new family saw just how big and wonderful Esther really was, they fell in love–and their lives changed forever. Esther would soon grow too large for her bed, and their small apartment. She got into everything, including her neighbor's tasty garden. So the whole family moved from a small apartment to a big farm, where Esther and her animal friends could fit happily (and get into a little less mischief).
If you liked I Want My Hat Back by Jon Klassen, try…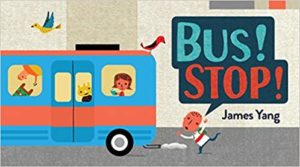 Bus! Stop! By James Yang
"Bus! Stop!" a boy yells, as his bus pulls away one early morning. He must wait for the next bus. But the next one does NOT look like his bus at all. And neither does the next one, or the next. At first, the boy is annoyed. Then he is puzzled. Then intrigued. The other buses look much more interesting than his bus. Maybe he should try a different bus after all, and he's glad he does!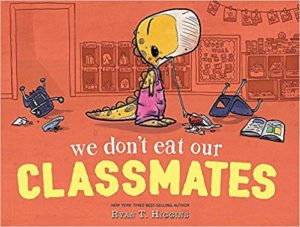 We Don't Eat Our Classmates by Ryan T. Higgins
It's the first day of school for Penelope Rex, and she can't wait to meet her classmates. But it's hard to make human friends when they're so darn delicious! That is, until Penelope gets a taste of her own medicine and finds she may not be at the top of the food chain after all. . . .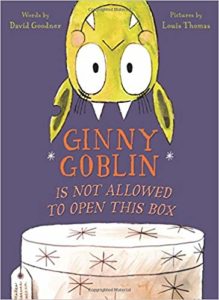 Ginny Goblin is Not Allowed to Open This Box by David Goodner, illustrated by Louis Thomas
Ginny Goblin has one simple rule to follow: She is not allowed to open this box. Not until dinnertime. But Ginny Goblin doesn't like to follow the rules, so nothing will stop her from trying to open this box. Not a tall tower, not a misty mountain, not a frightful forest, and certainly not a murky moat filled with scaly, scary serpents . . .  But wait! What is in the box? You'll have to open this book to find out!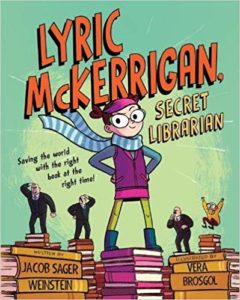 Lyric McKerrigan, Secret Librarian by Jacob Sager Weinstein, illustrated by Vera Brosgol
When an evil genius has a diabolical plan to destroy every book on the planet, who has the tome-toting page power to thwart his dastardly scheme? Lyric McKerrigan, Secret Librarian! She's got the gadgets. She's got the disguises. And she's alwaysgot the right book at the right time. It's a good thing, too, because Lyric McKerrigan is the world's last hope!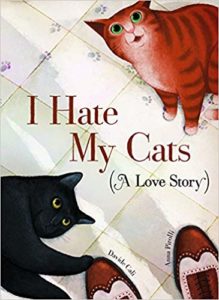 I Hate My Cats (A Love Story) by Davide Cali, illustrated by Anna Pirolli
Ginger is the weird one. She plays with peas, purrs at artichokes, and has a strange fondness for chicken (but only the neighbor's chicken). Then there's Fred. His greatest talent? Sleeping. Oh, and hiding. And when he's not hiding, he's conspiring with Ginger to destroy the house! Such is life with cats. . . can't live with 'em, can't live without 'em—if you love them, that is. And yet the question remains: Why are these captivating creatures so marvelously maddening?!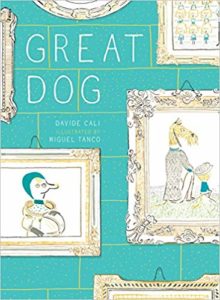 Great Dog by Davide Cali, illustrated by Miguel Tanco
A pup and his father contemplate his grand future while looking at other Great Dogs in their family. Will he be a marathon runner like Uncle Tibor, the fastest dog in the family? Will he be an astronaut like Aunt Yuki, who reached for the stars? Or maybe a teacher like Uncle Scooter, respected by all? No matter what, says his father, he will be a GREAT dog!
If you liked The Polar Express, try…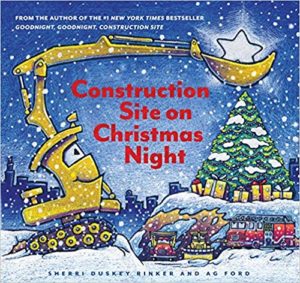 Construction Site on Christmas Night by Sherri Duskey Rinker and A.G. Ford
The trucks are gearing up for Christmas by building a special gift! But, there's a surprise waiting for each of them, too! Presents await for Excavator, Bulldozer, Crane, Dump Truck, and Cement Mixer as each finishes their part of this big, important job and rolls off to a sweet and sleepy goodnight.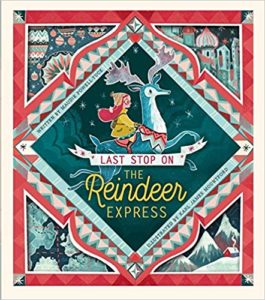 Last Stop on the Reindeer Express by Maudie Powerll-Tuck, illustrated by Karl James Mountford
Christmas is coming but Mia has no time to send the card she made to Grandpa, who lives far away. But when she stumbles across a magical mailbox, Mia finds herself inside the Reindeer Express and is whisked away on an exciting voyage over many exotic lands, reaching Grandpa just in time. Young readers will love opening doors that lead into the next page, peeking through holes into the next scene, and opening the card that Mia made for Grandpa. It's an interactive holiday story that will be especially appreciated by families that can't all be together for Christmas.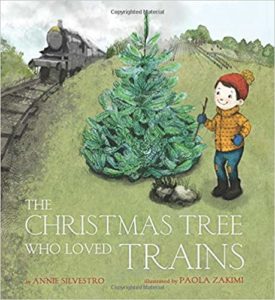 The Christmas Tree Who Loved Trains by Annie Silvestro, illustrated by Paola Zakimi
A pine tree grew in the farthest corner of the tree farm on a small patch of land that bordered the train track. The tree loved trains. She loved to watch them ZOOM by on the tracks beside the tree farm. Her branches would ripple in the wind as the trains roared past. But one morning, when a little boy picks her to be his Christmas tree, she is uprooted and brought to a home far from the ZOOMING trains she loves…
If you liked The Gardener by Sarah Stewart, illustrated by David Small, try…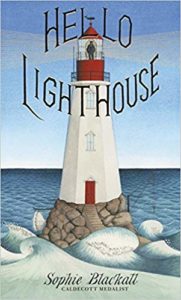 Hello Lighthouse by Sophie Blackall
Watch the days and seasons pass as the wind blows, the fog rolls in, and icebergs drift by. Outside, there is water all around. Inside, the daily life of a lighthouse keeper and his family unfolds as the keeper boils water for tea, lights the lamp's wick, and writes every detail in his logbook.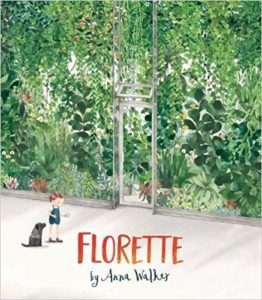 Florette by Anna Walker
When Mae's family moves to a new home, she wishes she could bring her garden with her. She'll miss the apple trees, the daffodils, and chasing butterflies in the wavy grass. But there's no room for a garden in the city. Or is there? Mae's story, gorgeously illustrated in watercolor, is a celebration of friendship, resilience in the face of change, and the magic of the natural world.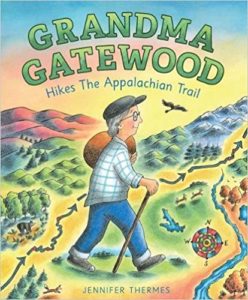 Grandma Gatewood Hikes the Appalachian Trail by Jennifer Thermes
Emma Gatewood's life was far from easy. In rural Ohio, she managed a household of 11 kids alongside a less-than-supportive husband. One day, at age 67, she decided to go for a nice long walk . . . and ended up completing the Appalachian Trail. With just the clothes on her back and a pair of thin canvas sneakers on her feet, Grandma Gatewood hiked up ridges and down ravines. She braved angry storms and witnessed breathtaking sunrises. When the newspapers got wind of her amazing adventure, the whole country cheered her on to the end of her trek, which came just a few months after she set out. A story of true grit and girl power at any age, Grandma Gatewood proves that no peak is insurmountable.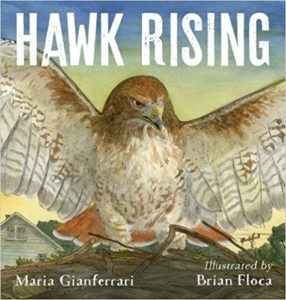 Hawk Rising by Maria Gianferrari, illustrated by Brian Floca
A father red-tailed hawk hunts prey for his family in a suburban neighborhood in this thrilling, fierce, and gorgeous nonfiction picture book, Hawk Rising, illustrated by Caldecott medalist Brian Floca.
If you liked Martin's Big Words by Doreen Rappaport, illustrated Bryan Collier, try…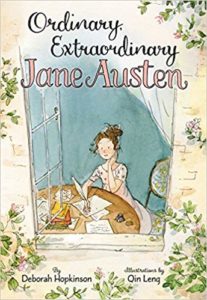 Ordinary, Extraordinary Jane Austen by Deborah Hopkinson, illustrated by Qin Leng
It is a truth universally acknowledged that Jane Austen is one of our greatest writers. But before that, she was just an ordinary girl. In fact, young Jane was a bit quiet and shy; if you had met her back then, you might not have noticed her at all. But she would have noticed you. Jane watched and listened to all the things people around her did and said, and locked those observations away for safekeeping.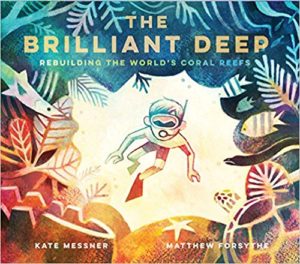 The Brilliant Deep: Rebuilding the World's Coral Reefs by Kate Messner, illustrated by Matthew Forsythe
All it takes is one: one coral gamete to start a colony, one person to make a difference, one idea to change the world. The ongoing efforts to save and rebuild the world's coral reefs—with hammer and glue, and grafts of newly grown coral—are the living legacy of Ken Nedimyer, founder of the Coral Restoration Foundation. Kate Messner and Matthew Forsythe tell the true story of the coral restoration pioneer in this brilliant tribute to the wonders of nature and the power of human hope.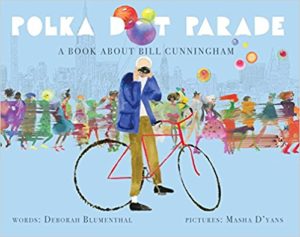 Polka Dot Parade: A Book About Bill Cunningham by Deborah Blumenthal, illustrated by Masha D'yans
Every day, Bill Cunningham pedaled his bike through New York City searching for beauty. As he took picture after picture, Bill found beauty not in people, but in their clothes. Drawn to bold and creative choices, Bill's photos captured the attention of the New York Times. He traveled to Paris for Fashion Week, and admiration for his work grew. With his sense of creativity and daringness, his own personal style of photography came to be known as street art photography.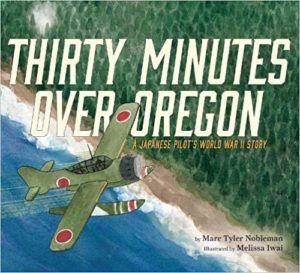 Thirty Minutes Over Oregon: A Japanese Pilot's World War II Story by Marc Tyler Nobleman, illustrated by Melissa Iwai
The devastating attack on Pearl Harbor, Hawaii, drew the United States into World War II in 1941. But few are aware that several months later, the Japanese pilot Nobuo Fujita dropped bombs in the woods outside a small town in coastal Oregon. This is the story of those bombings, and what came after, when Fujita returned to Oregon twenty years later, this time to apologize. This remarkable true story, beautifully illustrated in watercolor, is an important and moving account of reconciliation after war.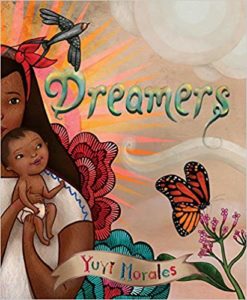 Dreamers by Yuyi Morales
In 1994, Yuyi Morales left her home in Xalapa, Mexico and came to the US with her infant son. She left behind nearly everything she owned, but she didn't come empty-handed. She brought her strength, her work, her passion, her hopes and dreams…and her stories. Caldecott Honor artist and five-time Pura Belpré winner Yuyi Morales's gorgeous new picture book Dreamers is about making a home in a new place. Yuyi and her son Kelly's passage was not easy, and Yuyi spoke no English whatsoever at the time. But together, they found an unexpected, unbelievable place: the public library. There, book by book, they untangled the language of this strange new land, and learned to make their home within it.
If you liked The Story of Ruby Bridges, try…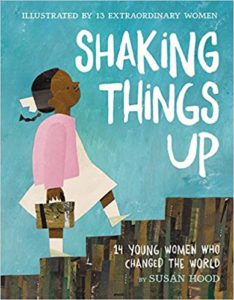 Shaking It Up: 14 Young Women Who Changed the World by Susan Hood
In this book of poems, you will find Mary Anning, who was just thirteen when she unearthed a prehistoric fossil. You'll meet Ruby Bridges, the brave six year old who helped end segregation in the South. And Maya Lin, who at twenty-one won a competition to create a war memorial, and then had to appear before Congress to defend her right to create.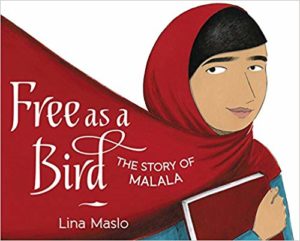 Free as a Bird by Lisna Maslo
When Malala Yousafzai was born, people shook their heads because girls were considered bad luck. But her father looked into her eyes and knew she could do anything. In Pakistan, people said girls should not be educated. But Malala and her father were not afraid. She secretly went to school and spoke up for education in her country. And even though an enemy tried to silence her powerful voice, she would not keep quiet. Malala traveled around the world to speak to girls and boys, to teachers, reporters, presidents, and queens—to anyone who would listen—and advocated for the right to education and equality of opportunity for every person.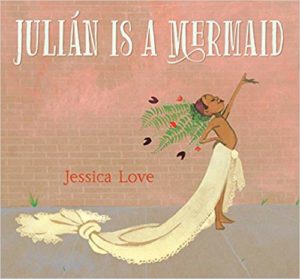 Julian is a Mermaid by Jessica Love
While riding the subway home from the pool with his abuela one day, Julián notices three women spectacularly dressed up. Their hair billows in brilliant hues, their dresses end in fishtails, and their joy fills the train car. When Julián gets home, daydreaming of the magic he's seen, all he can think about is dressing up just like the ladies in his own fabulous mermaid costume: a butter-yellow curtain for his tail, the fronds of a potted fern for his headdress. But what will Abuela think about the mess he makes — and even more importantly, what will she think about how Julián sees himself? Mesmerizing and full of heart, Jessica Love's author-illustrator debut is a jubilant picture of self-love and a radiant celebration of individuality.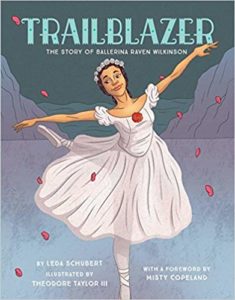 Trailblazer: The Story of Ballerina Raven Wilkinson by Leda Schubert, illustrated by Theodore Taylor III
Raven Wilkinson was born on February 2, 1935, in New York City. From the time she was a little girl, all she wanted to do was dance. On Raven's ninth birthday, her uncle gifted her with ballet lessons, and she completely fell in love with dance. While she was a student at Columbia University, Raven auditioned for the Ballet Russe de Monte Carlo and was finally accepted on her third try, even after being told she couldn't dance with them because of her skin color.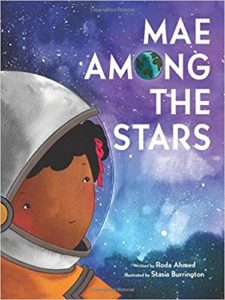 Mae Among the Stars by Roda Ahmed, illustrated by Stasia Burrington
When Little Mae was a child, she dreamed of dancing in space. She imagined herself surrounded by billions of stars, floating, gliding, and discovering. She wanted to be an astronaut. Her mom told her, "If you believe it, and work hard for it, anything is possible."
Little Mae's curiosity, intelligence, and determination, matched with her parents' encouraging words, paved the way for her incredible success at NASA as the first African American woman to travel in space.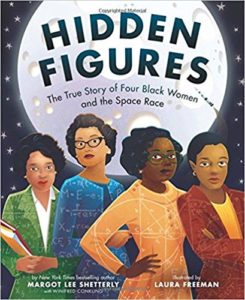 Hidden Figures: The True Story of Four Black Women and the Space Race by Margot Lee Shetterly, illustrated by Laura Freeman
Dorothy Vaughan, Mary Jackson, Katherine Johnson, and Christine Darden were good at math…really good. They participated in some of NASA's greatest successes, like providing the calculations for America's first journeys into space. And they did so during a time when being black and a woman limited what they could do. But they worked hard. They persisted. And they used their genius minds to change the world.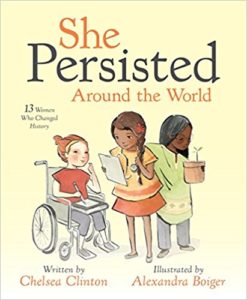 She Persisted Around the World: 13 Women Who Changed History by Chelsea Clinton, illustrated by Alexandra Boiger
Women around the world have long dreamed big, even when they've been told their dreams didn't matter. They've spoken out, risen up and fought for what's right, even when they've been told to be quiet. Whether in science, the arts, sports or activism, women and girls throughout history have been determined to break barriers and change the status quo. They haven't let anyone get in their way and have helped us better understand our world and what's possible.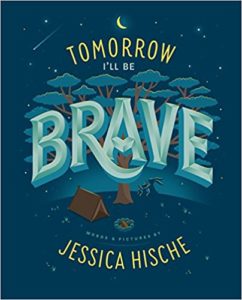 Tomorrow I'll Be Brave by Jessica Hische
Journey through a world filled with positive and beautifully hand-lettered words of widsom, inspiration, and motivation. As this book reminds readers, tomorrow is another day, full of endless opportunities–all you have to do is decide to make the day yours.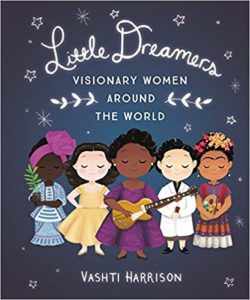 Little Dreamers: Visionary Women Around the World by Vashti Harrison
Featuring the true stories of 35 women creators, ranging from writers to inventors, artists to scientists, Little Dreamers: Visionary Women Around the World inspires as it educates. Readers will meet trailblazing women like Mary Blair, an American modernist painter who had a major influence on how color was used in early animated films, actor/inventor Hedy Lamarr, environmental activist Wangari Maathai, architect Zaha Hadid, filmmaker Maya Deren, and physicist Chien-Shiung Wu. Some names are known, some are not, but all of the women had a lasting effect on the fields they worked in.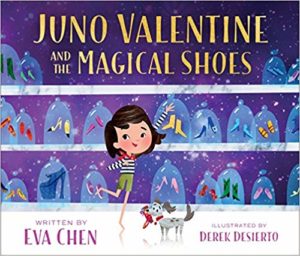 Juno Valentine and the Magical Shoes by Eva Chen, illustrated by Derek Desierto
Juno Valentine's favorite shoes don't light up. They don't have wheels. They are, to be perfectly honest, the tiniest bit boring. But they're still her favorite muddy-puddle-jumping, everyday-is-an-adventure shoes. One day, when they go missing, Juno discovers something amazing: a magical room filled with every kind of shoe she could possibly imagine! Juno embarks on an epic journey through time and space, stepping into the shoes of female icons from Frida Kahlo and Cleopatra to Lady Gaga and Serena Williams. Each pair of shoes Juno tries brings a brand new adventure―and a step towards understanding that her very own shoes might be the best shoes of all.
If you liked All The World by Liz Garton Scalon, illustrated by Marla Frazee, try…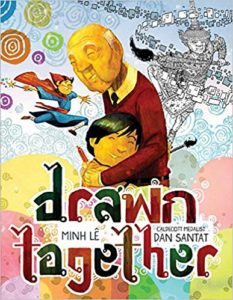 Drawn Together by Minh Le, illustrated by Dan Santat
When a young boy visits his grandfather, their lack of a common language leads to confusion, frustration, and silence. But as they sit down to draw together, something magical happens-with a shared love of art and storytelling, the two form a bond that goes beyond words.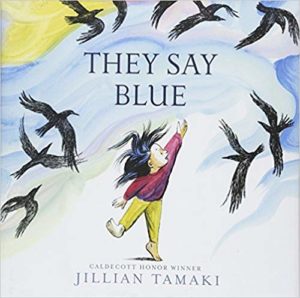 They Say Blue by Jillian Tamaki
In captivating paintings full of movement and transformation, Tamaki follows a young girl through a year or a day as she examines the colors in the world around her. Egg yolks are sunny orange as expected, yet water cupped in her hands isn't blue like they say. But maybe a blue whale is blue. She doesn't know, she hasn't seen one. Playful and philosophical, They Say Blue is a book about color as well as perspective, about the things we can see and the things we can only wonder at.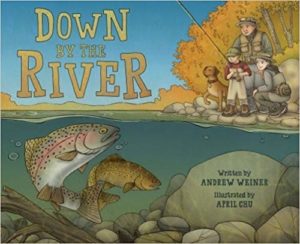 Down By The River by Andrew Weiner, illustrated by April Chu
One beautiful autumn day, Art sets out with his mother and grandfather for a fishing trip. Fishing days are Art's favorite. He loves learning the ropes from Grandpa—the different kinds of flies and tackle and the trout that frequent their favorite river. Art especially appreciates Grandpa's stories. But, this time, hearing the story about Mom's big catch on her first cast ever makes Art feel insecure about his own fishing skills. But, as Art hooks a beautiful brown trout, he finds reassurance in Grandpa's stories and marvels in the sport and a day spent with family, promising to continue the tradition with his own grandkids generations later.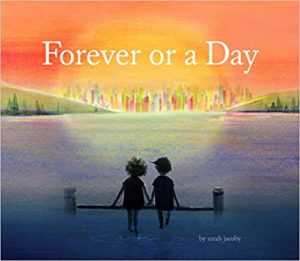 Forever or a Day by Sarah Jacoby
Forever or a Day is a celebration of cherished moments with loved ones. This gorgous picture book is for any child who's ever asked "can we stay longer?"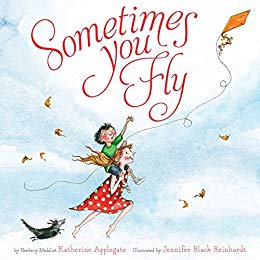 Sometimes You Fly by Katherine Applegate, illustrated by Jennifer Black
Beginning with a first birthday, the scenes travel through childhood triumphs and milestones, coming full circle to graduation. A magical blend of succinct text and beautiful watercolors renders each moment with tenderness and humor and encourages readers to "remember then, with every try, sometimes you fail . . . sometimes you fly."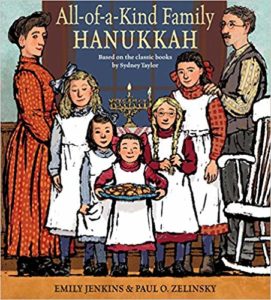 All-of-a-Kind Family Hanukkah by Emily Jenkins, illustrated by Paul O. Zelinsky
When Gertie, the youngest, is not allowed to help prepare latkes, she throws a tantrum. Banished to the girls' bedroom, she can still hear the sounds and smell the smells of a family getting ready to celebrate. But then Papa comes home and she is allowed out–and given the best job of all: lighting the first candle on the menorah.
Imagine by Juan Felipe Herrera, illustrated by Lauren Castillo
Have you ever imagined what you might be when you grow up? When he was very young, Juan Felipe Herrera picked chamomile flowers in windy fields and let tadpoles swim across his hands in a creek. He slept outside and learned to say good-bye to his amiguitos each time his family moved to a new town. He went to school and taught himself to read and write English and filled paper pads with rivers of ink as he walked down the street after school. And when he grew up, he became the United States Poet Laureate and read his poems aloud on the steps of the Library of Congress.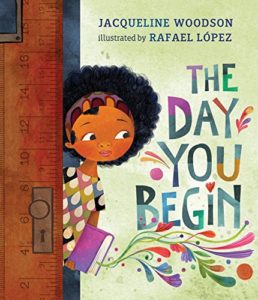 The Day You Begin by Jacqueline Woodson, illustrated by Rafael Lopez
There are many reasons to feel different. Maybe it's how you look or talk, or where you're from; maybe it's what you eat, or something just as random. It's not easy to take those first steps into a place where nobody really knows you yet, but somehow you do it.
If you liked Everett Anderson's Goodbye by Lucille Clifton, try…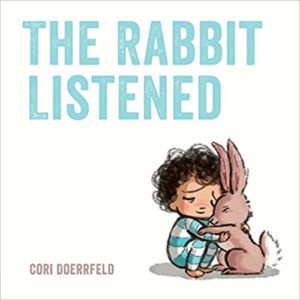 The Rabbit Listened by Cori Doerrfeld
When something terrible happens, Taylor doesn't know where to turn. All the animals are sure they have the answer. The chicken wants to talk it out, but Taylor doesn't feel like chatting. The bear thinks Taylor should get angry, but that's not quite right either. One by one, the animals try to tell Taylor how to process this loss, and one by one they fail. Then the rabbit arrives. All the rabbit does is listen, which is just what Taylor needs.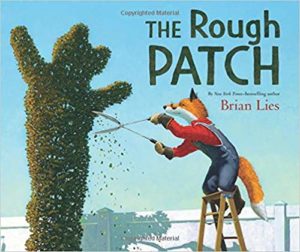 The Rough Patch by Brian Lies
Evan and his dog do everything together, from eating ice cream to caring for their award-winning garden, which grows big and beautiful. One day the unthinkable happens: Evan's dog dies. Heartbroken, Evan destroys the garden and everything in it. The ground becomes overgrown with prickles and thorns, and Evan embraces the chaos. But beauty grows in the darkest of places, and when a twisting vine turns into an immense pumpkin, Evan is drawn out of his misery and back to the county fair, where friendships—old and new—await.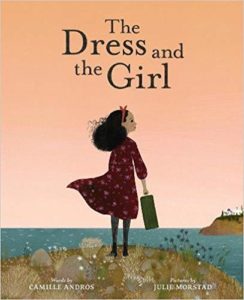 The Dress and the Girl by Camille Andros, illustrated by Julie Morstad
A little girl and her favorite dress dream of an extraordinary life. They enjoy simple pleasures together on a beautiful Greek island. They watch the sunset, do chores, and pick wildflowers on the way home. One day, the dress and the girl must leave the island and immigrate to the United States. Upon arrival, the girl is separated from the trunk carrying her favorite dress, and she fears her dress is lost forever. Many years later, the girl—now all grown up—spots the dress in a thrift store window. As the two are finally reunited, the memories of their times together come flooding back.
If you liked the World Book Encyclopedia, try…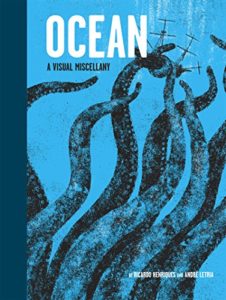 Ocean: A Visual Miscellany by Ricardo Henriques and Andre Letria
Half of our planet is covered by the ocean, yet we've only explored 5 percent of this vast underwater realm. This visually compelling miscellany offers readers a tsunami of aquatic facts. Which ocean is the largest? Who was the first explorer to sail around the world? Is the ocean truly blue? Beautifully designed and rich with information, Ocean will satisfy enthusiastic readers who enjoy taking a deep dive into a subject as well as more reluctant readers who prefer to dip in and out of a book.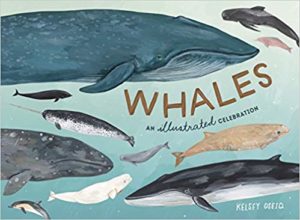 Whales: An Illustrated Celebration by Kelsey Oseid
Some of the world's most fascinating and beloved animals, cetaceans have captivated the human imagination for centuries. Whales: An Illustrated Celebration explores the most interesting and illuminating facts about these marine mammals, from the enormous blue whale (which has a heart the size of a car!) to the Amazon river dolphin (which is pink!). Gorgeously illustrated with full-color art on every page, this giftable guide delves into cetaceans' mysterious evolution (from land to water mammals), their place in mythology, and their ecology, habitats, and behaviors (such as singing, fluking, beaching, bubble feeding, and more).
Cuddly Critters for Little Geniuses by Susan and James Patterson, illustrated by Hspinping Pan
From sloths to spoonbills and panda ants to pangolins, little geniuses will love learning about all of the unusual, adorable animals that live on this planet. More than 50 little-known flyers, swimmers, and crawlers are included in this book, whimsically illustrated by artist Hsinping Pan. Cuddly Critters for Little Geniuses will remind you that nature contains many wonders–and these cute and curious creatures are no exception!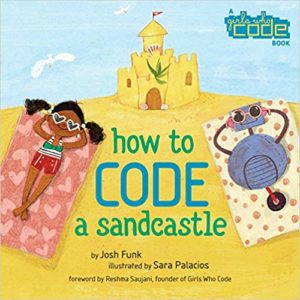 How to Code a Sandcastle by Josh Funk, illustrated by Sara Palacios
All summer, Pearl has been trying to build the perfect sandcastle, but out-of-control Frisbees and mischievous puppies keep getting in the way! Pearl and her robot friend Pascal have one last chance, and this time, they're going to use code to get the job done. Using fundamental computer coding concepts like sequences and loops, Pearl and Pascal are able to break down their sandcastle problem into small, manageable steps. If they can create working code, this could turn out to be the best beach day ever!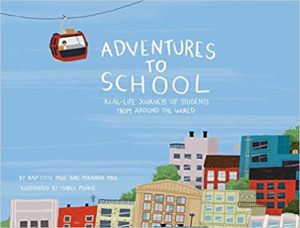 Adventures to School by Baptiste Paul and Miranda Paul, illustrated by Isabel Munoz
Children all around the world go to school. Whether they're from Japan, Ukraine, Ethiopia, or the United States, all students have the desire to learn about the world and shape the future. In Bhutan, children walk for three hours to make it to school, and in Pakistan, children travel by rickshaw. Some children in China must climb a heaven ladder, while children in Nepal must walk over a wire bridge. The treks of these students are unique, extraordinary, and even dangerous, and they signify the common determination, perseverance, and sense of adventure shared by young people around the world.
If you liked Harold and the Purple Crayon, try…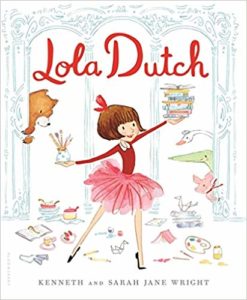 Lola Dutch by Kenneth Wright and Sarah Jane Wright
Her dear companion Bear sometimes says she is just too much, but Lola is rich with imagination and originality, which even Bear will agree is AMAZING.The unstoppable Lola Dutch is about to show you how to make every day grand and full of fun. You'll love her so much!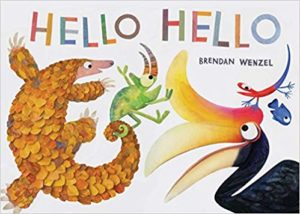 Hello Hello by Brendan Wenzel
Hello, Hello! Beginning with two cats, one black and one white, a chain of animals appears before the reader, linked together by at least one common trait. From simple colors and shapes to more complex and abstract associations, each unexpected encounter celebrates the magnificent diversity of our world-and ultimately paints a story of connection.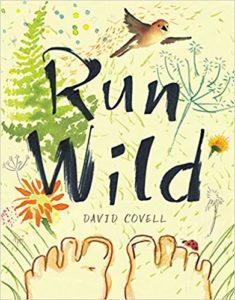 Run Wild by David Covell
"Hey, you! Sky's blue!" a girl shouts as she runs by the window of a boy bent over his digital device. Intrigued, the boy runs out after her, leaving his shoes (and phone) behind, and into a world of sunshine, dewey grass, and warm sand. Filled with the pleasures of being alive in the natural world, Run Wild is an exquisite and kid-friendly reminder of how wonderful life can be beyond doors and screens.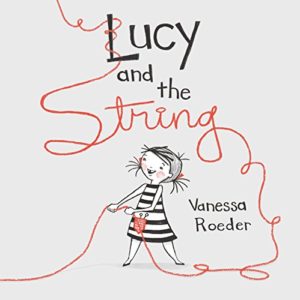 Lucy and the String by Vanessa Roeder
When Lucy spots a string, she can't help but give it a yank, and before she knows it, she meets Hank! But this bear isn't quite sure what to make of Lucy, especially because the string is attached to his pants, and they're unraveling fast! Now Lucy must dream up the perfect solution to Hank's missing pants, and hopefully win this dubious bear's heart along the way.
If you liked Where's Waldo, try…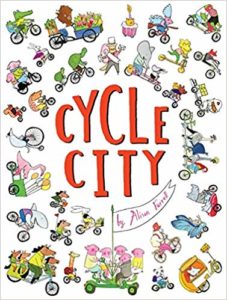 Cycle City by Alison Farrell
When little Etta the Elephant goes to her Aunt Ellen's house, she takes a journey through bicycle-filled Cycle City, a town filled with bikes of all kinds! At the end of the day, a special surprise awaits Etta—the most amazing bicycle parade imaginable. Detail-rich illustrations in this fun seek-and-find book paint the colors of this unusual town where everyone rides some kind of bike—whether a penny-farthing, a two-wheeled unicycle, or a conference bike, everyone is on wheels! Packed with prompts and lots to see on every page, this is a sweet story for the sharpest of eyes.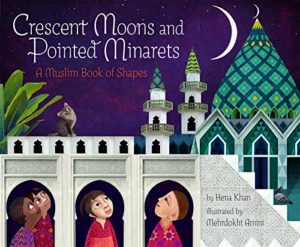 Crescent Moons and Pointed Minarets: A Muslim Book of Shapes by Hena Khan, illustrated by Mehrdokht Amini
From a crescent moon to a square garden to an octagonal fountain, this breathtaking picture book celebrates the shapes—and traditions—of the Muslim world. Sure to inspire questions and observations about world religions and cultures, Crescent Moons and Pointed Minarets is equally at home in a classroom reading circle and on a parent's lap being read to a child.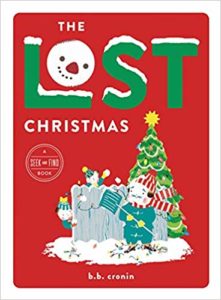 The Lost Christmas by B.B. Cronin
It's time to decorate the tree for Christmas–but Grandad can't find any of his ornaments! The hunt for the missing decorations takes the children up and down in Grandad's bric-a-brac-filled house and out into a winter wonderland. And when every ornament is on the tree at last, Grandad has a wonderful holiday surprise in store.
Whew! It has been so much fun reading all of these fabulous 2018 books, and I cannot wait to see what children's book creators have in store for 2019. I've already been digging into some of the early 2019 releases, and wow, some of them are just amazing. I cannot wait to share them with you!
Be sure to tune in to next Sunday's newsletter, because the amazing Vashti Harrison will be talking about her wonderful books, Little Leaders and Little Dreamers.
I would love to know what your favorite 2018 books are! Find me on Twitter at @KarinaYanGlaser, on Instagram at @KarinaIsReadingAndWriting, or email me at karina@bookriot.com.
Until next time!
Karina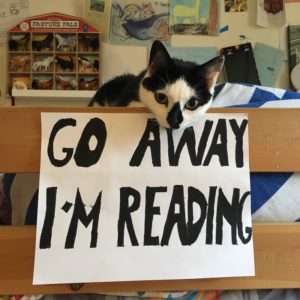 Annabelle is not wrong.
*If this e-mail was forwarded to you, follow this link to subscribe to "The Kids Are All Right" newsletter and other fabulous Book Riot newsletters for your own customized e-mail delivery. Thank you!*