Hello, readers! This week, Book Riot is hosting tons of excellent content for New Ears Resolution Week, and we wanted to share it all with you to help you with your bookish resolutions.
---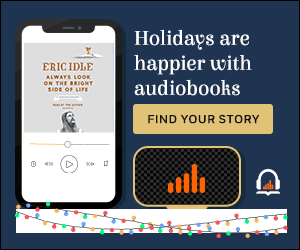 Sponsored by Penguin Random House Audio
HOLIDAYS ARE HAPPIER WITH AUDIOBOOKS. Make your holiday travels, errands, cooking sessions, and all the rest more enjoyable by listening to an audiobook. From bestsellers, to thrillers, to self-care, you can find the perfect listen for any moment. Give yourself the gift of audio this holiday season.
---
Start here, with our welcome post, where you'll be able to find all of our New Ears Resolution content as it goes up throughout the week.
Today, there's this post about the joy of poetry audiobooks for those of us looking to discover new poets, add more poetry to our to-be-read list, and experience poetry in an audibly delightful way.
If reading the classics is your 2019 jam, but you're already feeling overwhelmed by the prospect, why not try listening to them? We're here to help you move those daunting texts off your TBR with the help of audiobooks.
And, whatever your resolutions may be, we have a nonfiction audiobook to help you find the motivation and perspective to follow through.
Be sure to check out all our New Ears Resolution Week content by heading over to bookriot.com.