This edition of Today in Books is sponsored by Penguin Random House Audio.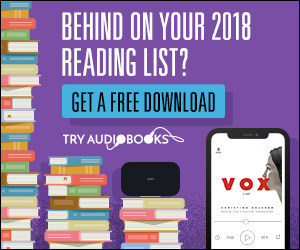 ---
A Cemetery Of Banned Books
Containing over 200 headstones a Kuwaiti artist created the piece close to Kuwait's annual book fair to protest the government's recent  ban on thousands of works of literature. Momhammed Sharaf had two goals as he created the piece: "The first was to shed light on the banned books," he said. "The second is to show people that we can say 'no' in a very peaceful way, without manifestations, and without writing in journals."
Black Panther Actor's Role Left Him Needing Therapy
Michael B. Jordan discussed how his role as Killmonger in Black Panther was the first character he was unable to leave on set when finished. After realizing he was isolating himself and feeling depressed he sought professional help. We're glad he was able to seek help and is openly speaking about his experience.
Muppet Arms Ready?
The CW will be adapting Victoria Schwab's City of Ghosts into a one-hour series. Even if I didn't already love Schwab I'd be 100% in for a show set in Scotland following a student of paranormal psychology.