Happy Monday to you, happy Monday to you, happy Monday, dear readers, happy Monday to you! I am in such a good mood, because books are a thing that exist.  I never get tired of them, and there is a lot of great book news out there in the world this week. I have a few wonderful things to share with you today. Enjoy your upcoming week, be kind to yourself as well as others, and remember that I love you and I like you. – xoxo, Liberty
---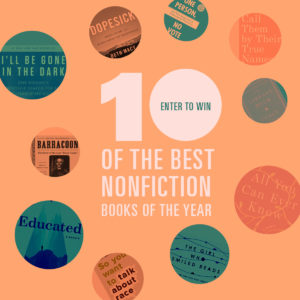 Sponsored by Book Riot's 10 Best Nonfiction Books of 2018 Giveaway
We're giving away ten of our favorite works of nonfiction of the year! Click here to enter.
---
Here's this week's trivia question:  George Orwell was also a participant in the civil war of which country? (Scroll to the bottom for the answer.)
Deals, Reals, and Squeals!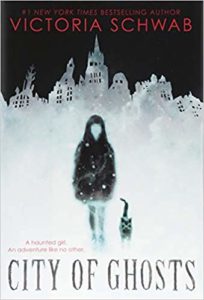 V.E. Schwab's City of Ghosts is coming to television!
And she also announced a new standalone novel!
Netflix is adapting Matilda, The BFG, and other Roald Dahl stories into animated series.
To All the Boys I've Loved Before sequel in the works.
And Margaret Atwood announced a sequel to The Handmaid's Tale.
Recently-discovered Zora Neale Hurston book Barracoon is being developed for TV by Common.
Isaac Fitzsimon's The Passing Playbook is coming in 2020.
The Ripped Bodice bought their first book for their Sony deal.
JoAnn Cheney's upcoming thriller, As Long As We Both Shall Live, is coming to the big screen. (Read it, it's so good!)
Steven Moffat is making a Dracula miniseries.
And Jonathan Lee's novel High Dive is also being made into a miniseries.
And so is a book on video games, Console Wars by Blake Harris.
And there's a new book of Leslie Jamison essays on the way next year!
Eric Bana will star in the adaptation of The Dry by Jane Harper.
Herman Melville novella being adapted as a sci-fi series.
Cover Reveals
We Need Diverse Books shared the cover of their new anthology coming next year: The Hero Next Door. (Crown Books for Young Readers, Jul 30, 2019)
Here's the first look at Dear Justice League by Michael Northrop and Gustavo Durante. (DC Zoom, August 6, 2019)
And Kristen Arnett revealed the cover of her new novel Mostly Dead Things. (You can also see it below.) (Tin House, June 4, 2019)
Sneak Peeks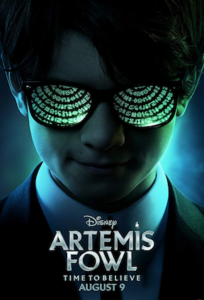 Here's the first teaser trailer for Artemis Fowl.
Dolly Parton released another video for the Dumplin' soundtrack, this time for her classic, Jolene.
Book Riot Recommends 
At Book Riot, I work on the New Books! email, the All the Books! podcast about new releases, and the Book Riot Insiders New Release Index. I am very fortunate to get to read a lot of upcoming titles, and learn about a lot of upcoming titles, and I'm delighted to share a couple with you each week so you can add them to your TBR!
Loved, loved, loved:
Sweety by Andrea Zuill (Schwartz & Wade, March 26, 2019)
Sweety is a mushroom-loving, headgear-wearing naked mole rat, who is looking for friends like her. Other critters who like interpretive dance and fungus identification. Being extra is lonely work. But as Sweety is going to learn, sometimes, being Sweety is also the best job. I LOVED THIS BOOK. It gave me all the feels. I wish it had been around when I was little.
Excited to read:
The Oddmire, Book 1: Changeling by William Ritter (Algonquin Young Readers, July 16, 2019)
The first in a new middle grade series from the author of the Jackaby series! It's about a goblin ceremony to bring magic back to the forest that goes terribly wrong. YAY, GOBLINS. If we can't have more Jackaby, I'll be excited for this instead. (But, seriously, read the Jackaby series.)
What I'm reading this week.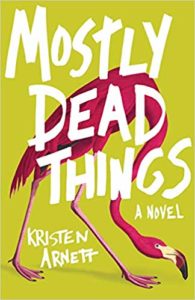 Mostly Dead Things by Kristen Arnett
Deep River by Karl Marlantes
North of Dawn: A Novel by Nuruddin Farah
In Our Mad and Furious City: A Novel by Guy Gunaratne
The Farm: A Novel by Joanne Ramos
And this is funny.
Reader, I bought it.
Trivia answer: Spain.
You made it to the bottom! Thanks for reading! – xo, L