Hello again, nonfiction readers! This week has felt, to me, like a week for catching up and catching my breath before the sprint to the holidays and the end of 2018. News has been pretty slow – other than the announcement of a new Margaret Atwood (SQUEEEE!) – and the pace of new books has slowed too.
---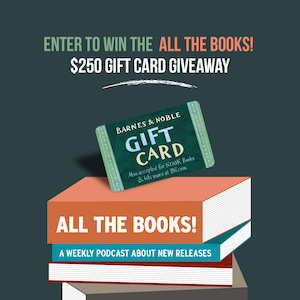 Today's newsletter is sponsored by our $250 All the Books Barnes and Noble gift card giveaway!
Enter to win a $250 gift card to Barnes and Noble in support of our All the Books! podcast. Click here for more info.
---
In the spirit of slowing down, just for a moment, I thought it made sense to use this week's newsletter to catch up on some of the great nonfiction content we've been publishing over at Book Riot.
But first, I wanted to point you towards one of my favorite year-end books roundups. NPR's Book Concierge is a collection of 300 of the year's best books recommended by the editors and writers at NPR. I've only gotten to browse it a little bit, but I've already come across books that completely missed my radar or I'd forgotten about. I love that, and can't wait to dig in more.
Back over at the Riot, here's what we've been working on:
Curious about the differences between biography and memoir? We broke down down some of the defining characteristics and has some great recommendations.
Illness and death seem to be on our minds. One Rioter shares the books she's reading right now to understand those topics, and another rounded up five recent memoirs about struggling with illness. On a similar heavy note, here are nine memoirs about recovering from trauma.
Get a snapshot of women's lives around the world with the most recent edition of The Women's Atlas. We've got some fascinating and horrifying facts from the book to pique your interest.
If you need a break from reading nonfiction, a true crime podcast might be a perfect filler. We've got 18 of them to check out (especially ones that are great for people who also love mysteries).
No one likes to think about money, but we all have to do it. Rioter Aisling shares some of the best books she's read on managing your finances that are perfect for the average person.
This list of 50 must-read microhistories is a must-read post. This is one of my favorite sub-genres!
We've also got a list of memoirs by diverse dancers, a collection of books I didn't know I needed until this post went up.
Want to read something fast? Try one of these 50 short nonfiction books you can polish off in a day or two. These seem perfect for an upcoming holiday weekend. Or try one of the great essay collections that came out in 2018. Or snag a YA nonfiction book that came out this fall. Those are a lot of books you can read pretty quick!
And with that, it's time to call it a week. Thanks again so much for reading! You can find me on Twitter @kimthedork, and co-hosting the For Real podcast here at Book Riot with questions and comments!