Bienvenidos, audiophiles!
I'm just going to get right down to business here. Why the brief intro, you ask? Because my adorable chunky monkey of a nephew is now pushing 16 pounds and carrying him all day has left my left arm a quaking mess. Poor guy has a cold and just wanted cuddles, which tia was happy to oblige. Even typing is a task tho! Oh well. Worth it.
Anyway. Let's audio!
---
Sponsored by Penguin Random House Audio. Keep up with your reading by listening to the audiobook – and never miss a book club meeting!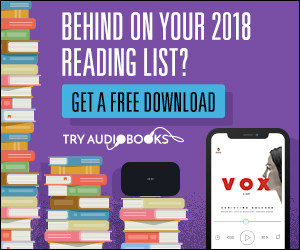 Keep up with your book club reading by listening to the audiobook. Audiobooks are the perfect complement to your busy schedule. Listen to new releases such as The Kennedy Debutante, by Kerri Maher and read by Julia Whelan and you can enjoy a whole new book club experience. For more listening suggestions, visit Tryaudiobooks.com/BookRiot.
---
Latest Listens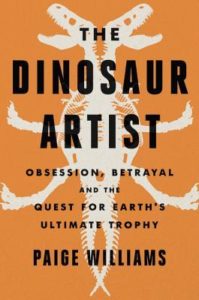 I am living my best Ross Gellar life with my current listen. Paleontology, yo! And a heist! I'm talking about The Dinosaur Artist: Obsession, Betrayal, and the Quest for Earth's Ultimate Trophy by Paige Williams. It's the true story of a dude in Florida who illegally tried to sell a dinosaur skeleton from Mongolia. It's catnip for natural history nerds with the juiciness of true crime. SO satisfying.
Listens on Deck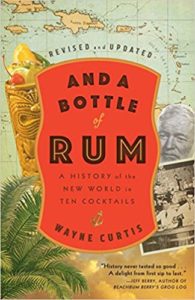 I love me a good cocktail and history is pretty sweet too. I've been meaning to read And a Bottle of Rum: A History of the World in 10 Cocktails for some time and the holidays feel like a great time to finally do it. In ten chapters, each dedicated to a particular cocktail, author Wayne Curtis teaches us a little more about a spirit of choice while weaving in a crash course on American history. Yay booze! I mean books. 
From the Internets
Listens Libro Loves – Libro.fm recently released its Top 10 Audiobooks of 2018 list. So many cosigns! I couldn't possibly pick a favorite from that bunch but I will say that I am constantly recommending Calypso on audio. The only thing funnier than David Sedaris describing his attempt at Tokyo fashion as looking like a hand puppet is hearing him do it in his signature pitch.  
Confessions of a Former Snob – This is a safe space, right friends? Ok, here goes. I used to be one of those people. You know, the kind that turn their noses up at audiobooks and I KNOW I KNOW I AM SO SORRY I AM REFORMED. I found the light some 5-6 years ago, but it took me a few tries for it to stick. I saw a lot of myself in this Bustle piece on how taking the audiobook dive changed one reader's life. 
I'll Get By with a Little Help From My Books – However merry and bright the time of year, it isn't always an easy one to get through; there's the cooking, the cleaning, the elbowing of aggressive shoppers daring to put their greedy little paws on the sweater that you clearly grabbed first. Enter Vulture and this list of audiobooks to help you survive the holiday season. 
Over at the Riot
Family Friendly – "And while I think the trip was a complete success (I even returned with the same three kids—didn't lose a single one along the way), there was one thing I forgot: a collection of the best family audiobooks." Don't find yourself in the same conundrum; peep this list of 25 family-friendly audiobooks. 
King of Audio – Stephen King, that is. Rioter Emily Martin did us all a favor and compiled a list of the 10 best Stephen King audiobooks. Me, I'm still recovering from It and would probably pass out if I relived that moment on audio. For all you non-fraidy-cats, rock on! 
---
Thanks for hanging with me today! Shoot me an email at vanessa@riotnewmedia.com with audiobook feedback & questions or find me on Twitter and the gram @buenosdiazsd. Sign up for the In The Club newsletter for book club tips & tricks and watch me booktube every Friday too!
Stay bad & bookish, my friends.
Vanessa