Hi, Kid Lit friends!
It is gift giving season, so I thought I would put together an assortment of beautiful books that would make good gift choices for kids. In the next two weeks, I will also make middle grade and picture book-specific recommendations, but for today I am just focusing on beautiful books that are interesting and fun.
---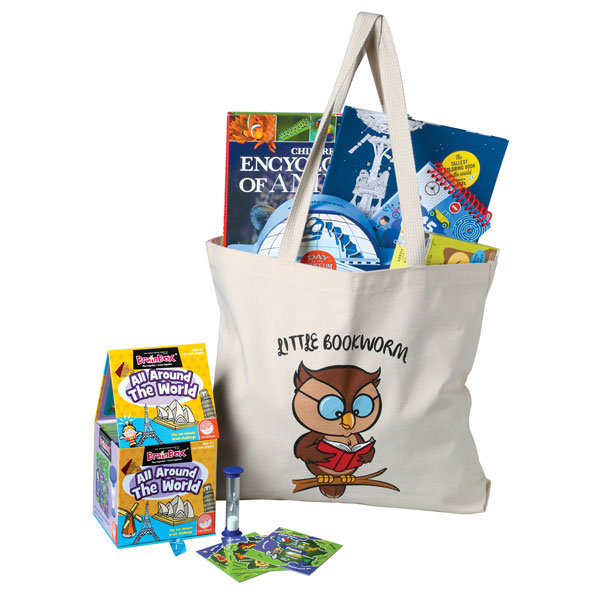 Sponsored by: Bas Bleu Books and Gifts
It's tough to know what will please the youngsters on your list. That's why Bas Bleu created the Well-Read Kids' Packs, sure to delight babies, toddlers, and elementary-school students…and their parents! Each canvas bag is filled with age-appropriate books, puzzles, games, and other goodies that stimulate the mind and tickle the funny bone. (Total retail value of each pack is more than $100, so you're getting a deal, too.) Kid-tested and educational to boot, our Well-Read Kids' Packs are sure to be Christmas morning superstars!
---
The Folio Society does a beautiful job publishing classic children's books. The books are gorgeously illustrated and many of them include slipcovers which makes this a particularly special book gift for kids (or adults!). I am particularly in love what they have done with the following books. Please note that all descriptions come from The Folio Society website.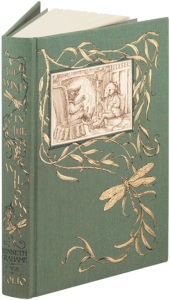 The Wind in the Willows by Kenneth Grahame
The timeless adventures of Toad, Mole, Ratty and Badger have enchanted children and their parents for more than a century. This is a glorious edition of a children's classic, with enchanting illustrations by Charles van Sandwyk. Of this Folio edition, author Michael Morpurgo has said, 'In almost 100 years since its first publication, I doubt there has been a finer edition.' One of our all-time best-sellers, it features illustrations by Charles van Sandwyk that perfectly evoke the idyllic world of wild wood and riverbank.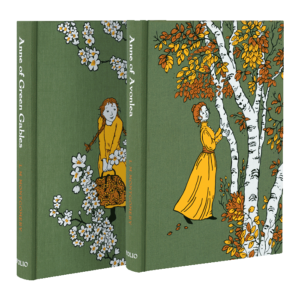 The L.M. Montgomery Set (includes both Anne of Green Gables and Anne of Avonlea)
Anne Shirley falls in love with the rambling farmhouse called Green Gables the moment she sees it. Unfortunately she is not quite what Marilla Cuthbert and her brother Matthew were expecting: they had applied to the orphanage for a boy to help on the farm, not a skinny 11-year-old girl with a head full of romantic notions. At first Marilla is adamant that Anne should be sent back, but her heart relents when she hears about the girl's wretched life, and Matthew – though he would never interfere – is clearly already bewitched by the spirited red head with a temper to match her hair. This edition is introduced by Margret Atwood.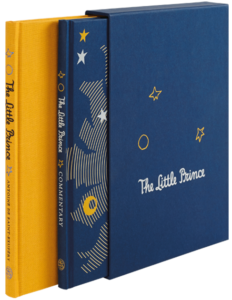 The Little Prince by Antoine de Saint-Exupery
The little prince lived on a very small planet, hardly any bigger than a house. Lonely on his tiny world, one day the prince, catching hold of a migration of wild birds, left on a journey across the stars to learn life's mysteries of love, loss and beauty in a universe corrupted by grown-up logic. In its first Folio edition, this definitive two-volume production includes a new introduction by Saint-Exupéry's biographer and Pulitzer Prize-winning author Stacy Schiff, as well as restored versions of Saint-Exupéry's unforgettable illustrations, as inseparable from the story as the words themselves.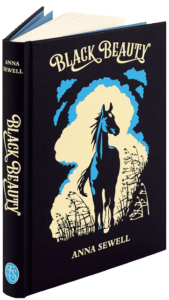 Black Beauty by Anna Sewell
Many writers spend a lifetime working towards literary recognition; Anna Sewell wrote a single book and it is still one of the best-selling titles of all time, having sold more than 50 million copies worldwide. Its longevity is testament to the simple yet enduring theme of animals' interaction with humans, and children still laugh and cry with the equine protagonist as sincerely as when Black Beauty was first published nearly 150 years ago.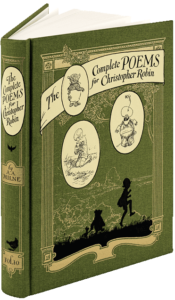 The Complete Poems for Christopher Robin by A. A. Milne
A. A. Milne's seminal works of children's poetry, When We Were Very Young and Now We Are Six, have been engaging and delighting readers for over 90 years. This exquisite new edition brings the two collections together in one complete volume that will introduce a new generation to these captivating characters and their friendships and woes.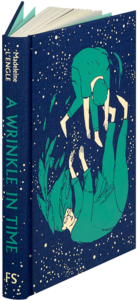 A Wrinkle in Time by Madeleine L'Engle
Meg Murry, bespectacled, gangly and an outcast at school, desperately misses her father, a quantum physicist who has mysteriously disappeared. But when she and her precocious little brother, Charles Wallace, meet ancient shape-shifters Mrs Whatsit, Mrs Who and Mrs Which, they and their friend Calvin O'Keefe are swept away on an adventure across time and space to rescue their father.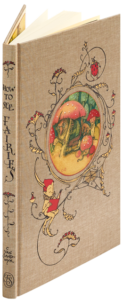 How to See Fairies by Charles van Sandwyck
Charles van Sandwyk has been intrigued by the fairy realm since he was a young boy and his imaginative prowess explains the incredibly detailed portraits that populate his stories. Before long, the reader is drawn into his enchanting cast of fairy folk, as well as the world they inhabit.
In addition to classic children's books, there are many recently released books that would make excellent gifts. Here are my picks; please note that all descriptions come from Goodreads.
For Expectant Parents and Newborns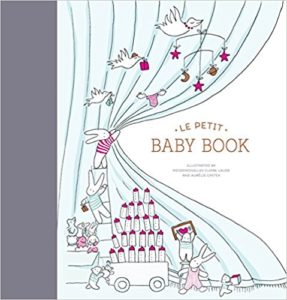 Le Petit Baby Book by Claire Laude and Aurelie Castex
Packaged in a compact album with a fabric spine and foil-stamped cover, with whimsical color illustrations and thoughtful prompts throughout, this book is the ultimate keepsake for new parents.
Llamaphones by Janik Coat
This much-anticipated follow-up to Hippopposites and Rhymoceros, features witty words that sound the same but are spelled differently—and have different meanings. Like the other books in the series, this one features surprising novelties, including a touch-and-feel element, making homophones an easy and fun concept to learn.
Picture Books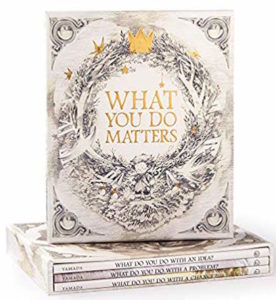 What You Do Matters Box Set by Kobi Yamada, illustrated by Mae Besom
"Discover the amazing things that happen when you nurture your bright ideas, face your problems, and take bold chances." This collection features all three books in the award-winning, New York Times best-selling What Do You Do With…? picture book series. The beautiful keepsake box features new and original illustrations from Mae Besom with gold foil and imagery from all three books.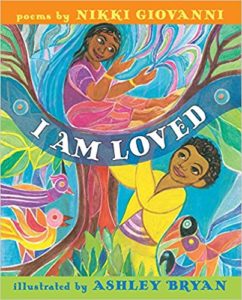 I Am Loved by Nikki Giovanni, illustrated by Ashley Bryan
There is nothing more important to a child than to feel loved, and this gorgeous gathering of poems written by Nikki Giovanni celebrates exactly that. Hand-selected by Newbery honoree Ashley Bryan, he has, with his masterful flourish of color, shape, and movement, added a visual layering that drums the most impartant message of all to young, old, parent, child, grandparent, and friend alike: You are loved. You are loved. You are loved. As a bonus, one page is mirrored, so children reading the book can see exactly who is loved—themselves!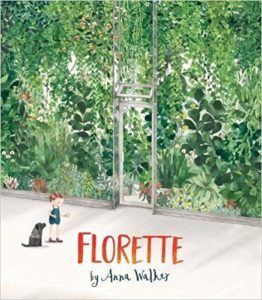 Florette by Anna Walker
When Mae's family moves to a new home, she wishes she could bring her garden with her. She'll miss the apple trees, the daffodils, and chasing butterflies in the wavy grass. But there's no room for a garden in the city. Or is there? Mae's story, gorgeously illustrated in watercolor, is a celebration of friendship, resilience in the face of change, and the magic of the natural world. This book was chosen as a NYT Best Illustrated Book of 2018.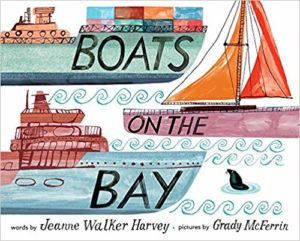 Boats on the Bay by Jeanne Walker Harvey, illustrated by Grady McFerrix
A large-format picture book about a bunch of boats found on a busy bay, buoyed by simple, spare, and lyrical text. Inspired by the San Francisco Bay but with universal appeal, the book features a spectacular double-spread gatefold finale showing a boat parade and fireworks glowing against a city backdrop.
Chapter Books
The Carver Chronicles by Karen English, illustrated by Laura Freeman: Dog Days: The Carver Chronicles, Skateboard Party: The Carver Chronicles, Don't Feed the Geckos: The Carver Chronicles, Trouble Next Door: The Carver Chronicles
(Synopsis from Dog Days: The Carver Chronicles, Book 1) It's tough being the new kid at Carver Elementary. Gavin had lots of friends at his old school, but the kids here don't even know that he's pretty good at skateboarding, or how awesome he is at soccer. And when his classmate Richard comes over and the boys end up in trouble, not only does Gavin risk losing his one new friend, he has to take care of his great aunt Myrtle's horrible little dog as punishment.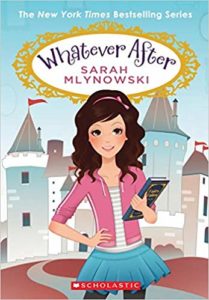 Whatever After Boxset by Sarah Mlynowski
When the magic mirror in their basement transports them into classic fairy tales, siblings Abby and Jonah accidentally mess up the stories . . . and they have to find a way to set things right! This box set includes the first six hilarious, fractured-fairy-tale adventures! Whatever After #1: Fairest of All Whatever After #2: If the Shoe Fits Whatever After #3: Sink or Swim Whatever After #4: Dream On Whatever After #5: Bad Hair Day Whatever After #6: Cold as Ice
Middle Grade Books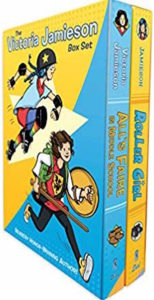 Victoria Jamieson Box Set
Roller Girl, Victoria Jamieson's graphic novel debut, earned a Newbery Honor and five starred reviews. It's an inspiring coming-of-age story about friendship, perseverance, and girl power! For most of her twelve years, Astrid has done everything with her best friend Nicole. But after Astrid falls in love with roller derby and signs up for derby camp, Nicole decides to go to dance camp instead. And so begins the most difficult summer of Astrid's life as she struggles to keep up with the older girls at camp, hang on to the friend she feels slipping away, and cautiously embark on a new friendship…and be strong enough to be a roller girl!
All's Faire in Middle School perfectly–and authentically–captures the bittersweetness of middle school life with humor, warmth, and understanding. Eleven-year-old Imogene (Impy) has grown up with two parents working at the Renaissance Faire, and she's eager to begin her own training as a squire. First, though, she'll need to prove her bravery. Luckily Impy has just the quest in mind–she'll go to public school after a life of being homeschooled! But it's not easy to act like a noble knight-in-training in middle school.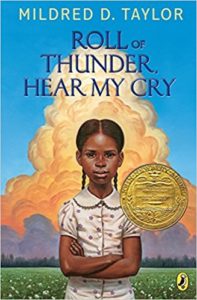 Mildred D. Taylor Logan Family paperback series, cover illustration by Kadir Nelson: The Land, Song of the Trees, The Well, Roll of Thunder, Hear My Cry, Let the Circle Be Unbroken, The Road to Memphis, The Gold Cadillac
(Synopsis from Roll of Thunder, Hear My Cry) Why is the land so important to Cassie's family? It takes the events of one turbulent year—the year of the night riders and the burnings, the year a white girl humiliates Cassie in public simply because she is black—to show Cassie that having a place of their own is the Logan family's lifeblood. It is the land that gives the Logans their courage and pride, for no matter how others may degrade them, the Logans possess soemthing no one can take away.
Nonfiction Books
Everything, Everywhere by Marc Martin
From Hong Kong to Reykjavík, Ulaanbaatar to New York City, enjoy a lush and unexpected journey around the world to discover what makes each place unique. Sleepy sloths, colorful cows, staggering skylines, terrible traffic—countless surprises await! All you need is a good guide and a little curiosity . . . so, what are you waiting for? Let's go! From award-winning author and illustrator Marc Martin comes a quirky, fact-filled adventure for curious globe-trotters, young and old.
The Big Book of the Blue by Yuval Zommer
The book opens by explaining how different types of animals are able to breathe and survive underwater, and the different families to which they belong. Subsequent pages are dedicated to specific creatures, including sea turtles, whales, sharks, stingrays, and seahorses, and show varied life in specific habitats, such as a coral reef or deep sea bed. The Big Book of the Blue also explores the underwater world thematically, looking at animals in danger, learning how to spot creatures at the beach, and discovering how to do our part to save sea life. Beautiful and filled with fascinating facts, young, curious readers won't be able to tear their eyes away from the page.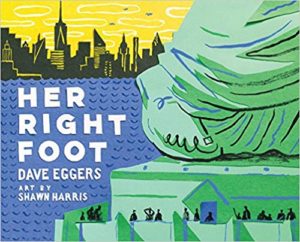 Her Right Foot by Dave Eggers, illustrated by Shawn Harris
If you had to name a statue, any statue, odds are good you'd mention the Statue of Liberty.
Have you seen her?
She's in New York.
She's holding a torch.
And she's in mid-stride, moving forward.
But why?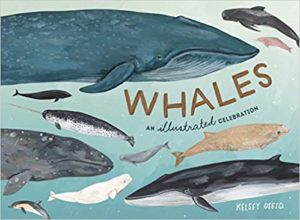 Whales: An Illustrated Celebration by Kelsey Oseid
Some of the world's most fascinating and beloved animals, cetaceans have captivated the human imagination for centuries. Whales: An Illustrated Celebration explores the most interesting and illuminating facts about these marine mammals, from the enormous blue whale (which has a heart the size of a car!) to the Amazon river dolphin (which is pink!). Gorgeously illustrated with full-color art on every page, this giftable guide delves into cetaceans' mysterious evolution (from land to water mammals), their place in mythology, and their ecology, habitats, and behaviors (such as singing, fluking, beaching, bubble feeding, and more). Perfect for nature and animal lovers from eight to eighty, Whales also covers the current state of wild and captive cetaceans worldwide, why we should care, and what we can do to help our beautiful marine mammal friends.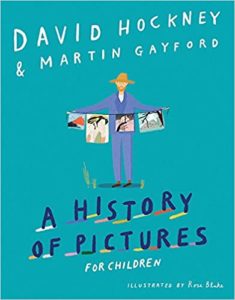 A History of Pictures by David Hockney and Martin Gayford, illustrated by Rose Blake
A History of Pictures takes young readers on an adventure through art history. From cave paintings to video games, this book shows how and why pictures have been made, linking art to the human experience. Hockney and Gayford explain each piece of art in the book, helping young minds to grasp difficult concepts. The book tracks the many twists and turns toward artistic invention, allowing readers to fully appreciate how and why art has changed and includes an illustrated timeline of inventions. All new illustrations by Rose Blake add a personal perspective on a wide variety of images. A History of Pictures will inspire creative minds and help them to understand the legacy of the pictures we see today. The book also includes a bibliography and index.
Around the web…
Listen to Donalyn Miller and Colby Sharp talk about their new book, Game Changer: Book Access for All Kids, on the podcast Scholastic Reads.
11 Picture Books to Teach Children About Giving to Others, via Brightly
Scary Stories to Tell in the Dark is Coming Back!, via Book Riot
That's it for me today! I would love to know what you are reading this week! Find me on Twitter at @KarinaYanGlaser, on Instagram at @KarinaIsReadingAndWriting, or email me at karina@bookriot.com.
Until next time!
Karina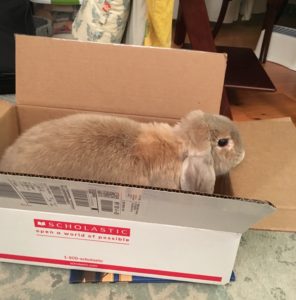 Izzy helped me unpack the Scholastic shipment.
*If this e-mail was forwarded to you, follow this link to subscribe to "The Kids Are All Right" newsletter and other fabulous Book Riot newsletters for your own customized e-mail delivery. Thank you!*