Hello mystery fans! I've got a wicked read, a fun dark comedy, and debutantes up to no good for you this week!
---
Sponsored by Mariner Books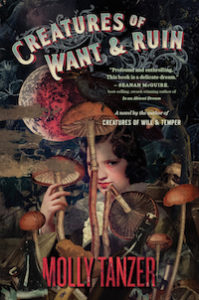 This "charming, confident follow-up to Creatures of Will and Temper" (Publishers Weekly, starred review) picks up in 1927 Long Island, where Ellie West fishes by day and sells moonshine by night to the citizens of her home town. But after Ellie's father joins a mysterious church whose parishioners possess supernatural powers and a violent hatred for immigrants, Ellie finds she doesn't know her beloved island, or her father, as well as she thought.
---
Hell Of A Debut! (TW child abuse/ domestic abuse/ rape)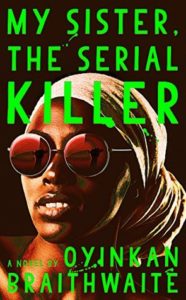 My Sister, the Serial Killer by Oyinkan Braithwaite: Delicious, wicked, and smart–I absolutely adored this novel. It was a quick read at 240 pages, but that just made it a tight, excellent read. On the surface this is a story set in Lagos, Nigeria about two sisters: Korede keeps covering up Ayoola's murders, but when Ayoola sets eyes on the same man as Korede, will she still be as quick to defend Ayoola? This novel reads fun with it's satirical edge but speaks truths and packs a punch with its exploration of women's issues. One of my favorites this year and a must-read! I can't wait to read what Braithwaite delivers next.
Delightful Dark Comedy (TW alcoholism/ suicide attempt mentioned/ molestation incident mentioned)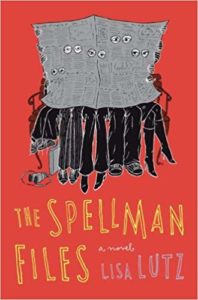 The Spellman Files (The Spellmans #1) by Lisa Lutz: I knew nothing about this novel when I started the audiobook and was delighted by this banana pants family of PIs. It's a quirky, fun, dark comedy that follows the members of the Spellman family, focusing on Izzy, the middle child in her 20s. A lot of this book is the family drama of growing up, and being a part of a family of PIs, and gets into two cases–mostly in the 2nd half of the book. Rae, the ridiculous and hilarious youngest teen child, has gone missing. Izzy also needs to solve a missing-person case as a deal with her parents in order to quit the family business. If you're a fan of the humor in Janet Evanovich's Stephanie Plum series, need something fun, or a bit different to read run to this one. I thought it was a standalone and was excited to discover there are six books in the series!
Hello, Revenge!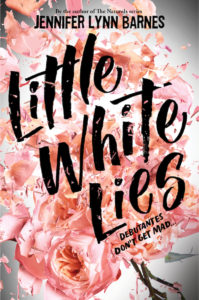 Little White Lies (Debutantes #1) by Jennifer Lynn Barnes: Debutantes up to no good I tell you! Eighteen-year-old Sawyer Taft lives in a small town with her mom, both doing their best to really raise each other. It felt a bit like the story behind Gilmore Girls–rich teen runs away to have baby and they raise each other and then grandma shows up wanting a relationship with her granddaughter. Except Sawyer doesn't know who her father is, and hides from her mother that she's signed a contract with her grandmother. The contracts means Sawyer needs to participate in debutante season and will have the money she needs for college. But really she's figured this will be the perfect opportunity to find out who her father is… Enter debutantes who blackmail and kidnap each other, family drama, and family secrets. Fun and twisty with more to it than you might think. Sawyer leapt off the page from the beginning as a smart, determined, resourceful, and quick mouthed woman who knows when to hold her tongue–will definitely read the next in the series if it continues.
Recent Releases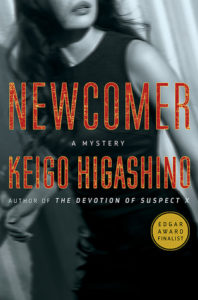 Newcomer by Keigo Higashino, Giles Murray (Translator) (For fans of character driven mysteries: Review)
A Map of the Dark (The Searchers #1) by Karen Ellis (Paperback) (For fans of procedural/thrillers: Review) (TW child abuse/ self-harm)
The Broken Girls by Simone St. James (Paperback) (For fans of past and present mysteries: Review) (TW rape/ suicide)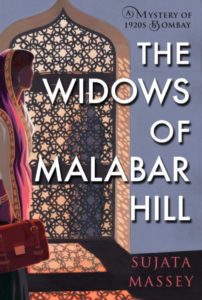 The Widows of Malabar Hill (Perveen Mistry #1) by Sujata Massey (Paperback) (One of my favorite 2018 releases perfect for fans of historical mysteries: Review)
Insidious Intent by Val McDermid (Paperback) (TBR: Criminal psychologist and former detective team up to catch a serial killer going after single women at weddings, set in North England.)
Browse all the books recommended in Unusual Suspects previous newsletters on this shelf. And here's an Unusual Suspects Pinterest board.
Until next time, keep investigating! And in the meantime, come talk books with me on Twitter, Instagram, and Litsy–you can find me under Jamie Canaves.
If a mystery fan forwarded this newsletter to you and you'd like your very own you can sign up here.