This edition of Today In Books is sponsored by Girls of Paper and Fire by Natasha Ngan.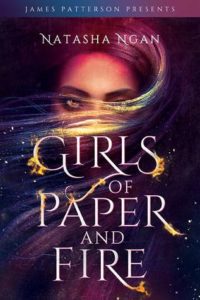 ---
Tom Cruise Is Shorter Than Jack Reacher
Are you a Jack Reacher fan for whom Tom Cruise just didn't measure up in the film adaptations? Good news: author Lee Child agrees. He's negotiated his way to a Cruise-less television version of the ex-army investigator's adventures, and invites fans to suggest tall(er) actors for the lead role.
Husband Brings Wife Flowers
Michelle Obama, a writer and lawyer from Chicago, is on tour for her memoir Becoming. While at a stop in Washington, D.C., her husband surprised her onstage with a bouquet. Flowers are nice, but I think we'd all rather he just go get his old job back…
Book Sells After Nearly Three Decades On The Shelf
An indie bookstore in northwest England has had a children's biography of William the Conqueror in stock since 1991. And yesterday, somebody bought it. The bookshop touchingly tweeted, "We always knew its day would come."