Hi Kid Lit friends!
It is a slow week for new releases given the upcoming Thanksgiving holiday in the United States, so I thought I would give you a list of five backlist picture books recommendations, five backlist middle grade recommendations, and five nonfiction recommendations. Happy reading, and happy Thanksgiving to those who celebrate!
---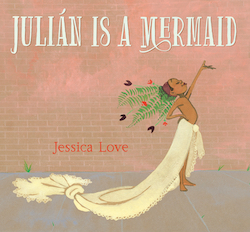 Sponsored by Candlewick Press
While riding the subway home from the pool with his abuela one day, Julián notices three women spectacularly dressed up. Their hair billows in brilliant hues, their dresses end in fishtails, and their joy fills the train car. When Julián gets home, daydreaming of the magic he's seen, all he can think about is dressing up just like the ladies in his own fabulous mermaid costume: a butter-yellow curtain for his tail, the fronds of a potted fern for his headdress. But what will Abuela think about the mess he makes — and even more importantly, what will she think about how Julián sees himself? Mesmerizing and full of heart, Jessica Love's author-illustrator debut is a jubilant picture of self-love and a radiant celebration of individuality.
---
Backlist Picture Book Recommendations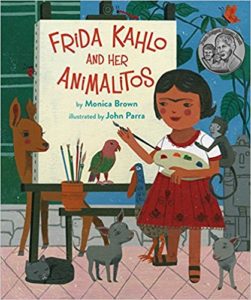 Frida Kahlo and Her Animalitos by Monica Brown, illustrated by John Parra
The fascinating Mexican artist Frida Kahlo is remembered for her self-portraits, her dramatic works featuring bold and vibrant colors. Her work brought attention to Mexican and indigenous culture and she is also renowned for her works celebrating the female form. Brown's story recounts Frida's beloved pets—two monkeys, a parrot, three dogs, two turkeys, an eagle, a black cat, and a fawn—and playfully considers how Frida embodied many wonderful characteristics of each animal.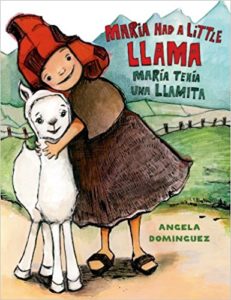 Maria Had a Little Llama/Maria Tenia Una Llamita by Angela Dominguez
Everyone knows about Mary and her little lamb. But do you know Maria? With gorgeous, Peruvian-inspired illustrations and English and Spanish retellings, Angela Dominguez gives a fresh new twist to the classic rhyme. Maria and her mischievous little llama will steal your heart.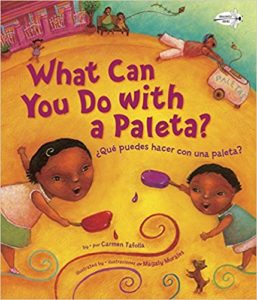 What Can You Do with a Paleta?/Que Puedes Hacer Con Una Paleta? by Carmen Tafolla, illustrated by Magaly Morales
In this bilingual paperback edition, discover the joys of a paleta—the traditional Mexican popsicle treat sold from the wagon with the tinkly bell that brings children running from every direction. Create a masterpiece, make tough choices (strawberry or coconut?), or cool off on a warm summer's day—there's so much to do with a paleta.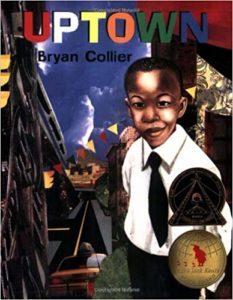 Uptown by Bryan Collier
Uptown is a rich mix of flavors, colors, sounds, and cultures that come together to create a vibrant community like no other in the world. Seen through the eyes of one little boy who lives there, the details of life in Harlem are as joyous as a game of basketball on a summer's afternoon and as personal as a trip to the barbershop where old-timers reminisce.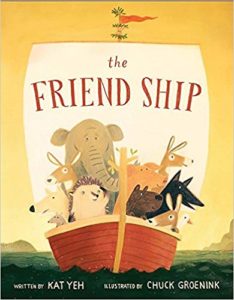 The Friend Ship by Kat Yeh, illustrated by Chuck Groenink
Little Hedgehog is very lonely. But then she overhears passersby talking about something that gives her hope-something called a Friend Ship! Hedgehog imagines a ship filled with friends of all kinds, and soon she's ready to hit the open seas in a boat of her own to track it down. Along the way, she meets other lonely animals eager to join her quest. They search north. They search south. They search east. But Hedgehog and her new friends can't find the Ship anywhere! Until she realizes she knows just where the Friend Ship is. . .
Backlist Middle Grade Recommendations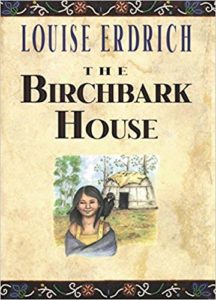 The Birchbark House by Louise Erdrich
"[In this] story of a young Ojibwa girl, Omakayas, living on an island in Lake Superior around 1847, Louise Erdrich is reversing the narrative perspective used in most children's stories about nineteenth-century Native Americans. Instead of looking out at 'them' as dangers or curiosities, Erdrich, drawing on her family's history, wants to tell about 'us', from the inside. The Birchbark House establishes its own ground, in the vicinity of Laura Ingalls Wilder's 'Little House' books." –The New York Times Book Review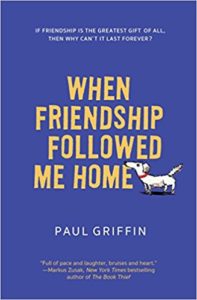 When Friendship Followed Me Home by Paul Griffin
Ben Coffin has never been one for making friends. As a former foster kid, he knows people can up and leave without so much as a goodbye. Ben prefers to spend his time with the characters in his favorite sci-fi books…until he rescues an abandoned mutt from the alley next-door to the Coney Island Library. Scruffy little Flip leads Ben to befriend a fellow book-lover named Halley—yes, like the comet—a girl unlike anyone he has ever met. Ben begins thinking of her as "Rainbow Girl" because of her crazy-colored clothes and her laugh, pure magic, the kind that makes you smile away the stormiest day.  Rainbow Girl convinces Ben to write a novel with her.  But as their story unfolds Ben's life begins to unravel, and Ben must discover for himself the truth about friendship and the meaning of home.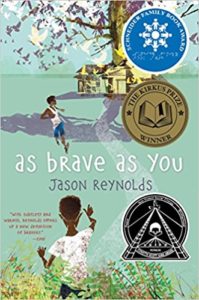 As Brave As You by Jason Reynolds
Genie's summer is full of surprises. The first is that he and his big brother, Ernie, are leaving Brooklyn for the very first time to spend the summer with their grandparents all the way in Virginia—in the COUNTRY! The second surprise comes when Genie figures out that their grandfather is blind. Thunderstruck, Genie peppers Grandpop with questions about how he hides it so well (besides wearing way cool Ray-Bans). How does he match his clothes? Know where to walk? Cook with a gas stove? Pour a glass of sweet tea without spilling it? Genie thinks Grandpop must be the bravest guy he's ever known, but he starts to notice that his grandfather never leaves the house—as in NEVER. And when he finds the secret room that Grandpop is always disappearing into—a room so full of songbirds and plants that it's almost as if it's been pulled inside-out—he begins to wonder if his grandfather is really so brave after all.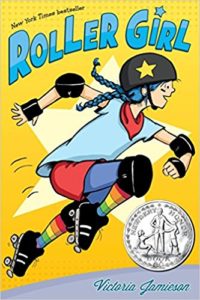 Roller Girl by Victoria Jamieson
For most of her twelve years, Astrid has done everything with her best friend Nicole. But after Astrid falls in love with roller derby and signs up for derby camp, Nicole decides to go to dance camp instead. And so begins the most difficult summer of Astrid's life as she struggles to keep up with the older girls at camp, hang on to the friend she feels slipping away, and cautiously embark on a new friendship. As the end of summer nears and her first roller derby bout (and junior high!) draws closer, Astrid realizes that maybe she is strong enough to handle the bout, a lost friendship, and middle school… in short, strong enough to be a roller girl.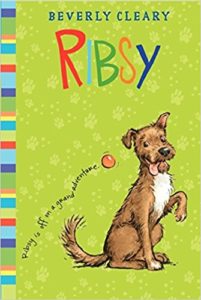 Ribsy by Beverly Cleary
Good ol' Ribsy's ever-curious mind has always gotten him into trouble, but this time he may have gone too far. After a comical turn of events, Ribsy finds himself in the wrong station wagon with the wrong children. Ribsy will do anything to find Henry, but there's plenty of excitement to be had along the way—and scoring a touchdown for a local high school team is only part of the fun!
Backlist Nonfiction Recommendations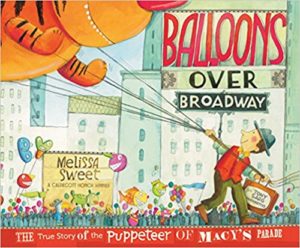 Balloons Over Broadway by Melissa Sweet
Everyone's a New Yorker on Thanksgiving Day, when young and old rise early to see what giant new balloons will fill the skies for Macy's Thanksgiving Day Parade. Who first invented these "upside-down puppets"? Meet Tony Sarg, puppeteer extraordinaire! In brilliant collage illustrations, Caldecott Honor artist Melissa Sweet tells the story of the puppeteer Tony Sarg, capturing his genius, his dedication, his zest for play, and his long-lasting gift to America—the inspired helium balloons that would become the trademark of Macy's Parade.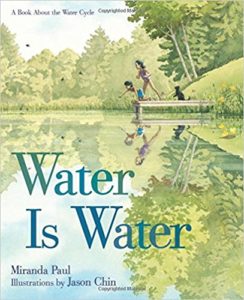 Water is Water: A Book About the Water Cycle by Miranda Paul, illustrated by Jason Chin
This spare, poetic picture book follows a group of kids as they move through all the different phases of the water cycle. From rain to fog to snow to mist, talented author Miranda Paul and the always remarkable Jason Chin (Redwoods, Coral Reefs, Island, Gravity) combine to create a beautiful and informative journey in this innovative nonfiction picture book that will leave you thirsty for more.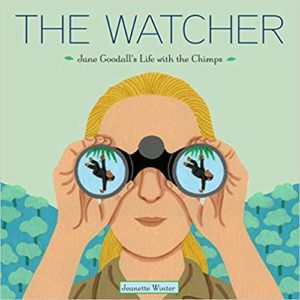 The Watcher: Jane Goodall's Life with the Chimps by Jess Keating, illustrated by Marta Alvarez Miguens
Acclaimed picture book biographer Jeanette Winter has found her perfect subject: Jane Goodall, the great observer of chimpanzees. Follow Jane from her childhood in London watching a robin on her windowsill, to her years in the African forests of Gombe, Tanzania, invited by brilliant scientist Louis Leakey to observe chimps, to her worldwide crusade to save these primates who are now in danger of extinction, and their habitat. Young animal lovers and Winter's many fans will welcome this fascinating and moving portrait of an extraordinary person and the animals to whom she has dedicated her life.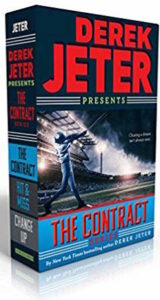 The Contract Series: The Contract, Hit and Miss, Change Up by Derek Jeter
This paperback boxed set contains the first three middle grade novels in the New York Times bestselling Jeter Publishing program. Inspired by Derek Jeter's own life, The Contract, Hit & Miss, and Change Up focus on setting your goals high, thinking before you act, and dealing with growing pains. The Wall Street Journal raved, "the play by play action is exciting and the lessons many." This is the perfect series for every baseball fan.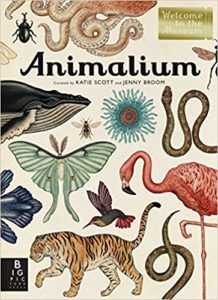 Animalium: Welcome to the Museum by Jenny Broom
Welcome to the Museum is a series of books set on the "walls" of the printed page, showcasing the world's finest collections of objects — from natural history to art. Open 365 days a year and unrestricted by the constraints of physical space, each title in this series is organized into galleries that display more than 200 full-color specimens accompanied by lively, informative text. Offering hours of learning, this first title within the series — Animalium — presents the animal kingdom in glorious detail with illustrations from Katie Scott, an unparalleled new talent.
That's it for me – I have to get back to reading! I would love to know what you are reading this week! Find me on Twitter at @KarinaYanGlaser, on Instagram at @KarinaIsReadingAndWriting, or email me at karina@bookriot.com.
Until next week!
Karina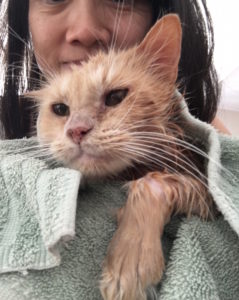 I gave Nala a bath this week. It was my first time bathing a cat, and Nala was so chill. She barely put up a fuss!
*If this e-mail was forwarded to you, follow this link to subscribe to "The Kids Are All Right" newsletter and other fabulous Book Riot newsletters for your own customized e-mail delivery. Thank you!*