Welcome to Check Your Shelf! This is your guide to all things book talk worth knowing to help librarians like you up your game when it comes to doing your job (& rocking it).
"Check Your Shelf" is sponsored by Laurie Halse Anderson's SHOUT.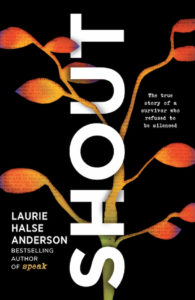 Bestselling author Laurie Halse Anderson is known for the unflinching way she writes about, and advocates for, survivors of sexual assault. Now, inspired by her fans and enraged by how little in our culture has changed since her groundbreaking novel Speak was first published twenty years ago, she has written a poetry memoir that is as vulnerable as it is rallying, as timely as it is timeless. In free verse, Anderson shares reflections, rants, and calls to action woven between deeply personal stories from her life that she's never written about before. Searing and soul-searching, this important memoir is a denouncement of our society's failures and a love letter to all the people with the courage to say #MeToo and #TimesUp, whether aloud, online, or only in their own hearts. SHOUT speaks truth to power in a loud, clear voice—and once you hear it, it is impossible to ignore.
---
I am very excited to announce that I (Katie) will be taking over Check Your Shelf on a weekly basis! Thank you to everyone who has subscribed so far – I look forward to filling your inboxes every week!

Libraries & Librarians
Book Adaptations in the News
Books in the News
By the Numbers
Award News
Pop Cultured
All Things Comics
Audiophilia
Best Books of 2018
Book Lists, Book Lists, Book Lists
Bookish Curiosities & Miscellaneous
Level Up (Library Reads)
Do you take part in LibraryReads, the monthly list of best books selected by librarians only? Whether or not you read and nominate titles, we'll end every newsletter with a few upcoming titles worth reading and sharing (and nominating for LibraryReads, if you so choose!).
We've made it easy for you to find eligible diverse titles to nominate. Kelly Jensen created a database of upcoming diverse books that anyone can edit, and Nora Rawlins of Early Word is doing the same, as well as including information about series, vendors, and publisher buzz.
____________________
Thanks for hanging out and I'll see you again next week!
–Katie McLain, @kt_librarylady on Twitter.