Hello mystery fans! This week I have for you a great Japanese mystery, an elderly woman with no qualms about murder, and revenge at a boarding school.
---
Today's newsletter is sponsored by our $250 All the Books Barnes and Noble gift card giveaway!
Enter to win a $250 gift card to Barnes and Noble in support of our All the Books! podcast. Click here for more info.
---
Japanese Mystery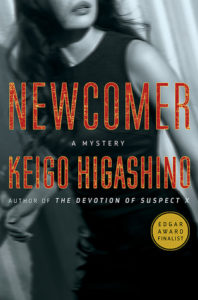 Newcomer by Keigo Higashino, Giles Murray (Translator): While this is technically the 8th in this detective series I promise you can read this as a standalone. For starters, most of his books haven't been translated and the ones that have, have come out of order. Which is a shame only because I love Higashino's mysteries and think they should all be available around the world. In Newcomer we get a really interesting unfolding of the mystery. A woman is murdered in her apartment and Detective Kyoichiro Kaga is on the case. The structure of the book is by sections which each follow a different set of characters that are living and/or working in the business district where the woman was murdered. Everyone has drama, and secrets, and day-to-day life problems making Kaga have to work to unravel what may be connected to his case and what is not. And of course in the end we get an explanation and wrap up. Something I really like about Higashino's writing is he doesn't write for shock value, but rather explores people and behaviors, which is always interesting to me and even more so in cultures and ethnicities that are different from my own. Detective Kaga is also super observant and intuitive making him an excellent detective that usually baffles those around him. And for cozy mystery fans, who shy away from Japanese crime novels because they are usually dark, this one doesn't go into much graphic detail and mostly focuses on following all the potential suspects.
Murderous Swedish Octogenarian! (TW domestic abuse)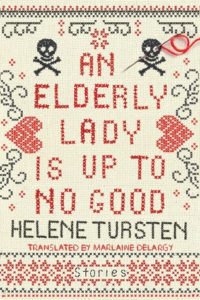 An Elderly Lady is Up to No Good by Helene Tursten,Marlaine Delargy (Translator): Two things before I get into this: One, if you like the title just read it without knowing anything, it'll make it that much more "fun." (Fun is in quotes because while this 90% lands in cozy crime territory it's dark humor.) Two: It's a handful of short stories BUT even if you aren't a fan of short stories you'll be fine with this one as they're all connected and about the same character, so it reads very similar to a novel. Now for the review: let's start with that I fell off the sofa laughing at the first story in this collection! Maud is an 88-year-old Swedish woman who ended up living rent free in an apartment most of her life thanks to her father's will. But before you start to feel bad for Maud as a "lonely old lady" she has no qualms about murder. And by that I mean threaten her, treat her like a feeble old woman, or piss her off and you're probably going to die. So if you're into crime stories, dark humor, and want it centered around an octogenarian, run to this collection–I just loved it to pieces!
Boarding School Mystery With Revenge (TW suicide/ statutory rape/ revenge porn)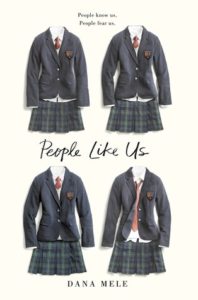 People Like Us by Dana Mele: I'm a sucker for private school/boarding school mysteries and this one finally broke my reading slump. It's twisty, fast-paced, and while obviously dealing with teen drama it never felt melodramatic since the characters were developed well beyond the "mean girls." Kay Donovan and her friends stumble across a dead body while partying, which is traumatic enough, but then Donovan receives an email from the dead girl–I know! Turns out Donovan is being blackmailed and forced to solve puzzles and carry out the messages or else! Now Donovan is lying to everyone, complying with things she wants no part of, and a suspect in the dead girl's case… Everyone has secrets, everyone looks guilty, and everyone is capable of revenge! I went with the audiobook and enjoyed Erin Spencer's narration, it felt like I was watching a good Freeform/CW series–or like the first season of Veronica Mars, minus the actual teen PI.
Recent Releases
Seventeen by Hideo Yokoyama, Louise Heal Kawai (Translator) (I'm really looking forward to sitting down with this one as it's the author of Six Four, who mostly does 80% deep dive procedural and then shoots you into a thriller at the end.)
The Lying Woods by Ashley Elston (Another one I'm looking forward to as it looks like it'll hit a bunch of my sweet spots–and sounds perfect as a Freeform/CW show. Owen's privileged life unravels in a moment when it turns out his dad was embezzling. Now he's stuck trying to finish his senior year, survive the death threats, and solve his father's cryptic note and find him.)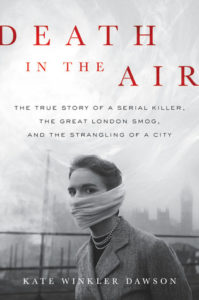 Death in the Air: The True Story of a Serial Killer, the Great London Smog, and the Strangling of a City by Kate Winkler Dawson (Currently reading: True crime that looks at two killers in London after WWII, a serial killer and lethal smog.)
Naughty on Ice (Discreet Retrieval Agency #4) by Maia Chance (Historical cozy mystery)
City of Secrets (Counterfeit Lady #2) by Victoria Thompson (Historical mystery)
Then She Was Gone by Lisa Jewell (Paperback) (Will Satisfy Mystery, Women's Fic, and Domestic Thriller Fans: Review) (TW rape/ suicide)
Browse all the books recommended in Unusual Suspects previous newsletters on this shelf. And here's an Unusual Suspects Pinterest board.
Until next time, keep investigating! And in the meantime, come talk books with me on Twitter, Instagram, and Litsy–you can find me under Jamie Canaves.
If a mystery fan forwarded this newsletter to you and you'd like your very own you can sign up here.