This edition of Today In Books is sponsored by The Global Economy as You've Never Seen It—99 Ingenious Infographics That Put It All Together by Thomas Ramge and Jan Schwochow.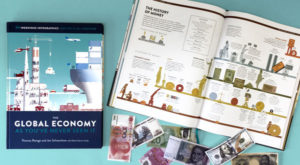 ---
Want To Scroll A Super Long List Of Great 2018 Books?
2019 Tournament of Books Long List has been announced! This great list will be reduced to a manageable 16 (or so) books to make up the short list. From there, let the games begin! And by games we mean that in March 2019, two books will go head-to-head every weekday and one of the judges will decide which book lives another day. It's a fun and an awesome way to see all the great books you missed from 2018.
A Witchy Holiday Special
A Midwinter's Tale, a special holiday episode of Netflix's Chilling Adventures of Sabrina, will air on Friday, December 14th. Get your popcorn and pointy shoes ready, "On the longest night of the year, families gather around the yule fire to sing pagan carols and tell ghost stories."
Baby Got Backlist
At least for four big publishers, it was a very profitable quarter thanks to the sale of backlist books. For HarperCollins, backlist sales were led by The Subtle Art of Not Giving a F*ck and The Hate U Give. Simon & Schuster had 3 YA backlist get a boost thanks to Netflix's adaptation of Jenny Han's To All The Boys I've Loved Before. And Houghton Mifflin Harcourt renewed it's licensing for 1984 and Animal Farm during a time when many are pointing to the messages in the books. Also a big contributor: Digital audiobooks.