Happy Tuesday, boggarts and Betelgeusians! Today there is some very exciting and some very sad book news, the usual spate of adaptations, a terrible store about an author assistant, and a review of Beneath the Citadel by Destiny Soria.
---
This newsletter is sponsored by Mariner Books.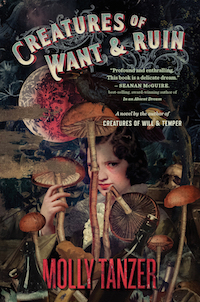 This "charming, confident follow-up to Creatures of Will and Temper" (Publishers Weekly, starred review) picks up in 1927 Long Island, where Ellie West fishes by day and sells moonshine by night to the citizens of her home town. But after Ellie's father joins a mysterious church whose parishioners possess supernatural powers and a violent hatred for immigrants, Ellie finds she doesn't know her beloved island, or her father, as well as she thought.
---
In book and author news:
Marvel legend Stan Lee has passed away at 95.
Erin Morgenstern's second book is coming next year! If, like many here at BR, The Night Circus was your jam, you'll want to start counting down for The Starless Sea (November 2019).
This is just heartwarming — a bunch of the Fantastic Beasts cast surprised students at a school in Alabama during their Wizarding World Day.
J.K. Rowling had a terrible, lying, thieving assistant who spent company money on … cats???
The adaptation corner overflows, as ever:
Speaking of Fantastic Beasts, the movie sequel is receiving VERY MIXED reviews, and Syfy Wire has rounded them up.
John Boyega and Letitia Wright might be cast in an adaptation of Hold Back the Stars and while I haven't read the book, I am here for this team-up.
The Plot Against America by Philip Roth is the latest alt-history about fascism to get an adaptation, joining The Handmaid's Tale and The Man in the High Castle as shows that are just too real at the moment. David Simon of The Wire is in charge, which I guess bodes well? *Goes back to rewatching The Great British Bake-Off for the umpteen-millionth time.*
A shoe adaptation! Seriously! Adidas is making sneakers supposedly inspired by various Houses from A Game of Thrones (but y'all, these just look like regular shoes to me).
And there's some hopeful news for representation coming out of the Watchmen TV series writers' room.
New releases to be acquired:
Empire of Sand by Tasha Suri (which is high on my TBR)
In/Half by Jasmin Frelih, translated by Jason Blake (which looks fascinating)
Giveaways relevant to your interests:
You can enter this giveaway for Archenemies by Marissa Myeyer until tonight (Nov. 13).
We've also got a giveaway going for the recently released Girls of Paper and Fire, through Nov. 15!
And now, for the book that kept me happily occupied this weekend.
Beneath the Citadel by Destiny Soria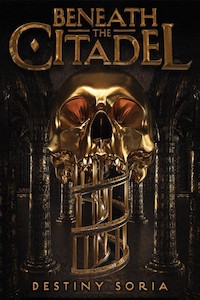 Can a group of teenagers bring down a corrupt government? Is fate real, or do our choices matter? What is the difference between revenge and rebellion? What does it mean to be a hero? And what does it mean to fight for the right side, when no single side is in the right? Destiny Soria tackles all of these questions in her new standalone fantasy, and the exploration yields quite a page-turner.
Told in the alternating POVs of Cassa (spunky leader), Evander (sly, jocular thief), Newt (quiet acrobat), Alys (anxious and pragmatic healer), and Vesper (conflicted undercover agent), the story jets along as the first four smuggle themselves into the citadel, hoping to uncover the truth behind a string of mysterious disappearances and deaths. The plot itself is a solid one: a ruling council desperate to hold onto power, wielding prophecies and force to keep themselves there, and a rebellion that has been crushed but for the spark these teens keep alive. There's a monster deep in a cave, secrets and betrayals, crosses and double-crosses, and the tension ratchets up beautifully as the book goes on.
Soria deftly ends each chapter at the worst-best possible moment, which combined with the action itself kept me turning the pages. The playful (and sometimes infuriating) tossing of the plot from character to character is well-handled and gives each character a chance to shine, and Soria lovingly crafts each and every one. Their adventures both showcase and build their depth, with each subsequent chapter showing us more and more of their backstory and layers. None of this crew are what they seem at first glance, and I loved watching them discover not only truths about the citadel, but about themselves and each other.
If you love magical-and-medieval fantasy from authors like Tamora Pierce, are looking for LGBTQIA characters to root for, prefer a single-book story, and can handle some tragedy along with your triumph, then add this one to your TBR post-haste.
And that's a wrap! You can find all of the books recommended in this newsletter on a handy Goodreads shelf. If you're interested in more science fiction and fantasy talk, you can catch me and my co-host Sharifah on the SFF Yeah! podcast. For many many more book recommendations you can find me on the Get Booked podcast with the inimitable Amanda, or on Twitter as jennIRL.
Your fellow booknerd,
Jenn