Hi Kid Lit friends,
Happy new book Tuesday! After a fairly warm autumn, the temperatures have dropped in New York City, the heat in our building has turned on, and I am preparing to be cold for the next five months. But with the colder weather comes one of my favorite things to do: read under a blanket with a cup of hot chocolate.
---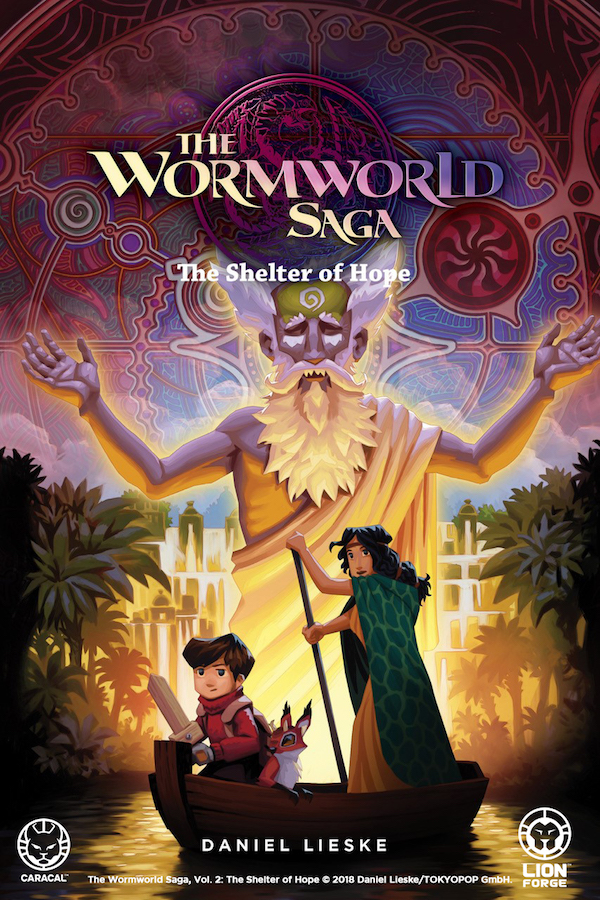 Sponsored by Caracal, an imprint of Lion Forge
With Raya as his guide, Jonas discovers there's just as much danger as there is beauty in this world he stumbled into through a portal in his grandmother's attic. Jonas's arrival in the Wormworld is marked by a heavy threat. Is Jonas's presence in the Wormworld a coincidence or is it his destiny? In The Wormworld Saga Vol. 2: The Shelter of Hope by Daniel Lieske, Jonas starts believing in the unbelievable, sets out on a journey all his own, and uncovers his destiny. Find it in stores now from Caracal, the middle grade imprint of Lion Forge!
---
Do you or your young reader need something new to read? Check out these awesome books out today, and let me know if anything catches your interest! As always, all book descriptions come from Goodreads.
Picture Book New Releases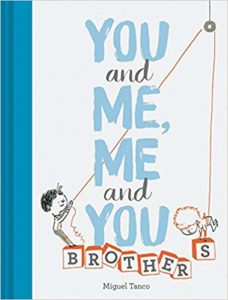 You and Me, Me and You: Brothers by Miguel Tanco
The beauty of the brotherly bond is on display in this touching tribute to a special sibling relationship. Whimsical illustrations capture the highlights of brotherhood: building sandcastles, flying a kite, making mischief, and cherishing childhood moments together. Bright pops of Pantone orange bestow each illustrated spread with charm, and a cloth spine adds a delightful specialness.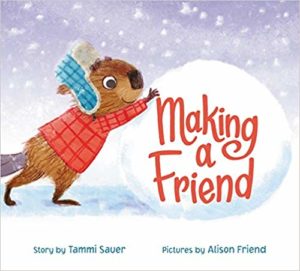 Making a Friend by Tammi Sauer, illustrated by Alison Friend
Beaver is good at making just about everything…but not friends. One winter day, Beaver sees some snowflakes in the sky and gets a great idea: he'll make a friend. Yes! A snowman will be a great friend! Raccoon passes by as Beaver sets to work and offers a helping hand. The two work side by side to give their snowman everything a friend needs. But when the snowman proves to be a little cold, Beaver discovers that he may have unknowingly "made" another buddy instead.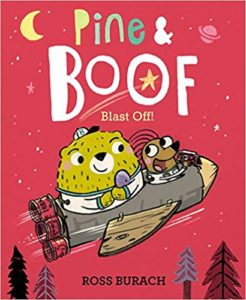 Pine and Boof Blast Off! by Ross Burach
There's no one Boof the bear would rather spend the day with than his best friend—Pine the porcupine. And there's nothing he'd rather do than collect things, which is his favorite hobby of all time. So one day, when Boof is collecting rocks with Pine, he doesn't think the day could get any better, until . . . An egg falls on Boof's head—all the way from outer space! Now it's up to Pine and Boof to return the space egg to its space nest . . . before it hatches.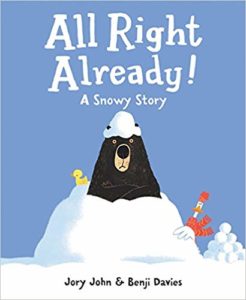 All Right Already! by Jory John, illustrated by Benji Davies
SNOW DAY! Duck is super excited and can't wait to play in the snow with his best friend, Bear. Bear isn't excited about playing with Duck, or going out in the snow. As always, he'd rather stay inside, where it's warm and cozy. But can Bear resist his persistent friend? If so, who will play in the snow with poor Duck?!
I Am Sonia Sotomayor by Brad Meltzer, illustrated by Christopher Eliopoulos
This friendly, fun biography series focuses on the traits that made our heroes great–the traits that kids can aspire to in order to live heroically themselves. Each book tells the story of one of America's icons in a lively, conversational way that works well for the youngest nonfiction readers and that always includes the hero's childhood influences. At the back are an excellent timeline and photos. This volume features Sonia Sotomayor, the first Latina Supreme Court Justice.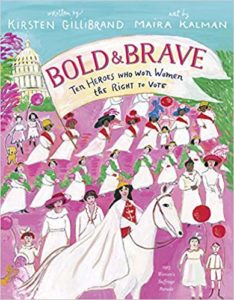 Bold & Brave: Ten Heroes Who Won Women the Right to Vote by Kirsten Gillibrand, illustrated by Maira Kalman
Here are the stories of ten leaders who strove to win the right to vote for American women–a journey that took more than seventy years of passionate commitment. From well-known figures, such as Susan B. Anthony and Sojourner Truth to lesser known women such as Alice Paul and Mary Church Terrell, these are heroes who dreamed big and never gave up. Senator Gillibrand highlights an important and pithy lesson from each woman's life–from "dare to be different" to "fight together."
Middle Grade New Releases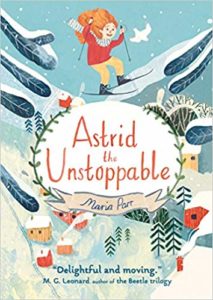 Astrid the Unstoppable by Maria Parr
Speed and self-confidence, that's Astrid's motto. Nicknamed "the little thunderbolt," she loves to spend her days racing down the hillside on her sled, singing loudly as she goes, and visiting Gunnvald, her grumpy, septuagenarian best friend and godfather, who makes hot chocolate from real chocolate bars. She just wishes there were other children to share her hair-raising adventures with. But Astrid's world is about to be turned upside down by two startling arrivals to the village of Glimmerdal: first a new family, then a mysterious, towering woman who everyone seems to know but Astrid.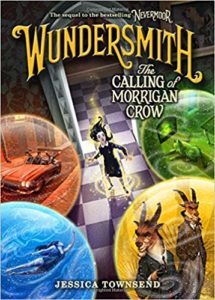 Wundersmith: The Calling of Morrigan Crow by Jessica Townsend
Morrigan Crow and her best friend Hawthorne Swift are now proud scholars in the elite Wundrous Society, but life is far from perfect. Does Morrigan have what it takes to prove that she belongs in the Society?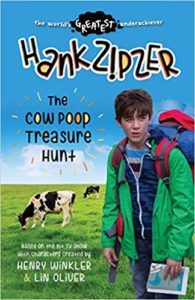 Hank Zipzer: The Cow Poop Treasure Hunt by Theo Baker
What will it take for Mom and Dad to trust Hank to go to the mall unsupervised with his friends? Cooking a family dinner — er, disaster — doesn't exactly say "responsible." But what if Hank signs up for the school's notorious survival camp and makes it through the whole weekend? Maybe he should factor in being teamed up with his nemesis, McKelty, in a leaky tent, not to mention a desperate search for a cell phone in a field of cow pies. . . . The amiable character originated by Henry Winkler — inspired by his own childhood — comes to life in a humorous adventure set in a font designed to boost readability for kids with dyslexia.
Backlist Book Recommendations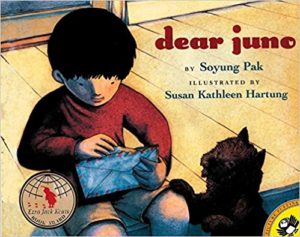 Picture Book Recommendation: Dear Juno by Soyung Park, illustrated by Susan Kathleen Hartung
Juno's grandmother writes in Korean and Juno writes in drawings, but that doesn't mean they can't exchange letters. From the photo his grandmother sends him, Juno can tell that she has a new cat. From the picture he makes for her, Juno's grandmother can tell that he wants her to come for a visit. So she sends Juno a miniature plane, to let him know she's on the way.
Middle Grade Book Recommendation: Mountain Dog by Margarita Engle
When Tony's mother is sent to jail, he is sent to stay with a great uncle he has never met in Sierra Nevada. It is a daunting move―Tony's new world bears no semblance to his previous one. But slowly, against a remote and remarkable backdrop, the scars from Tony's troubled past begin to heal.
With his Tió and a search-and-rescue dog named Gabe by his side, he learns how to track wild animals, is welcomed to the Cowboy Church, and makes new friends at the Mountain School.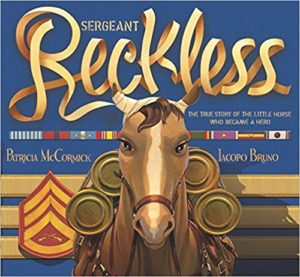 Nonfiction Book Recommendation: Sergeant Reckless: The True Story of the Little Horse That Became a Hero by Patricia McCormick, illustrated by Iacopo Bruno
When a group of US Marines fighting in the Korean War found a bedraggled mare, they wondered if she could be trained to as a packhorse. They had no idea that the skinny, underfed horse had one of the biggest and bravest hearts they'd ever known. And one of the biggest appetites! Soon Reckless showed herself more than willing to carry ammunition too heavy for the soldiers to haul. As cannons thundered and shells flew through the air, she marched into battle—again and again—becoming the only animal ever to officially hold military rank—becoming Sgt. Reckless—and receive two Purple Hearts.
That's it for me – I have to get back to reading! I would love to know what you are reading this week! Find me on Twitter at @KarinaYanGlaser, on Instagram at @KarinaIsReadingAndWriting, or email me at karina@bookriot.com.
Until next week!
Karina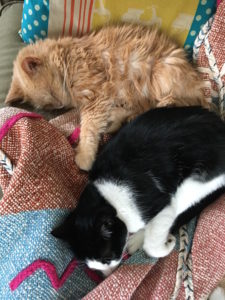 *If this e-mail was forwarded to you,
follow this link to subscribe
to "The Kids Are All Right" newsletter and other fabulous Book Riot newsletters for your own customized e-mail delivery. Thank you!*