This edition of Today In Books is sponsored by AQUICORN COVE, a beautiful, LGBTQ-friendly conservation fable from the Eisner Award-winning author of The Tea Dragon Society.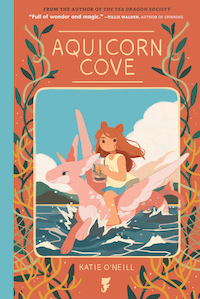 ---
It's Nice To See So Much Of Michelle Obama Again
First, you can now hear two exclusive excerpts from the audiobook of her memoir, Becoming, which Michelle Obama narrates. Second, Oprah Winfrey announced it's her latest book club pick. My ears and heart are ready.
In Sad News
Stan Lee, legendary writer, editor, and publisher of Marvel Comics, has passed away at the age of 95. Since his career began in 1939 he has created/co-created iconic characters such as Black Panther, Spider-Man, X-Men, The Mighty Thor, Iron Man, The Fantastic Four, The Incredible Hulk, Daredevil, and Ant-Man. He will be missed, but we're grateful his characters and work will keep on.
A Call For Libraries Funding To Be Ringfenced In The UK
Sadly, even with support from authors like J.K. Rowling and Neil Gaiman, campaigners for the petition say the government's response has been "hugely disappointing." The petition is aimed at getting enough signatures to stop libraries being closed, cut back, or outsourced due to government cutting local budgets for libraries. Once a petition reachers 10,000 signatures the government must respond. At 100,000 signatures parliament considers a debate.