Happy Tuesday, krakens and Klingon! Today we've got some award-winners, adaptations all over the place, a big slate of new releases, and Kingdom of the Blazing Phoenix by Julie C. Dao.
---
This newsletter is sponsored by Lost Arrow, Book I of The Kalelah Series by Marshall Ross.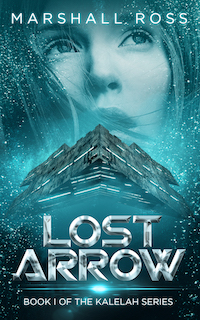 Millennia ago, the starship Kalelah buried itself seven miles beneath the surface of the Pacific Ocean. We have no idea of its existence. It has no idea of ours. And once that changes, everything does. For the worse. Suddenly, two human civilizations – one alien and one Earth-bound – are forced to come to grips with a future neither had ever imagined. And a war nobody wants. It's a colonization story turned on its head and crafted with all the intrigue and layers of a nail-biting thriller. Readers say, "Like Dan Brown wrote a Crichton story."
---
In book news:
Congratulations to the World Fantasy Award winners, in a tie for best novel!: Jade City by Fonda Lee and The Changeling by Victor LaValle (personal favorites). Big hearty Book Riot congrats also go to former contributors Justina Ireland and Troy Wiggins, whose lit mag FIYAH won for Special Award, Non-Professional.
io9 has an exclusive sneak peek at some illustrations and details from Fire and Blood by George R.R. Martin.
In book adaptation news:
We've got a Discworld adaptation update! The City Watch goes to BBC America.
A queered adaptation of Frankenstein? Yes, please. A queered adaptation as the kick-off for an LGBTQIA sci-fi anthology show? HELL YES.
The Runaways TV show will be back for Season 2 in December, and if you're anything like me you cannot wait to see how they're going to handle the second part of the teen squad's origin story. The trailer looks like they're not going to have [redacted] be the [redacted], so what will they do instead? I am dying to know.
And I actually consider Watership Down a post-apocalypse (fight me), so I think it's relevant to this newsletter that the Netflix/BBC mini-series adaptation is moving ahead with casting.
The director of It is working overtime — in addition to remaking Attack on Titan, Muschietti also has a script for H.G. Wells' The Time Machine. My love for Wells's novel, flaws and all, goes way back, and I'm verrrrry interested to see what a modern team might make of that. Also we're well due for a remake (I am ignoring the Guy Pearce 2002 one).
How's about some book deals?
Galatea by Madeline Miller is $0.99.
Wintersong by S. Jae Jones is $2.99 (previously reviewed here).
Temper by Nicky Drayden is $2.99 (previously reviewed here).
Looking to get into the works of award-winner Adrian Tchaikovsky? The Tiger and the Wolf and Empire in Black and Gold are both $2.99!
And in new releases to keep an eye out for:
Asimov's Science Fiction Magazine: A Decade of Hugo & Nebula Award Winning Stories, 2005-2015
Mass Effect: Annihilation by Catherynne M. Valente
City of Ash and Red by Hye-young Pyun, Sora Kim-Russell
Girls of Paper and Fire by Natasha Ngan
Someone Like Me by MR Carey
In reviews, I bring you the final book in a duology that was everything I wanted and them some.
The Kingdom of the Blazing Phoenix by Julie C. Dao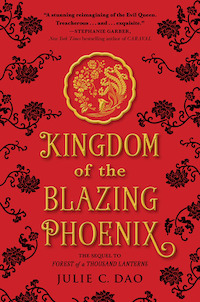 In this deeply satisfying follow-up to Forest of a Thousand Lanterns (which I reviewed here), Dao moves the story forward 15 years. Jade, daughter of Xifeng's erstwhile-rival the Empress Lihua, has been raised simply in a monastery at the Great Forest's edge. She knows who she is, but wants nothing more than the life she has. That all changes when Xifeng summons her back to court, ostensibly to celebrate her 18th birthday. Jade has been hearing horrible rumors about Xifeng for years, and has witnessed the poverty and desperation of the citizens of Feng Lu. When she arrives at the palace, things are even worse than she could have imagined. Then, a quest to save Feng Lu and depose Xifeng comes calling, and Jade and her newfound friends must answer.
The genius of Forest of a Thousand Lanterns was in giving us the story, from her own perspective, of an Evil Queen in the making. Now, we see Xifeng and what she has wrought from Jade's perspective — and it's just as effective. Jade may be an innocent, and a truly good person, but she's also afraid and adrift. She herself wonders about Xifeng and how she came to be the Empress that Jade knows and fears (girl, the stories I could tell you!). And even as Kingdom bears witness to the terrible consequences of Xifeng's choices, it never loses sight of the backstory. Dao also brings some old friends back to play in surprising and pivotal roles.
She also plays fast and loose with original, iconic elements of Snow White. There's an apple, but not the way I thought there would be; and there is a little person, but he's no one's whistling, bumbling lackey. Western readers like myself will find the familiar bits, beautifully immersed in an East Asian setting that gives new levels and textures to the original fairytale.
Together, Forest of a Thousand Lanterns and Kingdom of the Blazing Phoenix make a welcome addition to the retold fairytales canon — inventive, immersive, and engrossing from the first page to the last.
And that's a wrap! You can find all of the books recommended in this newsletter on a handy Goodreads shelf. If you're interested in more science fiction and fantasy talk, you can catch me and my co-host Sharifah on the SFF Yeah! podcast. For many many more book recommendations you can find me on the Get Booked podcast with the inimitable Amanda, or on Twitter as jennIRL.
May the odds be ever in your favor,
Jenn