Happy Friday, vampires and Venusians! As we recover from our candy-overload doldrums, let's talk about horror short stories, D&D monsters, magical reads, sci-fi and fantasy art, and more.
---
This newsletter is sponsored by Houghton Mifflin Harcourt.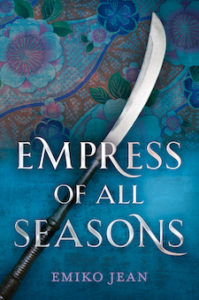 In a palace of illusions, nothing is what it seems. One girl must compete to become the next empress while keeping her keeping her identity and forbidden magic a secret in this Ancient Japan-inspired standalone fantasy.
---
It is too early for this yet in my opinion — we've still got two whole months to go! — but PW has released their Best of 2018 and here's the SF/F/Horror list.
It's aliiiiiiiiiiive! Our SFF Yeah! book club on Rosewater by Tade Thompson was a blast to record, and I hope it's at least half as much fun to listen to.
Here's hoping you had the exact right level of spooky for your Halloween! If you're still craving more, we've got nine short horror stories for you.
Calling all photoshop wizards: here's a chance to design your own D&D monster, sanctioned by Wizards of the Coast!
I have finally finished watching Netflix's The Dragon Prince and as such extremely cosign this wish for expanded universe options.
Just want to get away from it all? This list of magical reads from Frolic is a good start.
Feeeeeeelingggssss: This personal essay on A Wizard of Earthsea gave me some.
If you're trying to convince a reader to give fantasy a shot, Sharifah and I recommend two gateway novels in particular.
I'm not sure how long this deal is good for, but the entirety of Octavia Butler's Xenogenesis series, a.k.a. Lilith's Brood, is available for $3.99!
Spotlight: SF/F Artists
Many of us judge books by their covers, and I think we can all agree that pictures are indeed worth (at least) a thousand words. So when a feature about Killian Eng's work showed up in my feed, it sent me down a wonderful SF/F art rabbithole that I am delighted to share with you.
Killian Eng: Whether he's doing Star Wars, commissioned, or original work, his attention to detail and eye for composition slay me. And those colors!! A+ would plaster half a room in my apartment with these.
Fiona Staples: You may know her as the artist behind Saga, but you should also know she draws a mean elf. Staples is one of my all-time favorite working artists, and I live for the day when she has a print shop.
Rola Jungshan Chang: Chang is newly on my radar, thanks to the gorgeous covers she's doing for R.F. Kuang's The Poppy War series. The brush work, the spare use of color, all of it rings all my visual bells. But it works for more than badass warriors — for example, this Deep Space 9 piece!
Wendy Xu: I first came across Xu's work on the comic Mooncakes and then fell in love with Pigeon Boyfriend. (In point of fact, I have a Pigeon Boyfriend postcard taped to my monitor as I type this.) The whimsy! The blend of realism and the fantastical! I love it.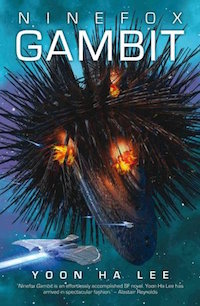 Chris Moore: I love the cover art for Yoon Ha Lee's Ninefox Gambit as much as I love the book, which is saying something. Moore's style is much more realistic than the other artists I've been featuring; some of them look like they could be photographs! I'm not sure whether or not I want to go to those worlds, but I deeply enjoy looking at them.
Afua Richardson: If you haven't heard of Afua Richardson, you're not paying attention to comics. She's a rising star, and her work on World of Wakanda influenced the CG team on Black Panther. I'm over here in love with her mermaids.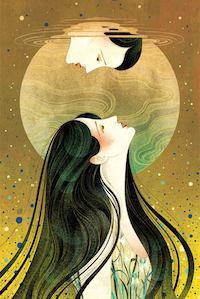 Victo Ngai: I found Ngai's work through her cover for J.Y. Yang's Waiting on a Bright Moon (Tor.com novella mention, take a shot), only to discover she'd also done the cover for Neil Gaiman's Norse Mythology, as well as stamps for the UN.  The flowing lines of her work and the layering of colors and textures leave me in absolute awe. I mean. Just LOOK at these!
I'll stop there (for now), but if you're inclined to share your own favorite SF/F artists with me, hit reply and I'll do a round-up in a future newsletter.
That's a wrap! You can find all of the books recommended in this newsletter on a handy Goodreads shelf. If you're interested in more science fiction and fantasy talk, you can catch me and my co-host Sharifah on the SFF Yeah! podcast. For many many more book recommendations you can find me on the Get Booked podcast with the inimitable Amanda, or on Twitter as jennIRL.
May the Force be with you,
Jenn