Hi Kid Lit friends,
On our way home from a family vacation in Maine last July, we listened to an audiobook called The Soul of an Octopus by Sy Montgomery. This is a book for adults but still appropriate for my eight-year-old and ten-year-old; they were enthralled. We learned something within the first minute of listening: the plural of octopus is not octopi; it is octopuses. Because octopus is a Greek word, you cannot place a Latin plural ending on it.
---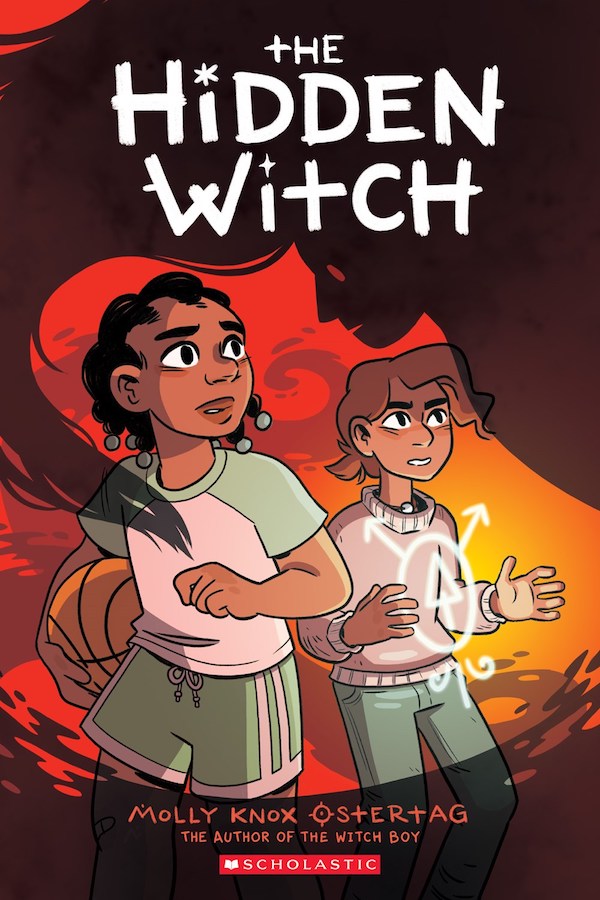 Sponsored by Graphix Books, an Imprint of Scholastic
From the creator of the acclaimed graphic novel The Witch Boy comes a new adventure set in the world of magic and shapeshifting — and ordinary kids just trying to make friends.
---
Since listening to this book, my kids have been fascinated by all things octopus-related. They went to the Baltimore Aquarium with their grandmother and spent a long time watching the giant Pacific octopus. They have been reading books about octopuses. We have watched YouTube videos of octopuses in the wild.
Octopuses are fascinating. They have three hearts! They have blue blood! The suction cups on their arms contain two-thirds of their neurons! Check out more about this amazing animal species with the books below.
Picture Books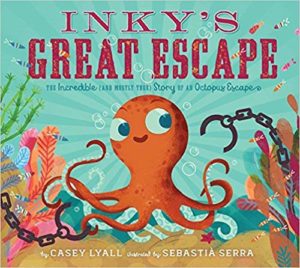 Inky's Great Escape by Casey Lyall, illustrated by Sebastià Serra
In April 2016, The New York Times published an article about an octopus named Inky who escaped from the National Aquarium of New Zealand through a drainpipe and into the sea. In this charming fictionalized account, Inky, worn out from his exciting life in the ocean, has retired to the aquarium. There he quietly plays cards, makes faces at the visitors, and regales his tankmate Blotchy with tales of his past adventures. Then Blotchy dares Inky to make one more great escape: out of their tank. Will Inky succeed?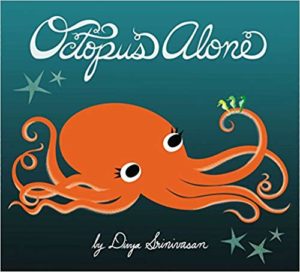 Octopus Alone by Divya Srinivasan
From the author of Little Owl's Night comes a new book about shy Octopus who lives on a lively reef, and what happens when she finds herself in a new place far from home, wonderfully, peacefully alone. As she did in Little Owl's Night, Divya Srinivasan shows children a wonderful part of the natural world in a very warm-hearted way.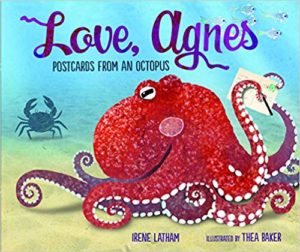 Love, Agnes by Irene Latham, illustrated by Thea Baker
Agnes has a beak that can crush bones and arms and stretch wide as a car— but that doesn't make her a monster! After she comes across a postcard, Agnes, a giant Pacific octopus, strikes up a correspondence with various other creatures below— and above— the waves. Readers will delight in this unlikely introduction to the octopus life cycle.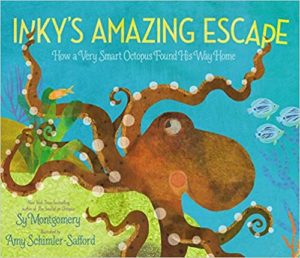 Inky's Amazing Escape by Sy Montgomery, illustrated by Amy Schimler-Safford
Inky had been at the New Zealand aquarium since 2014 after being taken in by a fisherman who found him at sea. Inky had been getting used to his new environment, but the staff quickly figured out that he had to be kept amused or he would get bored. Then one night in 2016 Inky, about the size of a basketball, decided he'd had enough. He slithered eight feet across the floor and down a drainpipe more than 160 feet long to his home in the sea.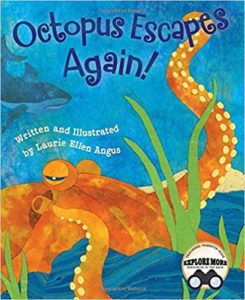 Octopus Escapes Again! by Laurie Ellen Angus
While searching for a meal, a hungry octopus encounters hazards and opportunities, and displays a dazzling array of defensive devices including jet propulsion, clouds of ink, extreme camouflage and mimicry, even sacrificing a limb if necessary. "Explore More" sections for kids and adults offer information and activities on the adaptive behavior of these very intelligent creatures.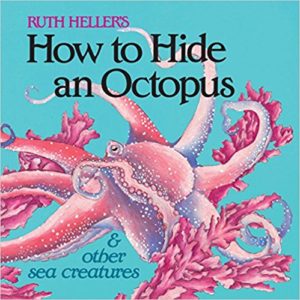 How to Hide an Octopus & Other Sea Creatures by Ruth Heller
Go on a fascinating nature hunt to find the camouflaged octopus, crabs, brilliantly-painted tropical fish, and other wonderful sea creatures hidden in the pages of this book.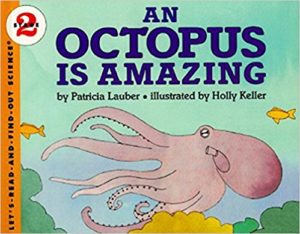 An Octopus is Amazing by Patricia Lauber, illustrated by Holly Keller
"[Here is] a charming introduction to the truly amazing octopus [from its intelligence to its ability to change colors to the camouflaging black ink it squirts to escape predators]. Lauber's chatty, fact-filled text makes the book a good read-aloud, and Keller's amusing and colorful drawings enhance it—a perfect match of text and illustration." —SLJ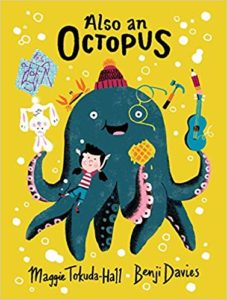 Also An Octopus by Maggie Tokuda-Hall, illustrated by Benji Davies
It begins with an octopus who plays the ukulele. Since this is a story, the octopus has to want something—maybe to travel to faraway galaxies in a totally awesome purple spaceship. Then the octopus sets out to build a spaceship out of soda cans, glue, umbrellas, glitter, and waffles. OK, maybe the octopus needs some help, like from an adorable bunny friend, and maybe that bunny turns out to be . . . a rocket scientist? (Probably not.) But could something even more amazing come to pass? Debut author Maggie Tokuda-Hall, with the help of illustrator Benji Davies, sets up an endearingly funny story, then hands the baton to readers, who will be more than primed to take it away.
For Middle Grade Readers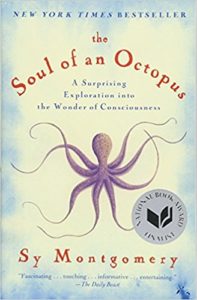 The Soul of an Octopus by Sy Montgomery
In pursuit of the wild, solitary, predatory octopus, popular naturalist Sy Montgomery has practiced true immersion journalism. From New England aquarium tanks to the reefs of French Polynesia and the Gulf of Mexico, she has befriended octopuses with strikingly different personalities—gentle Athena, assertive Octavia, curious Kali, and joyful Karma. Each creature shows her cleverness in myriad ways: escaping enclosures like an orangutan; jetting water to bounce balls; and endlessly tricking companions with multiple "sleights of hand" to get food.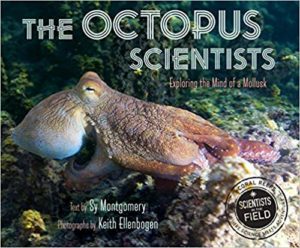 The Octopus Scientists by Sy Montgomery, photographs by Keith Ellenbogen
With three hearts and blue blood, its gelatinous body unconstrained by jointed limbs or gravity, the octopus seems to be an alien, an inhabitant of another world. It's baggy, boneless body sprouts eight arms covered with thousands of suckers—suckers that can taste as well as feel. The octopus also has the powers of a superhero: it can shape-shift, change color, squirt ink, pour itself through the tiniest of openings, or jet away through the sea faster than a swimmer can follow. But most intriguing of all, octopuses—classed as mollusks, like clams—are remarkably intelligent with quirky personalities.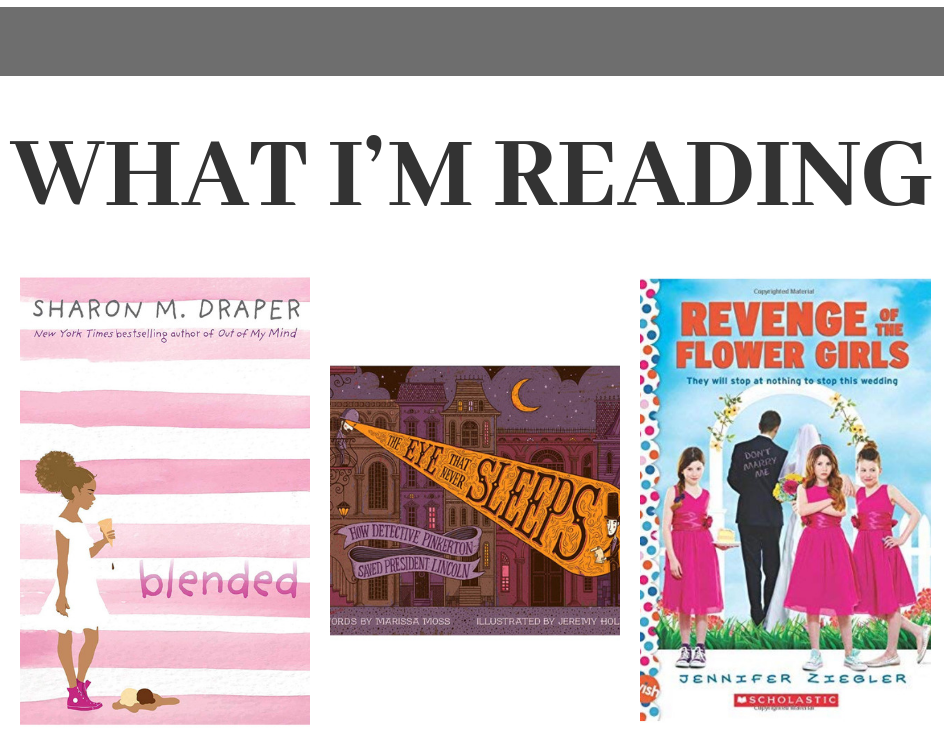 Blended by Sharon M. Draper is a beautiful middle grade book about a girl living in two worlds. Eleven-year-old Isabella's parents are divorced, so she has to switch lives every week: One week she's Isabella with her dad, his girlfriend Anastasia, and her son, Darren, living in a fancy house where they are one of the only black families in the neighborhood. The next week she's Izzy with her mom and her boyfriend, John-Mark, in a small, not-so-fancy house that she loves.
The Eye That Never Sleeps: How Detective Pinkerton Saved President Lincoln by Marissa Moss, illustrated by Jeremy Holmes is a fascinating nonfiction picture book about one of America's greatest detectives. Allan Pinkerton's life changed when he helped the Chicago Police Department track down a group of counterfeiters. From there, he became the first police detective in Chicago and established the country's most successful detective agency. He went on to solve more than 300 murders and recover millions of dollars in stolen money. However, his greatest contribution was protecting Abraham Lincoln on the way to his 1861 inauguration.
Revenge of the Flower Girls by Jennifer Ziegler is a hilarious middle grade book about the Brewster twins. Set in summer, they are not looking forward to upending their typical summer fun to help their older sister Lily plan her wedding. Burton, Lily's groom-to-be, is not nice or fun, and he looks like an armadillo. The triplets can't stand to see Lily marry someone so wrong for her, so they'll stop at nothing to delay Lily's big day. But will sprinklers, a photo slideshow, a muddy dog, and some unexpected allies be enough to prevent their sister and the whole Brewster family from living unhappily ever after?
Around the web…
Best Children's Books 2018, via Publisher's Weekly
Best Middle Grade & Children's Books 2018, via Goodreads
Best Picture Books 2018, via Goodreads
I would love to know what you are reading this week! Find me on Twitter at @KarinaYanGlaser, on Instagram at @KarinaIsReadingAndWriting, or email me at karina@bookriot.com.
Until next time!
Karina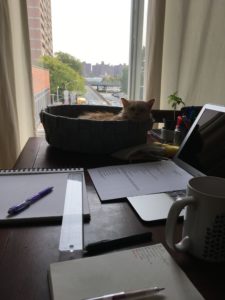 Nala keeping me company as I work.
*If this e-mail was forwarded to you, follow this link to subscribe to "The Kids Are All Right" newsletter and other fabulous Book Riot newsletters for your own customized e-mail delivery. Thank you!*