Hi mystery fans!
---
Sponsored by Vesuvian Books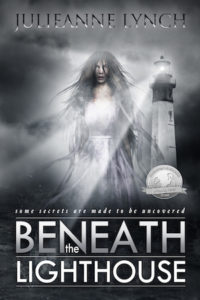 Sixteen-year-old Jamie McGuiness's sister is dead. Sinking into a deep depression, he frequents the lighthouse where her body was discovered, unaware of the sinister forces surrounding him. When an angry spirit latches onto Jamie, he's led down a dark and twisted path, one that uncovers old family secrets, destroying everything Jamie ever believed in. Caught between the world of the living and the vengeful dead, Jamie fights the pull of the other side. It's up to Jamie to settle old scores or no one will rest in peace — but, first, he has to survive.
---
Japanese Crime! (TW suicide/ child death/ attempted rape/ eating disorder)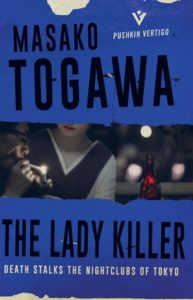 The Lady Killer by Masako Togawa, Simon Grove (Translation): Another great Japanese crime novel! First, I'll say that if you enjoy Japanese crime novels pick this one up without knowing anything. If you need to know what you're getting into: It's set in Tokyo in the '60s and is written almost in three parts. The beginning is following a cad, Ichiro Honda, who "hunts" women. That's his term for going out at night to find a woman he can "finesse" into sleeping with him. He even keeps a diary of his "hunts." If you're not already rolling your eyes let me just drop the nugget that he's married and his wife has no idea about this. The second part of the novel follows Honda's appeal lawyer, after Honda is convicted of murdering women he had one night stands with, as he tries to piece together if the police have the right man. And then the third part, well that shows you how all the puzzle pieces of this mystery go together. This was interesting, and a bit banana pants, and a great read. I could tell you a lot more but what would be the fun in that?!
Another Great Nonviolent True Crime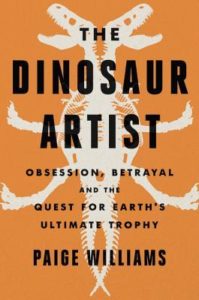 The Dinosaur Artist: Obsession, Betrayal, and the Quest for Earth's Ultimate Trophy by Paige Williams: I keep accidentally calling this book the "dinosaur hunter" because in a way it feels that way. People go hunting for dinosaur bones, unearth them, put them together and sell them. The problem is, who do the dinosaur bones really belong to? The book starts with an auction for a Tyrannosaurus skeleton that sells for a million dollars. A million! That NY sale, by a Florida man, alerts the Mongolian government. And so the question is who do dinosaur bones (fossils) belong to, who gets to keep them, and should anyone be allowed to sell them? Like The Feather Thief and Bad Blood this is another super interesting nonfiction book that is a serious page-turner. It follows a bunch of really interesting people, all somehow connected with "dinosaur hunting," the community of scientist trying to stop this, and it also takes mini history tours through Mongolia. I really hope this trend of nonviolent true crime, and narrative nonfiction, continues because I need more!
Recently Released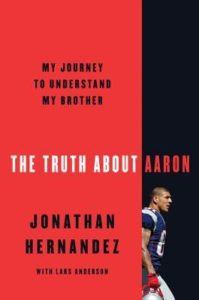 The Truth About Aaron: My Journey to Understand My Brother by Jonathan Hernández (TBR: true crime memoir) (TW suicide)
Alice Isn't Dead by Joseph Fink (TBR: The horror mystery podcast is now a book. A truck driver is searching across the US for her missing wife.)
Find Me Gone by Sarah Meuleman (TBR: Past and present mystery.)
Dark Sacred Night (Renée Ballard #2) by Michael Connelly (Harry Bosch and Connelly's new Detective Ballard team up.) (Don't know the TW)
The Wife Between Us by Greer Hendricks, Sarah Pekkanen (Paperback) (Psychological thriller) (TW gaslighting/ suicide / domestic abuse)
Sometimes I Lie by Alice Feeney (Paperback) (Psychological thriller) (Don't know the TW)
And don't forget we have a custom book stamp giveaway because who doesn't want to stamp all their books?!
Browse all the books recommended in Unusual Suspects previous newsletters on this shelf. And here's an Unusual Suspects Pinterest board.
Until next time, keep investigating! And in the meantime, come talk books with me on Twitter, Instagram, and Litsy–you can find me under Jamie Canaves.
If a mystery fan forwarded this newsletter to you and you'd like your very own you can sign up here.