Happy November, folks! (If you live in the US and haven't voted yet, you know what to do.)
Before we get into the good stuff, I need to note my foul-up from last week. There I was declaring people's pronouns and went right ahead and misgendered Anna Zabo. Thanks to the amazing Angela James for reaching out to me early enough that I was able to fix it for the folks who receive Kissing Books later in the day. I think. I hope. Biggest apologies to Anna. (And if you want to support them while I grovel for forgiveness, Close Quarter, which is one of Anna's books I haven't yet touted, might be worth checking out. (A fae vampire hunter on a Transatlantic cruise? Yes, please.)
---
Sponsored by As Good As The First Time by K.M. Jackson.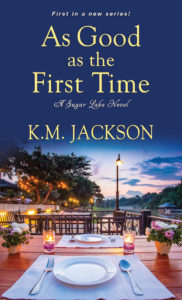 When Olivia Gale gets fired and dumped all in the same day she jumps at the chance to get out of New York City to help her aunt at the family bakery, Goode n' Sweet, back down south in Sugar Lake, and a little indulgence in her pie-making hobby is exactly the pick-me-up Olivia needs to get her life back on track. She can't afford to be distracted, Clayton Morris, firefighter, single dad, and the boy next door who once broke Liv's heart—but Sugar Lake might be a sweet place for a second chance.
---
News and Useful Links
THE KISS QUOTIENT IS GONNA BE A MOVIE! I mean, the rights had already been purchased, but now Lionsgate's got them, and we could be looking at a hot new film version of The Kiss Quotient in the next couple of years!
There's a new Rogue anthology coming out soon! Rogue Nights is the sixth one coming out next week, and OMAGAH the author lineup!
Yes, Girl, yes! Tell us about that anger!
And then talk some more about consent, because that's important, too.
I am not completely certain why best books lists start at this time of year, but Publishers Weekly has put theirs out, and the Goodreads Choice Awards are also open for voting. The romance section for this round is pretty good; let's see what the next round looks like. I'm actually having a hard time voting between my favorites! But I will of course suck it up and vote because not voting means something I wasn't as fond of might make it to the next round. You never know!
Read more about a few October romances Maureen at EW dove into!
And of course your regular reminder that WOC in Romance is magic and you should follow.
Deals!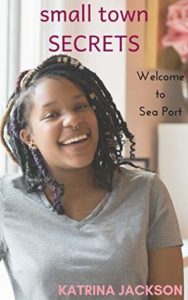 Looking for a f/f romance set in a lovely town? Small Town Secrets by Katrina Jackson is 99 cents! It's the third book in a series, but they stand alone. Also, if you read the first in the series, From Scratch, and haven't caught up, boy have you got some fun reading ahead of you!
How about something to really fog up your glasses? Naima Simone's Only For a Night is 99 cents right now, too! Second chances, aphrodisiac clubs, former Mob grunts? I'll take all of those for 500, Alex.
Still haven't satisfied your curiosity about Selena Montgomery, gubernatorial candidate Stacey Abrams' romance alter ego? Reckless is $3.99. You know you wanna.
Over on Book Riot
Because you don't yet have enough on your TBR, Sil pulled together 50—that's right, fifty, five-zero—romances by Latinx authors for you to check out. I've read some of these, but there are tons more I haven't; there are some authors I've never even heard of! I'm so excited to discover them.
Ready for a new quiz? Date, marry, or dump some Shakespeare characters and get a romance rec. The one I ended up with, The Courtesan Duchess, hadn't been on my radar, so I'm glad I did more dumping than dating 😉
Do you listen to audiobooks? Here are some romance ones coming out this month.
Recs!
With everything that's going on, I haven't really felt like dealing with strife and angst. So I've been feeling all kinds of friends-to-lovers romances. Y'all know I love some enemies/rivals-to-lovers, but the friends thing just has this certain kind of joy that I can't resist, especially right now. Let's talk a couple I've really enjoyed recently.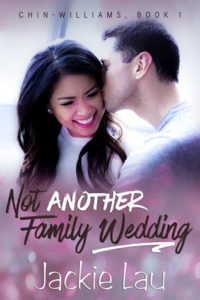 Not Another Family Wedding
Jackie Lau
Natalie is going to her hometown for her younger sister's wedding and doesn't want to go alone. There's always something that happens at family functions, especially if both her white and Chinese grandmothers are there. So she enlists her best friend, Connor, to come with her as a buffer with her family, who would definitely ask her why she wasn't married and when she was having kids.
Yep.
The two have only had the most friend-like feelings for each other; well, Connor'd had a crush when they first met, but he'd gotten over it. Somehow, though, being in Natalie's hometown, seeing her with her family, and just spending this kind of time with her has brought on new feelings. And Natalie might be feeling the same.
Y'all. You know how I feel about fake relationships, and I will tell you I favor this one compared to Jackie's Grumpy Fake Boyfriend, which you know I really enjoyed. Apples and oranges, whatever. I really liked this book and it was a great, happy, lightly-angsted way to spend an afternoon.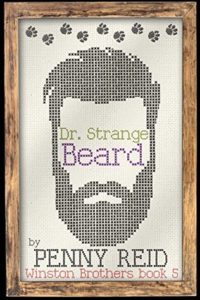 Dr. Strange Beard
Penny Reid
Okay, so this is pushing the friends-to-lovers boundary a little bit because these two friends are estranged, but I'll allow it. Roscoe Winston comes home to visit his family regularly, since he doesn't live that far away, but has made a skill of avoiding Simone Payton, the girl who broke his heart a long time ago. She usually only comes to visit on the weekends, so he's surprised to encounter her and his lowlife father at the diner where Simone works—usually when Roscoe isn't there. The two can't seem to stop running into each other, and eventually try to be civil, but Simone doesn't understand why Roscoe ghosted her in high school. There are enough misunderstandings to fill a composition book and secrets galore, but eventually, they find their way. So yeah, this one, much like any other Penny Reid book, is going to have some strong, angsty content, but will also make you cackle with glee. So be prepared do be dropped into the lives of the Winstons again.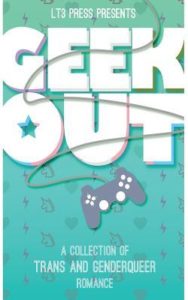 I've also recently started reading Geek Out, a collection of trans and genderqueer romances. The first one, Defying Convention, by Cecil Wilde, is available as a standalone novella, and is just the most precious thing so far. Two friends who have known each other online for years decide to meet in person for a convention. The rest, as they say, is history. Adorable, hair-braiding history.
Also, I don't know if it counts, but I'm totally including Intercepted here. She and Gavin might start out having already slept together, but they build a pretty genuine friendship before they slide back into the lovers category. Kind of. I dunno. Read it and tell me what you think.
New and Upcoming Releases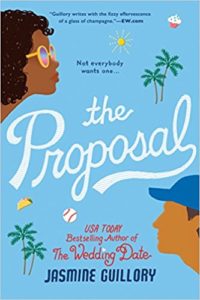 The Proposal by Jasmine Guillory (YAY!!! FINALLY!)
Archangel's Prophecy by Nalini Singh
Kiss Me at Christmas by Valerie Bowman (One of the other BR Jessicas really loved it, so I'm excited!)
The Omega Objection by GL Carriger (Nov 4) (it's SO GOOD, y'all!)
Siren in Bloom by Lexi Blake (Nov 6)
Misadventures with a Professor by Sierra Simone (Nov 6)
Rogue Nights by Talia Hibbert et al (Nov 8) (Because I can't just say it once)
As usual, catch me on Twitter @jessisreading or Instagram @jess_is_reading, or send me an email at jessica@riotnewmedia.com if you've got feedback or just want to say hi!