Hey Kid Lit friends,
It's almost November, and pretty soon I will be filling up your inboxes with holiday gift recommendations. For now, I am enjoying the rhythms of autumn. Today I will gather together the children's books I will give out to trick-or-treaters. We live on the New York City Marathon route, and as I write this I am enjoying watching runners pass by the window as they train for the big race on November 4th. Leaves are finally changing color in New York City, a little later than normal, and I've been digging through the closets to look for warm clothing that my kids haven't grown out of.
Today's picture book new releases speak to the changing seasons – lots of winter books! Take a look and let me know which look interesting to you.
*Please note that all book descriptions are from Goodreads. If I had a chance to read the book and loved it, I will mark it with a 
.
---
Sponsored by Graphix Books, an Imprint of Scholastic.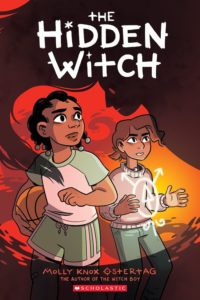 From the creator of the acclaimed graphic novel The Witch Boy comes a new adventure set in the world of magic and shapeshifting — and ordinary kids just trying to make friends.
---
Picture Book New Releases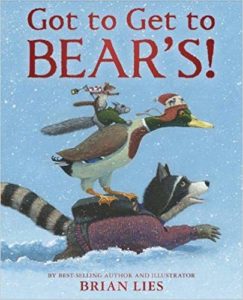 Got to Get to Bear's by Brian Lies
Bear never asks for anything. So when she sends a note to Izzy urgently requesting her presence, Izzy can't refuse! But a blizzard begins and slows Izzy's progress.  As the snow accumulates, so do her friends, helping her on her way to Bear's place.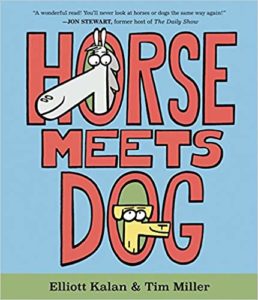 Horse Meets Dog by Elliott Kalan, illustrated by Tim Miller
Horse is just an oversize dog with funny paws…according to Dog. And Dog? Just a tiny baby horse with a weird tail. That's what Horse thinks, anyway.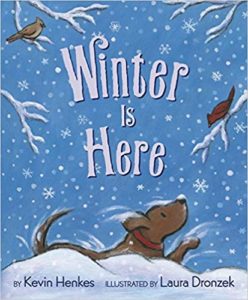 Winter is Here by Kevin Henkes, illustrated by Laura Dronzek
Snow falls, animals burrow, and children prepare for the wonders winter brings. Kevin Henkes's striking text introduces basic concepts of language and the unique beauty of the winter season. Laura Dronzek's expressive paintings beautifully capture the joyful wonders of winter.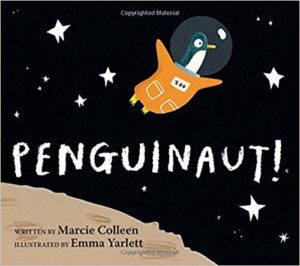 Penguinaut! by Marcie Colleen, illustrated by Emma Yarlett
Orville lives at the zoo, surrounded by animal pals who go on exciting adventures. A hang gliding rhino! A deep-sea diving giraffe! Orville struggles to keep up, until one day he concocts an adventure all his own: build a spaceship and fly to the moon all by himself. Can one tiny penguin get there alone?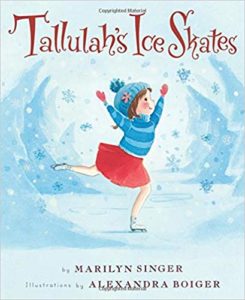 Tallulah's Ice Skates by Marilyn Singer, illustrated by Alexandra Boiger
Tallulah is an accomplished ballerina, but she also loves to skate. After all, skating's a lot like ballet—challenging, graceful, and glamorous. Tallulah is positive that with some hard work, she and her friend Kacie will be just as good on the ice as they are at dance. They'll be Super Skaters! But Kacie doesn't want to rehearse fancy moves; she wants to have fun. So Tallulah practices by herself.
Middle Grade New Releases
The Dreamway by Lisa Papademetriou
Every night, your sleeping body stays in your bed, while the you of you travels deep beneath the earth to ride the complex rails of the Dreamway…. Stella Clay thought it was just another ordinary day at her drab gray school. Then her twin brother, Cole, is attacked by a shadowy creature on their way home, and Stella's world turns positively peculiar. Suddenly, her brother seems different, almost dimmer, like a candle about to flicker out. And then a talking mouse shows up in her bedroom.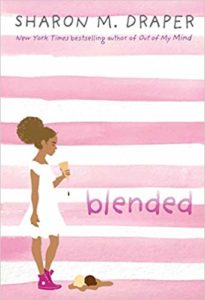 Blended by Sharon M. Draper
Eleven-year-old Isabella's parents are divorced, so she has to switch lives every week: One week she's Isabella with her dad, his girlfriend Anastasia, and her son Darren living in a fancy house where they are one of the only black families in the neighborhood. The next week she's Izzy with her mom and her boyfriend John-Mark in a small, not-so-fancy house that she loves. Because of this, Isabella has always felt pulled between two worlds. And now that her parents are divorced, it seems their fights are even worse, and they're always about HER. Isabella feels even more stuck in the middle, split and divided between them than ever. And she's is beginning to realize that being split between Mom and Dad is more than switching houses, switching nicknames, switching backpacks: it's also about switching identities.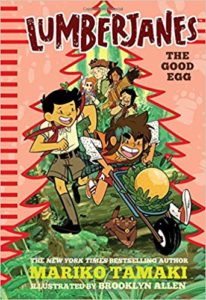 Lumberjanes: The Good Egg by Mariko Tamaki, illustrated by Brooklyn Allen
Welcome to Miss Qiunzella Thiskwin Penniquiqul Thistle Crumpet's Camp for Hardcore Lady Types. The five scouts of Roanoke cabin—Jo, April, Molly, Mal, and Ripley—love their summers at camp. They get to hang out with their best friends, earn Lumberjane scout badges, annoy their no-nonsense counselor Jen . . . and go on supernatural adventures. That last one? A pretty normal occurrence at Miss Qiunzella's, where the woods contain endless mysteries.
Nonfiction New Releases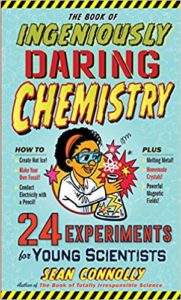 The Book of Ingeniously Daring Chemistry by Sean Connolly
In this  introduction to chemistry for STEM-curious kids ages 9 and up, each chapter of The Book of Ingeniously Daring Chemistry focuses on a single element—its properties, how it was discovered, and even its potential danger level. Easy-to-follow experiments help readers put their newfound knowledge into action. All that's needed is a sense of adventure and some items from around the house.
Backlist Book Recommendations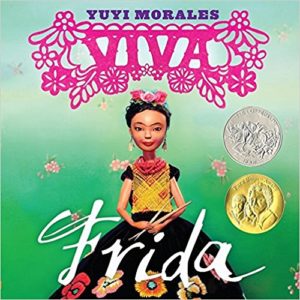 Picture Book Recommendation: Viva Frida by Yuyi Morales
Frida Kahlo, one of the world's most famous and unusual artists is revered around the world. Her life was filled with laughter, love, and tragedy, all of which influenced what she painted on her canvases.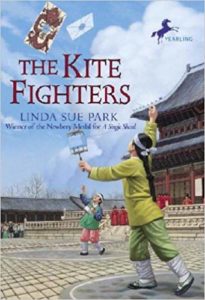 Middle Grade Book Recommendation: The Kite Fighters by Linda Sue Park
In Seoul, Korea, in 1473, Young-sup and his older brother Kee-sup are excited about the New Year kite competition. Young-sup is an expert at kite flying. He knows just what his kite wants him to do. Kee-sup has trouble handling his kite, but can build and design a kite fit for a king. Each brother knows his own talents as they practice together for the New Year kite-fighting competition. But according to tradition, Kee-sup, the first-born son, must represent the family. Young-sup knows he must help his older brother and stay in second place. But that doesn't stop him from hoping for the chance to show his great skill as a kite fighter.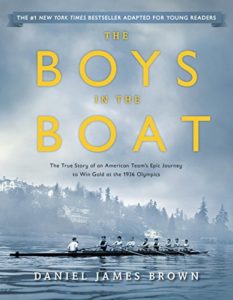 Nonfiction Recommendation: The Boys in the Boat (Young Readers Adaptation) by Daniel James Brown
Out of the depths of the Great Depression comes the astonishing tale of nine working-class boys from the American West who at the 1936 Olympics showed the world what true grit really meant. With rowers who were the sons of loggers, shipyard workers, and farmers, the University of Washington's eight-oar crew was never expected to defeat the elite East Coast teams, yet they did, going on to shock the world by challenging the German boat rowing for Adolf Hitler. At the center of the tale is Joe Rantz, a teenager without family or prospects, whose personal quest captures the spirit of his generation—the generation that would prove in the coming years that the Nazis could not prevail over American determination and optimism.
Drawing Book Recommendation: Craft-a-Doodle by Jenny Doh
Using a simple doodle as a starting point, 18 artists take you on an inspirational, crafty journey! Filled with inventive prompts designed to fuel the imagination, these 75 exercises motivate crafters to pick up a pencil, brush, or marker, and explore their artistic voice. From quick "try it" ideas using shapes and patterns to doodled portraits and contour drawings, these step-by-step projects are wild creative fun. The featured artists include Cori Dantini, who provides a "Recipe for a Face"; Flora Chang with innovative watercolor designs; and Teesha Moore who offers ideas for adding personality to doodled characters.
Giveaway!
Don't forget to enter our giveaway for a custom book stamp for your personal library! Click here to enter.
That's it for me – I have to get back to reading! I would love to know what you are reading this week! Find me on Twitter at @KarinaYanGlaser, on Instagram at @KarinaIsReadingAndWriting, or email me at karina@bookriot.com.
Until next week!
Karina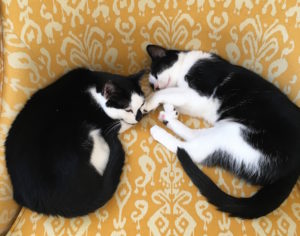 *If this e-mail was forwarded to you, follow this link to subscribe to "The Kids Are All Right" newsletter and other fabulous Book Riot newsletters for your own customized e-mail delivery. Thank you!*