Hello and happy Tuesday, harpies and Harkonnens. Let's talk about the NOMMO awards, magical board games, sequels, a horror adaptation, and Waypoint Kangaroo by Curtis C. Chen!
---
This newsletter is sponsored by Wolf of the Tesseract by Christopher D. Schmitz.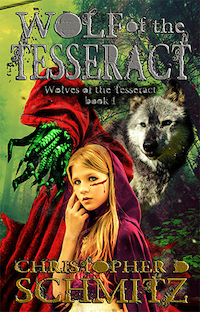 Everything in Claire's life seemed perfectly normal, albeit charmed: an engagement to her high-school sweetheart, friends visiting from college, and an idyllic life in the sleepy northland. All of that changes when she is abducted by a shapeshifting hobo and whisked through a dimensional gate. The stranger claims nothing is what it seems, and that a powerful sorcerer believes she is the key to summoning his dark god. Will she run from her destiny forever, or can she claim the weapons of the mythic Architect King, and end the sorcerer's reign of terror?
---
First, some book news:
If you loved The City of Brass by S.A. Chakraborty and you're an excerpt reader, we've got one for the sequel, The Kingdom of Copper! I am not an excerpt reader but I am still EXCITED for this book.
We're getting a longer version of the story that inspired The Thing! The original is called "Who Goes There?" by John W. Campbell, which you can read online if you poke around enough.
The 2018 NOMMO winners have been announced, and congratulations go to Tochi Onyebuchi and Tade Thompson who won for Novel and Novella, respectively! The NOMMOs are a great place to find African speculative writers (all y'all looking for Black Panther follow-ups, get thee to their site).
Related: the very special SFF Yeah! book club episode for Rosewater by Tade Thompson goes live tomorrow, so stay tuned.
Resist: Tales from a Future Worth Fighting Against, edited by Gary Whitta, Hugh Howey, and Christa Yant, is out as of today and the author-lineup on this is bonkers good! Bonus: You can get it as part of this incredibly good Humble Bundle, proceeds of which go to the ACLU. (Related: are you all set to vote?)
Adaptations, ahoy:
The Bird Box movie adaptation finally has a trailer! Cue a thousand readers going "I read this BEFORE they made A Quiet Place!" I haven't read Bird Box for reasons of being a scaredy-cat, but it made the rounds of BR and I've heard from reliable sources that it appears (from the trailer, so who really knows) they've changed a fair amount.
In non-screen adaptation news, Osprey Games is making a Jonathan Strange & Mr. Norrell board game! Did someone read my diary!?! Do they need beta-test players?! CALL ME, OSPREY.
New releases to add to your overflowing TBR:
The Monster Baru Cormorant by Seth Dickinson (sequel to The Traitor Baru Cormorant, which I reviewed previously)
The Books of Earthsea: The Complete Illustrated Edition by Ursula K. Le Guin, illustrated by Charles Vess
Last Shot: A Han and Lando Story by Daniel José Older (in audio)
Reminder! Our custom book stamp giveaway closes on Wednesday, so if you haven't already entered, get on that.
And now in reviews, here's a wacky Secret Agent In Space story!
Waypoint Kangaroo (Kangaroo #1) by Curtis C. Chen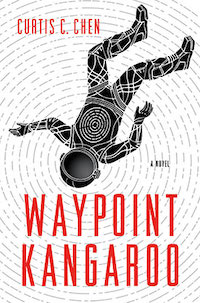 How does the idea of a locked-room murder mystery on a cruise ship in outer space featuring a super-powered secret agent appeal to you? Working in the fine tradition of comedic sci-fi, Chen delivers a whole lot of mayhem and some really endearing characters in this first installment of a series I will definitely be following.
Kangaroo, our narrator and secret agent, bungled his most recent mission (mid-bungle is right where the book starts off) and is being sent away on …. vacation? His covert-ops department is under scrutiny and his boss just wants him out of the way, and what better way to sideline an agent than on a cruise ship to Mars? Of course, Kangaroo has zero experience being a civilian, much less a relaxed cruise-going one, and starts seeing nefarious potential plots around every corner. Then a family turns up murdered, a crew member knows his call-sign, and his paranoia suddenly seems completely justified. Oh and by the way, Kangaroo also happens to be the only super-powered agent in the galaxy; his talent is that he has access to a pocket universe that he can stash things in and retrieve as necessary.
A man-hunt, a romance, and interstellar political intrigue complete with space-walks, space-battles, and spaceship-ventilation-shaft crawls, make this an action-packed, quick-paced, thoroughly enjoyable romp of a space opera. My one caveat is that it occasionally gets a little heavy-handed with technical jargon and explanations; but a more science-minded reader might enjoy that, and the rest of us can just wave our hands and move on. In the meantime, I need my own pocket universe STAT. (Mostly for ice cream.)
And that's a wrap! You can find all of the books recommended in this newsletter on a handy Goodreads shelf. If you're interested in more science fiction and fantasy talk, you can catch me and my co-host Sharifah on the SFF Yeah! podcast. For many many more book recommendations you can find me on the Get Booked podcast with the inimitable Amanda, or on Twitter as jennIRL.
Nanu nanu,
Jenn