Hello space invaders and incubi! We made it to Friday. I've got linky goodness in the form of podcasts, a fairytale quiz, monsters, women in space, and more, and instead of a single review we're talking trans/nonbinary/genderqueer authors for your shelf.
---
This newsletter is sponsored by Fierce Reads and Renegades by Marissa Meyer.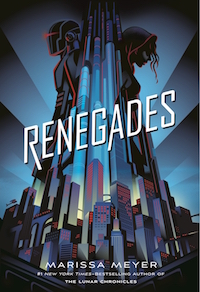 The Renegades are a syndicate of prodigies—humans with extraordinary abilities—who emerged from the ruins of a crumbled society and established peace and order where chaos reigned. As champions of justice, they remain a symbol of hope and courage to everyone . . . except the villains they once overthrew. Nova has a reason to hate the Renegades, and she is on a mission for vengeance. As she gets closer to her target, she meets Adrian, a Renegade boy who believes in justice—and in Nova. But Nova's allegiance is to the villains who have the power to end them both.
---
By no particular design, the most recent two episodes of Recommended are very SF/F focused — Ep #7 features RF Kuang, author of The Poppy War, alongside John Jennings talking about Octavia Butler, and Ep #8 has both Kim Stanley Robinson (Red Moon) and Sonia Faruqi (The Oyster Thief)!
On this week's SFF Yeah!, Sharifah and I got excited about novellas.
What fairytale should you read next? Here's the quiz, you know what to do.
Creature feature: Frolic has a list of paranormal books featuring various monsters, and it's a good one.
Women in spaaaaaaace — space comics, that is. These are on my TBR for sure.
Every time I think I've read all the post-apocalypse novels there are, someone goes and makes a list like this one. Back to the TBR…
If you need something to help you believe in the world again, here's a piece from the eight-year-old girl who pulled a sword from a lake and surely will one day be queen of us all (or a vet).
Related, this high school dance troupe did a Harry Potter-inspired routine and I am in awe.
Trans and genderqueer rights continue to be attacked, and if you're looking for a way to push back and support the community, here are some great books to pick up by trans, nonbinary, and genderqueer authors in SF/F.
The Machineries of Empire series by Yoon Ha Lee
Content warnings: compulsion, rape, suicide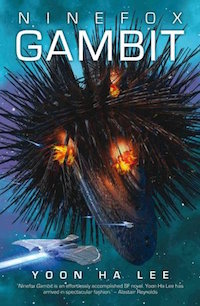 Set in an intergalactic empire where torture has been institutionalized and a war is on, this trilogy follows Kel Cheris, a soldier who finds herself unexpectedly promoted into a position she's not likely to survive, and Jedao, the ghost (really) of a psychopathic genius tactician. The world-building is stunning and original, the plot is a head-spinner, and Lee is a masterful plotter.
All the Birds in the Sky by Charlie Jane Anders
Outsiders Patricia, born with witchy powers, and Laurence, a technological genius, help each other through bullying at school, only to lose contact and be reunited many years later when the fate of the world is at stake. This novel is funny, snappy, and a great meld of the best tropes from science fiction and fantasy, and the ending had me cheering from my couch.
Dreadnought by April Daniels
Content warnings: transphobia, family abuse
Teenager Danny Tozer is hiding behind a mall when a superhero crash-lands and dies next to her. As the dying superhero's mantle is passed on, it remakes Danny's male body. Along with super strength and super speed, Danny also is now finally, visibly, a young woman. But as we know, with great power comes great responsibility, and Danny has to figure out how to handle her super powers and the varied and conflicting expectations of those around her — plus there's a cyborg villain on the loose.
The Tensorate series by JY Yang
While you can read the novellas in this series as stand-alones, I love how they build on each other. Welcome to a world in which magic is called the Slack, a corrupt government is suppressing a resistance that includes the grown children of its highest official, strange beasts lurk in the deserts, and matters of the heart intersect with those of the wider world. Yang continues to expand this world in exciting ways, playing with science, fantasy, and human nature, and I can't wait to see where they take us next.
Hunger Makes the Wolf by Alex Wells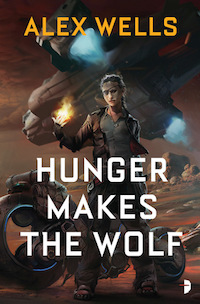 My short pitch for this book is "motorcycle gang in space!" It's also got train heists, miner strikes, gun battles, covert operations, backstabbing, murder, and mayhem, along with a hefty dose of magic. If you're craving an inclusive found family story that's also an outer-space Western, and/or a new read in the vein of Becky Chambers' Wayfarer series, you need this on your shelf.
An Unkindness of Ghosts by Rivers Solomon
Content warnings: physical and sexual violence
Aster, is a self-taught healer onboard the generation ship Matilda, which has been traveling through space in search of a new home planet. The beautiful upper decks are populated entirely by white people, while on the lower decks the darker-skinned inhabitants of the ship are enslaved, rationed, and patrolled and abused by armed guards. A religious dictatorship enforces class and race order across levels. Aster, a lower-decker, doesn't have any plans to be a revolutionary — but circumstances have a way of forcing your hand.
Meanwhile, Elsewhere: Science Fiction and Fantasy from Transgender Writers, edited by Cat Fitzpatrick and Casey Plett
This collection is on my TBR, and I'm so excited to get to it. Twenty-five transgender writers come together to imagine a huge range of different worlds, and here's the review from Bitch Media that originally piqued my interest.
Bonus: Across the full LGBTQIA spectrum, the Queers Destroy series includes SF, Horror, and Fantasy and is well worth your time.
And if you're looking to go beyond literary activism, Bustle has excellent suggestions on concrete actions you can take.
That's a wrap! You can find all of the books recommended in this newsletter on a handy Goodreads shelf. If you're interested in more science fiction and fantasy talk, you can catch me and my co-host Sharifah on the SFF Yeah! podcast. For many many more book recommendations you can find me on the Get Booked podcast with the inimitable Amanda, or on Twitter as jennIRL.
Hold tight,
Jenn