Hola, audiophiles!
My name is Vanessa Diaz and as you may have read in last week's newsletter, I'll be stepping in for Katie to bring you the scoop on all things audiobook. Thank you so much to Katie for the sweet words and warm hand-off – I wish her the best of luck in her sweet new gig and can't wait to talk audiobooks with all of you fine book-listening people!
A little about me: I'm a Contributing Editor and have been Rioting for just over a year. I also edit our In The Club newsletter and am so excited to be co-hosting the Read Harder podcast in 2019! I'm a native San Diegan, a chatty Latina, and a super duper nerdy Agatha Christie nut. I may occasionally lapse into Spanish. Like I said to all my In The Clubbers – you've been warned.
So! Let's get to the listens, shall we?
---
Just for Book Riot readers: sign up for an Audible account, and get two audiobooks free!
---
First – we gots a giveaway! Here's your chance to win a 12-month Audible subscription.
Latest Listen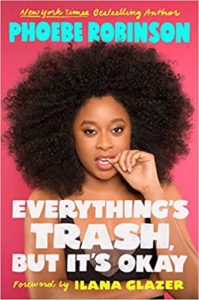 I've been in major need of some LOLs lately in the middle of this garbage fire news cycle. And really – who hasn't!? Enter Phoebe Robinson's Everything's Trash, but It's Okay. I'm a big fan of Robinson from the 2 Dope Queens podcast and hollered my way through Robinson's first book You Can't Touch My Hair: And Other Things I Have to Explain. Her second book is every bit as filled with her signature pop culture references, endless hashtags and unabashed Bono thirstiness. Now there's a string of words I never thought I'd write…
Why it's so great on audio: only Phoebe can deliver those Phoebeisms in that Phoebeistic way. Her narration of personal anecdotes will keep you in stitches (and maybe make you cringe a little, any by that I mean a lot), but it's her cultural criticism and musings on feminism, politics, body image, and dating that'll have you yelling a very Phoebe "yaaaasss." Her tangents sometimes go a little haywire and she'll stretch a joke out for a tad longer than it probs needed to go. Honestly though- that's just Phoebe: a little extra with a lot of laughs.
Line that made me howl: "For instance, I'm anti-misogyny, but that hasn't stopped me in the past from basically busting out a rhythmic gymnastics routine complete with ribbon work when Jay Z's Big Pimpin' comes on." I CAN'T.
Listens on Deck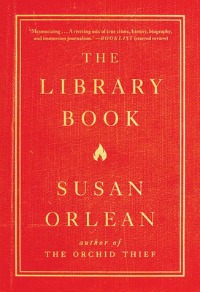 Up Next: Susan Orlean's The Library Book. Did you know that in 1986, a terrible fire at the Los Angeles Public Library raged for 7+ hours and wiped out (deep breath here) over 400,000 books?! Oh you didn't? Know why? Because Chernobyl happened and there went the library's headline. I can't wait to listen and get sucked into this library love letter & real-life mystery.
From the Internets
The Bold and the Buzzy – Audiobooks.com shared their pics for the buzziest audiobooks of the season. I'll just be over here poppin' my collar for having six of these already downloaded / wringing my hands at the growing size of my TBL. Gulp.
Catch the whole article with descriptions of each title here.
Over at the Riot
Three Writers Reading – In last week's 3 on a YA Theme, Tirzah shared three YA audiobooks narrated by the author. I caught The Poet X in print but did just have my ears blessed by Elizabeth Acevedo's narration of Pride. I may or may not have been Twitter stalking her shamelessly ever since. Anyway: cosign!!
The Poet X by Elizabeth Acevedo
Long Way Down by Jason Reynolds
Bridge of Clay by Marcus Zusak
How Do You Audio? – We've all heard of Audible, sure. But did you know there are a few other fantastic options for listening to audiobooks? Check out this guide to the best audiobook service options. I'm a recent Libro.fm convert myself and love it so much!
---
Thanks for hanging with me today! You can find me on the Twitter and the gram @buenosdiazsd. Shoot me an email at vanessa@riotnewmedia.com if you have any feedback or questions!
Stay bad & bookish, my friends.
Vanessa