This edition of Today in Books is sponsored by Flatiron Books, publishers of Good Me Bad Me, now in paperback by Ali Land.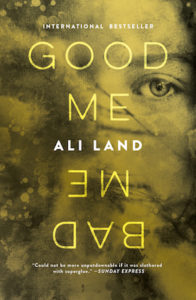 ---
Procedural Accusations Filed In Shooting Of Salman Rushdie's Publisher
A little history: In 1989 Ayatollah Ruhollah Khomeini issued a fatwa calling on Muslims to kill Rushdie and anyone associated with his novel The Satanic Verses. In 1993 Publisher William Nygaard was attacked in Oslo. Now Norwegian police have filed accusations against several suspects.
New Academy Prize In Literature Awarded
After the rape scandal left no viable committee in place for the Nobel Prize for Literature, essentially cancelling it this year, The New Academy was created in hopes of filling in the void. And they've awarded Guadeloupean novelist Maryse Condé the New Academy prize in literature!
My Sister, The Serial Killer is the top pick for November's Library Reads list
And totally belongs there! Not does Oyinkan Braithwaite's upcoming novel have a fabulous title but the book measures up to it. Prepare your TBR and check out the other 13 books on Library Reads November list.
And don't forget to enter our giveaway for a custom book stamp for your personal library. Stamp all the books!