This edition of Today in Books is sponsored by First Second Books.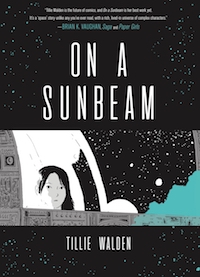 ---
100+ Film-Related Words Added To Oxford English Dictionary
You can now say "Lynchian," and if someone doesn't know what you mean they can look it up in the Oxford dictionary. My favorite, which I'd never heard before, is "Sword-and-sandal": (chiefly attributive) a genre of film characterized by a setting in the ancient world, often featuring characters from the Bible or classical history and myth.
Chimamanda Ngozi Adichie Accepts PEN Pinter Prize
She accepted the award as a writer whose work shows "the real truth of our lives and our societies," and in her acceptance lecture, Shut Up and Write, she spoke about the responsibility of speaking out in the U.S. current political climate and also her personal experience for defending women's rights in Nigeria.
It's October So Here's The Trailer for Pet Sematary
No, not the '80s film adaptation of Stephen King's novel but the coming-in-April-2019 film adaptation. I can't look because I'm still traumatized from someone freezing the original on the kid's shoe in the road but you can see the trailer.
And don't forget to enter our giveaway for a custom book stamp for your personal library. Stamp all the books!