Happy Friday, mech-pilots and poltergiests! Today we're talking a lot about witches, a bit about vampires, plus some NYCC news, Mech Cadet Yu by Greg Pak and Takeshi Miyazawa, and more.
---
This newsletter is sponsored by First Second Books.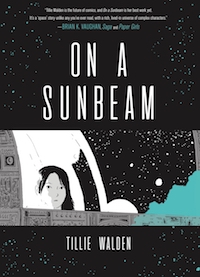 Two timelines. Second chances. One love. A ragtag crew travels to the deepest reaches of space, rebuilding beautiful, broken structures to piece the past together. Two girls meet in boarding school and fall deeply in love—only to learn the pain of loss. With interwoven timelines and stunning art, award-winning graphic novelist Tillie Walden creates an inventive world, breathtaking romance, and an epic quest for love.
---
This week on SFF Yeah!, Sharifah and I talked about all of the adaptation news (I had some Feelings about Narnia), plus a couple of our favorite witches.
Which witch are you? We've got a quiz so you can find out! I got Sally Owens from Practical Magic and I feel very seen right now.
More witchy content: I'm sincerely grateful for the reboot trend that's bringing us Charmed, The Chilling Adventures of Sabrina, and Bewitched. Important clarification: Charmed is not a fully-Latina reboot.
Here's Tor's coverage of NYCC 2018 (some of those panels have AMAZING line-ups). You can also get a free e-book from them of Victor LaValle's The Ballad of Black Tom, which I highly recommend! Only good through tonight (11:59pm Oct 12).
Speaking of NYCC, these pictures of #HijabHeroes are everything.
ICYMI: The first trailer for the Good Omens TV show is A++. ("I don't even like you!")
I do believe I've shared this before, but there's no time like the week of Indigenous Peoples' Day to remind us all about the indigenous authors writing SF/F (extreme cosigns on Stephen Graham Jones, Daniel H. Wilson, and post author Rebecca Roanhorse).
It's not books, but I adore this Favorite Female Vampires from TV and movies round-up — #TeamKatherine.
Need some Doctor Who read-alikes to celebrate that first episode? Here you go.
In today's review, I get all worked up about giant robots and teamwork.
Mech Cadet Yu: Vol. 1 by Greg Pak (writer) and Takeshi Miyazawa (illustrator)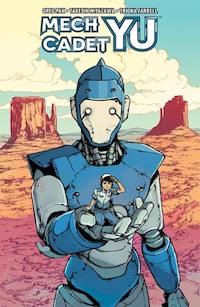 If you too have fond memories of the Transformers cartoon from the '80s and '90s, and/or love the idea of Rock'em Sock'em Robots plus aliens, and/or have burned through Voltron and need MORE, then I encourage you to get Mech Cadet Yu immediately.
The Sky Corps Academy trains young cadets to be the best robot mech-pilots they can be — but only some will actually get the chance to bond with a robot. Each year for the last sixty years, a few sentient robots return to Earth to choose their humans from the best and brightest cadets; the pairs then train together to keep Earth safe from the alien scourge, the Sharg.
This year when the robots come, things do not go as planned. One mech unit bonds instead with an Academy janitor's son, passing over a general's daughter to do so. Yu is over the moon excited, but it's not going to be easy to prove he has a place amongst the other cadets.
Miyazawa's art plays beautifully against Pak's storyline — the palette and style give it the feel of a classic comic but with modern sensibilities. Pak throws parental pressure, a military industrial complex, classism, an immigration story, sentient robots, and teenage drama into a blender — and the result is delicious and heart-warming. The dynamic between mean-girl Park and underdog Yu is just pitch-perfect, and I'm a sucker for "a team of has to come together despite their differences" storylines.
Bonus: you can hear Pak talk about his early influences on our Recommended podcast.
And that's a wrap! You can find all of the books recommended in this newsletter on a handy Goodreads shelf. If you're interested in more science fiction and fantasy talk, you can catch me and my co-host Sharifah on the SFF Yeah! podcast. For many many more book recommendations you can find me on the Get Booked podcast with the inimitable Amanda.
Roll out,
Jenn