Happy Tuesday, goblins and Gorgons! Today I'm recommending P. Djèlí Clark's The Black God's Drums, and there are a slew of screen-to-book adaptations in the works, an exciting new novel announcement, new releases galore, and more.
---
This newsletter is sponsored by Vampires Like it Hot by Lynsay Sands.
Vampires are real. Jess would've never believed it until she saw them with her own eyes. She knows she has to get off the island, and her gallant rescuer has offered to help. There's something about Raffaele that's unlike any man she has ever met, and his touch sends pleasure through her that is beyond all imagining. But when Jess discovers who he really is, will she risk life as she knows it for a chance of forever by his side?
---
Adaptation news:
Guillermo del Toro and … wait for it … Cornelia Funke are writing a novelization of Pan's Labyrinth together. I do not know how to feel about this? (Novelizations make me nervous, but Funke is awesome, and so was the movie, so … ???)
And speaking of screen-to-book, you can read the first chapter of the Stranger Things novel, Suspicious Minds, on EW.
And we're getting an Alien novel! I'm a die-hard fan of the franchise, and Mira Grant (a.k.a. Seanan Maguire) is writing it, it's YA, and the synopsis sounds great.
Dark Phoenix is back in a new trailer. I rewatched all of the X-Men movies last year in the build-up to Logan (ALL OF THEM), and I still feel like my favorite comics team gets my least favorite movies. Here's hoping this one will turn the tide a bit?
Sarah Gailey (author of personal favorite American Hippo) has a novel coming out called Magic for Liars and you can consider me interested, magical PIs are my jam.
Not books, but: MST3K's new season will start on Thursday, November 22! I somehow did not realize that MST3K had been chugging along all these years (I think the last episode I saw was a Mike one); perhaps I will use this opportunity to grab some popcorn and pull up a seat.
New releases I have my eye on:
A Blade So Black by LL McKinney
The Sisters of the Winter Wood by Rena Rossner
Rock Manning Goes for Broke by Charlie Jane Anders
An Easy Death by Charlaine Harris
Exit Strategy (Murderbot #4) by Martha Wells
Shadow of the Fox by Julie Kagawa
The Lady's Guide to Petticoats and Piracy by Mackenzi Lee
Need some cheap reads to bolster your TBR?
The Witches of East End by Melissa de la Cruz, $2.99, because witching season is upon us!
The Door in the Hedge: And Other Stories by Robin McKinley, $1.99, because Robin McKinley, always.
Dragon Keeper (Rain Wilds Chronicles, #1) by Robin Hobb, $1.99, because environmentalism plus dragons.
The Merry Spinster: Tales of Every Day Horror by Daniel Mallory Ortberg (as Mallory Ortberg), $2.99, because these tales will creep you right out.
Giveaway alert! Enter our giveaway for a custom book stamp for your personal library right here.
Here's an alternate-history steampunk novella to put on your shelf next to Justina Ireland's Dread Nation and Nisi Shawl's Everfair.
The Black God's Drums by P. Djèlí Clark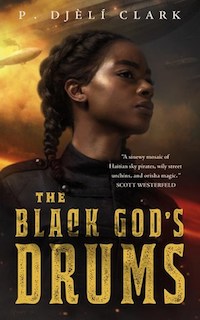 I've been a fan of Clark's since I read his novelette "A Dead Djinn in Cairo," and am delighted to tell you that this new novella is fantastic.
Set in an alternate 1880s United States, in which the Civil War ended in a truce and Louisiana is a neutral free-state, The Black God's Drums follows whip-smart adolescent street urchin Creeper, who also happens to be carrying the goddess Oya around in her head. Creeper overhears a secret plot to sell Haiti's greatest weapon to an unknown bidder and knows quality intel when she finds it; now she just has to find the right buyer. Creeper takes us on a whirling tour of a vivid and vibrant alternate New Orleans, complete with political wheelings and dealings, houses of ill-repute, some very surprising nuns, airships, and a battle for the soul of a city.
The ever-present struggle with good novellas is that, even when the plot is done right and is perfectly self-contained, the world-building leaves you wanting more story. The Black God's Drums does both, but also leaves me torn. As much as I want to see what else might happen in this setting, when I consider the breadth of Clark's work to date, I can only hope he continues to create strange and exciting new worlds like it's easy as pie. I'll be here eagerly awaiting whatever comes next.
And that's a wrap! You can find all of the books recommended in this newsletter on a handy Goodreads shelf. If you're interested in more science fiction and fantasy talk, you can catch me and my co-host Sharifah on the SFF Yeah! podcast. For many many more book recommendations you can find me on the Get Booked podcast with the inimitable Amanda.
Never give up, never surrender,
Jenn