My fellow warriors, warlocks, witches, and wights: hello and congratulations on making it to Friday! Today I'm reviewing For a Muse of Fire by Heidi Heilig and looking at neural networks, black girl magic, Hispanic Heritage Month, Alanna of Tortall's anniversary, and more.
---
This newsletter is sponsored by The Boneless Mercies by April Genevieve Tucholke.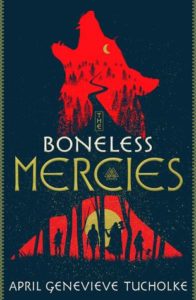 Frey yearns for a life worthy of saga and song. But she is a Boneless Mercy, a member of an ancient female sect that has survived the rising and falling of kingdoms. Frey and her band of Mercies are weary of the death trade. So, when they hear a beast is slaughtering townspeople, they decide slaying it is their chance at fame and fortune. Their success—or failure—could change the fate of women everywhere. With prose as silken and slippery as blood, the complex truths of Tucholke's novel will sink into your bones and linger long after the last page is turned.
---
"Whose stories? Our stories!" is the rallying cry of this piece by L.L. McKinney about retelling Alice in Wonderland with a black main character, and I need to pick up A Blade So Black ASAP.
Related: here's a list of literal black girl magic, including books by personal favorites Nnedi Okorafor, N.K. Jemisin, and Nicky Drayden.
Could you teach a neural network how smell works? Do we even know how smell works?! This is the kind of deep dive I love, and which I can only hope will inspire a future sci-fi novel/la.
Hispanic Heritage Month runs through October 15, and Silvia Moreno-Garcia (author of personal favorite Signal to Noise) has an incredibly handy list of Latinx SF/F authors you should check out.
It's the 35th anniversary of Alanna: The First Adventure, which means Alanna and I are basically the same age, which means I got a bit verklempt reading this post.
Wizard laser tag!!! I have been WAITING for these toy wands to be readily available, and that glorious day has finally arrived.
If RPG is more your speed than LARP, Alice has some books and series that she wishes had a game version.
Also related: need some speculative school stories beyond Hogwarts? Here's a round-up of audiobooks!
Today we've got a YA novel that's immersive, lush, and an excellent escape from reality if you need one (and when do we not, these days).
For a Muse of Fire by Heidi Heilig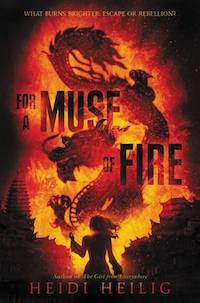 Complex heroine? Check. A vividly imagined world? Check. A plot with both emotional and political stakes? Check. Magic that ranges from delightful to truly creepy? Very check. The first book in Heilig's newest series has lots to love, especially if you're looking for something to get you into a spooky mood. (Halloween is coming!)
Jetta is the daughter of two skilled shadow players (here's where I invite you to fall down a rabbithole on the history of shadow puppetry, which is fascinating), and they're hoping to use their skills to make their fortune and leave their homeland of Chakra. The arrival of the conquering Aquitan army has created nothing but unrest, banning the old ways and turning native citizens against each other. Jetta lost her older brother to the war and is herself suffering from a "malheur" (a mental illness that reads similarly to bipolar disorder) and her family hopes to earn enough money to travel to Aquitan, leave the civil unrest behind, and find a cure.
But there's much more to Jetta than her malheur; she also has magical powers. She can see the souls of recently deceased things — insects, plants, animals, people — and even control them. She uses small souls to animate her puppets, enabling her to perform tricks that raise her family's profile, but she must always hide her true abilities. When a bid to catch the attention of an important general goes awry, Jetta and her family must go on the run in the company of a smuggler, and more than one secret is revealed in the ensuing adventure.
Inspired by French colonialism and Asian civilizations, For a Muse of Fire takes the familiar and makes it new. Jetta is a compelling and complicated heroine, the supporting characters have range and depth, and the plot had me gripped from start to finish. As I mentioned on this week's All the Books, I read the whole thing on a plane and was lost to the world, from the first word to the last. It's the first book in a series, with enough loose threads to have me ready for the next book and enough closure to make it an immensely satisfying read.
And that's a wrap! You can find all of the books recommended in this newsletter on a handy Goodreads shelf. If you're interested in more science fiction and fantasy talk, you can catch me and my co-host Sharifah on the SFF Yeah! podcast. For many many more book recommendations you can find me on the Get Booked podcast with the inimitable Amanda.
Don't let the Vogons read you poetry,
Jenn