Hello mystery fans! I have for you a noir novella, a psychological suspense, and the next BIG thriller you won't be able to put down. Happy fall reading!
---
Sponsored by The Gold Pawn by L.A. Chandlar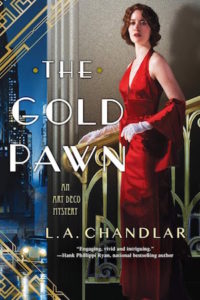 November 1936. For most of the country, it is the era of soup lines, but for Manhattan's cosmopolitan set, the Big Apple is a decadent swirl of creativity, cocktails, music, gangsters and romance. At the center of it all is Lane Sanders, the high-spirited personal aide to Mayor La Guardia, sprinting through the corridors of City Hall in her stylish red shoes as she confronts the ghosts of her past and investigates a missing persons case that threatens to destroy everything. Through glittering Art Deco-era Manhattan to the shadowy outskirts of 1930's Detroit, a ride on the Hindenburg, a band of city urchins, a narrow escape, and many new friends who go on to become the movers and shakers of the Thirties, one peculiar thing ties the mystery of Lane's past and La Guardia's current debacle together: The Gold Pawn.
---
Hitwoman Noir Novella! (TW attempted rape)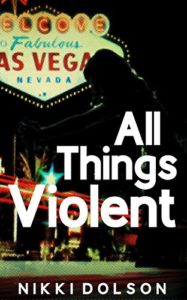 All Things Violent by Nikki Dolson: This was an awesome crime novella that focuses on a young woman's personal life and "career." Laura Park is a hit woman working for her boyfriend, but she's still technically in training and her trainer treats her like a child. The events that led her to this life and her current life's unraveling are the focus as she does her best to kill her assigned marks. Equally tough and vulnerable, Park is a great main character, and the book left me wanting much more future writing from Dolson. While not a genderswap like Megan Abbott did with Queenpin there was an interesting play with the femme fatale…
Slow-Burn Psychological Suspense Mystery (TW suicide)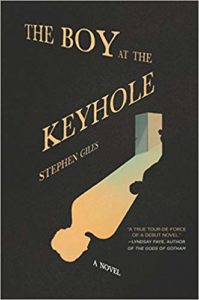 The Boy at the Keyhole by Stephen Giles: I picked this up because it had a comparison to Shirley Jackson and while I was initially hesitant, because those comps never work out for me, I totally saw it. It isn't the characters from We Have Always Lived in the Castle but it is the similar vibe of the mystery, and everything basically taking place all in the house. In this case Samuel, a nine-year-old British boy, is desperately missing his mother who abruptly left to America without saying goodbye. Cared for only by Ruth, the housekeeper, he soon lets his imagination go rampant into theories of his mother having been murdered instead of being in America seeking financial support. But is it his imagination? Because Ruth sure does seem to be controlling things and, aside from some postcards, he has yet to actually hear from his mother…
This Will Be The Hit Thriller of 2019! (TW suicide/ rape/ revenge porn/ domestic violence)
As Long as We Both Shall Live by JoAnn Chaney (January 15, Flatiron): Okay, I don't normally use this slot for future releases but in this case I want you to give future you a deliciously evil gift because you're going to want to be ahead of the hype on this one! So preorder, be first on your library hold list, mark your calendar. I absolutely adore JoAnn Chaney's wicked brain. Her writing is sharp, insightful, and darkly funny. And wow can she write a deliciously evil and giddy page-turner! The novel starts with two wives, decades apart, same husband. Each wife about to reach her fate at the hands of her husband. But how can a spouse possibly get away with murder? Twice?! Enter the first detective who doesn't believe the husband's story and then decades later two more detectives who don't believe the husband's current story when they find out the first story. The book brilliantly gives you slices into each characters life and brain while not only giving you the two focal mysteries but one of the current detectives is accused of murdering a previous partner. I know! I am so excited for everyone to get to experience this ride of a book!!!!
Recent Releases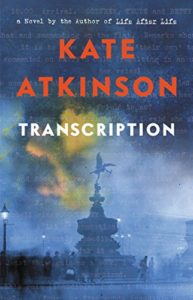 Transcription by Kate Atkinson (TBR: Looking forward to this literary spy novel set in the '40s and '50s about a BBC radio producer who once worked for MI5…)
Haunted Hayride with Murder (An Otter Lake Mystery #6) by Auralee Wallace (Currently reading: This is one of those cozy mystery series where all the characters are ridiculous and it's funny and I get to just enjoy myself and laugh.)
Browse all the books recommended in Unusual Suspects previous newsletters on this shelf. And here's an Unusual Suspects Pinterest board.
Until next time, keep investigating! And in the meantime, come talk books with me on Twitter, Instagram, and Litsy–you can find me under Jamie Canaves.
If a mystery fan forwarded this newsletter to you and you'd like your very own you can sign up here.