Today's The Stack is sponsored by Check, Please! #Hockey by Ngozi Ukazu and published by First Second Books.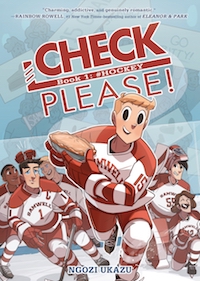 Eric Bittle may be a former junior figure skating champion, vlogger extraordinaire, and very talented amateur pâtissier, but being a freshman Samwell University hockey player is a whole new challenge. First of all? There's checking (ranging from a stick check all the way to a physical sweep). And then, there's Jack—his very attractive but moody captain.
A collection of the megapopular webcomic series, this is a hilarious and stirring coming-of-age story about hockey, bros, and trying to find yourself during the best four years of your life – including updated art and a curated selection of Bitty's beloved tweets.