This edition of Today in Books is sponsored by CubHouse, an imprint of Lion Forge.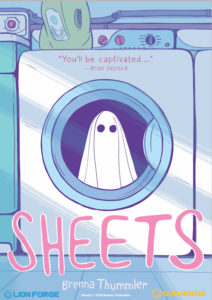 ---
Indie Bookstore Fights Back
James Jenkins and husband Ryan Cagle, co-founders of Valancourt Books, have filed a lawsuit in federal court, "arguing that the Copyright Office's demand violates the publisher's right to free speech and its right to 'just compensation' for taken property." The independent, print-on-demand publisher specializes in reprinting long-lost works, including queer literature. But the U.S. Copyright Office demanded one copy of 240 different books from the publisher's collection for free. "If we don't send the books, the Copyright Office says they will fine us out of existence," said Jenkins.
A Harry Potter-Themed Mixology Course
Please, someone in New York, attend the Harry Potter-themed mixology class for me. The Cauldron, a pop-up bar and mixology course, is opening in NYC in September. The Kickstarter-funded London pop-up was so successful back in March, that the organizers took it to the states. Here's hoping it spreads across the country.
The Guardian's "Unimpressive" Alt Nobel Coverage
The Guardian has come under fire for its coverage of the alternative Nobel Prize in Literature shortlist released this week. Two women–Maryse Condé and Kim Thúy–and two men–Haruki Murakami and Neil Gaiman–are on the shortlist. But The Guardian focused on the two men, pushing the women to the bottom of the piece and mentioning them as "completing the shortlist." The New Academy Prize in Literature was created in the wake of a sex abuse scandal that postponed the Nobel Prize in Literature for 2018.