Hey Kid Lit friends,
Woohoo, Tuesdays! The best day of the week! Check out all of these new books hitting shelves today! As usual, the book descriptions are from Goodreads, but I'll add a 
 if I particularly loved a title.
---
We're giving away 16 of the books featured on Recommended! Click here, or on the image below to enter:
---
Board Book New Releases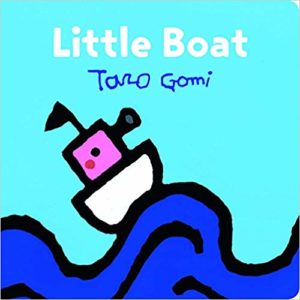 Little Boat by Taro Gomi
When you're small and on the go, there's a lot to watch out for: big boats, waves, rain clouds, and more! But Little Boat can handle whatever comes his way, braving the elements and the unexpected with his initiative, confidence, and positive attitude. This colorful follow-up to Little Truck by beloved author-illustrator Taro Gomi will entertain toddlers sailing toward big adventures!
Picture Book New Releases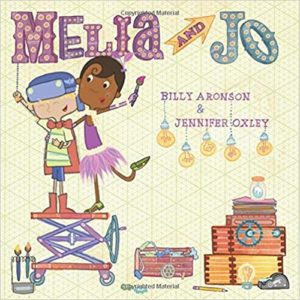 Melia and Jo by Billy Aronson and Jennifer Oxley
Melia is scientific and loves to create things in her backyard laboratory, but something is missing. Her inventions just aren't quite right. Enter Jo, her new friend with an artistic spirit. When you add the arts to sciences, something magical happens!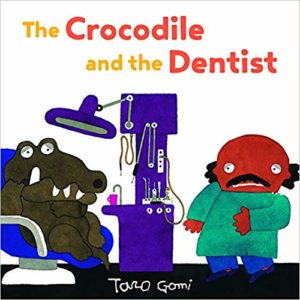 The Crocodile and the Dentist by Taro Gomi
Oh, it's time to go to the dentist! Crocodile has a toothache, but he's afraid of the dentist. The dentist wants to help, but he's afraid of Crocodile. Never fear! Bestselling author-illustrator Taro Gomi cleverly and humorously presents both sides of the story, as the crocodile and the dentist learn to be brave and face their fears—of what might happen in that dentist's chair and of each other!
Middle Grade New Releases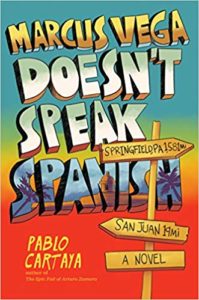 Marcus Vega Doesn't Speak Spanish by Pablo Cartaya
After a fight at school leaves Marcus facing suspension, Marcus's mom decides it's time for a change of environment. She takes Marcus and his younger brother to Puerto Rico to spend a week with relatives they don't remember or have never met. But Marcus can't focus knowing that his father–who walked out of their lives ten years ago–is somewhere on the island. So begins Marcus's incredible journey, a series of misadventures that take him all over Puerto Rico in search of his elusive namesake. Marcus doesn't know if he'll ever find his father, but what he ultimately discovers changes his life. And he even learns a bit of Spanish along the way.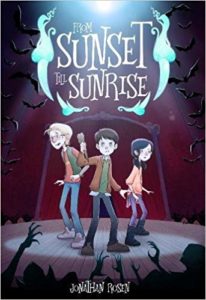 From Sunset Till Sunrise: Devin Dexter 2 by Jonathan Rosen
Devin Dexter and his cousin Tommy just saved the city of Gravesend from the menace of magical, malicious Cuddle Bunnies brought to life by the warlock, Herb. But there's no rest for the wicked, as a new mysterious neighbor moves in across the street. At night. With a coffin. Tommy immediately jumps to conclusions as he thinks this can only mean one thing: Vampires.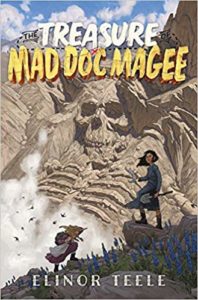 The Treasure of Mad Doc Magee by Elinor Teele
The small, run-down town of Eden is the only place Jenny Burns has ever called home. And that's why, when her father loses his job and tells Jenny that they may have to move on from Eden, she knows she can't let that happen. The fever of New Zealand's gold rush still runs in the veins of Eden, and everyone knows the legend of Doc Magee: how he found the largest gold nugget anyone had ever seen and hid it somewhere in the hills before he disappeared. Jenny and her best friend, Pandora, know that if they can find the gold, it'll solve all their problems. But the way is fraught with mysteries, riddles, and danger—and those are just the threats they know about.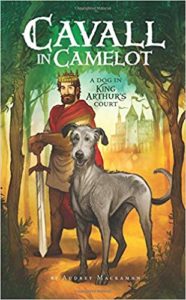 Cavall in Camelot 1: A Dog in King Arthur's Court by Audrey Mackaman
When Cavall and his older brother, Glessic, leave the comfort of their simple barn to join the lavish court of Camelot, Cavall wants nothing more than to prove he's a good dog to the great knights and dogs of the castle—especially to King Arthur. But Gless says only the best dogs are worthy of greatness, and Cavall has never been as strong, brave, or fast as his brother. Meanwhile, malevolent forces lurk in Camelot, and Cavall must figure out how to protect his person. To make matters worse, Arthur's mysterious nightmares are threatening to shake his grip on reality and undermine his authority as king.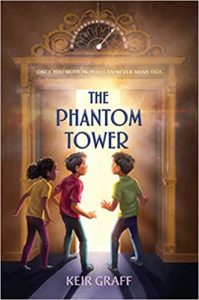 The Phantom Tower by Keir Graff
Colm and Mal are twins so identical their own mom can't tell them apart, but they're different in just about every other way. Mal's a pragmatist while Colm's a dreamer, and they bicker and battle constantly. Neither brother is excited to be moving to Chicago for a fresh start with their mom just after their dad's death. But nothing cures homesickness like intrigue–and their new home, Brunhild Tower, has plenty of it: mysterious elderly neighbors who warn against wandering the building at midday, strange sounds in the walls, and an elevator missing a button for the thirteenth floor.  One day, that button appears–and when the doors open on the missing floor, the boys are greeted by the strangest puzzle yet: a twin building that is stuck in time and bustling with activity.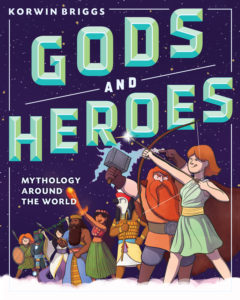 Gods and Heroes: Mythology Around the World by Korwin Briggs
Before there was Batman, Wonder Woman, or Black Panther…there was Indra, Hindu king of gods, who battled a fearsome snake to save the world from drought. Athena, the powerful Greek goddess of wisdom who could decide the fate of battles before they even began. Okuninushi, the Japanese hero who defeated eighty brothers to become king and then traded it all for a chance at immortality.
Nonfiction New Releases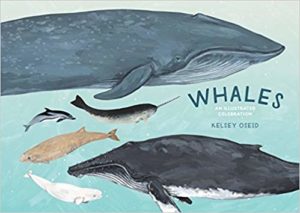 Whales: An Illustrated Celebration by Kelsey Oseid
Some of the world's most fascinating and beloved animals, cetaceans have captivated the human imagination for centuries. Whales: An Illustrated Celebrationexplores the most interesting and illuminating facts about these marine mammals, from the enormous blue whale (which has a heart the size of a car!) to the Amazon river dolphin (which is pink!). Gorgeously illustrated with full-color art on every page, this giftable guide delves into cetaceans' mysterious evolution (from land to water mammals), their place in mythology, and their ecology, habitats, and behaviors (such as singing, fluking, beaching, bubble feeding, and more).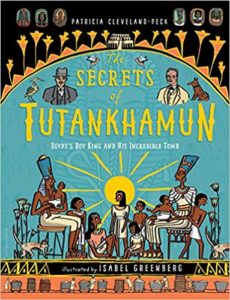 The Secrets of Tutankhamum: Egypt's Boy King and His Incredible Tomb by Isabel Greenberg
Tutankhamun was born in a time of change. His father, Atakhenaten, instituted broad political and religious reform to Egypt, and his laws were controversial. By the time Tut turned nine, his whole family had died and he was named the youngest king Egypt had ever had. His rule was short and tumultuous, and around age nineteen, Tut died. More than three thousand years later, Howard Carter, a British archaeologist with a penchant for ancient history and a special skill for excavation in Egypt's Valley of the Kings, made a discovery that shocked the world: King Tut's tomb, long ago assumed destroyed, not only survived but was fully intact. The treasures within gave a stunning and undisturbed perspective on ancient Egyptian culture and uncovered secrets that fascinated the world.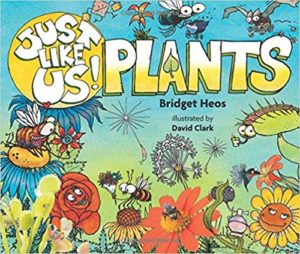 Just Like Us! Plants by Bridget Heos, illustrated by David Clark
While they might seem as different from humans as possible, we actually have a lot in common with our photosynthesizing friends. From drinking water to disguising themselves to communicating with one another, plants are a lot like us—though with fascinating twists all their own.
Backlist Book Recommendations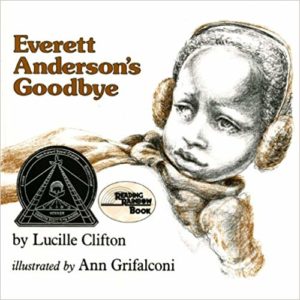 Picture Book Recommendation: Everett Anderson's Goodbye by Lucille Clifton, illustrated by Ann Grifalconi
Everett Anderson's Goodbye is a touching portrait of a little boy who is trying to come to grips with his father's death. Lucille Clifton captures Everett's conflicting emotions as he confronts this painful reality. We see him struggle through many stages, from denial and anger to depression and, finally, acceptance. In this spare and moving poem, the last in this acclaimed series, Lucille Clifton brings Everett Anderson's life full circle.
Note from Karina: This is a beautiful book to share with young readers who are struggling with grief. I love the entire Everett Anderson series – I would suggest checking all of them out!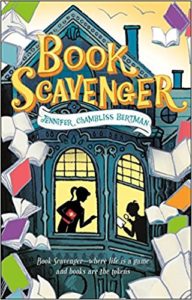 Middle Grade Recommendation: The Book Scavenger by Jennifer Chambliss Bertman
For twelve-year-old Emily, the best thing about moving to San Francisco is that it's the home city of her literary idol: Garrison Griswold, book publisher and creator of the online sensation Book Scavenger (a game where books are hidden in cities all over the country and clues to find them are revealed through puzzles). Upon her arrival, however, Emily learns that Griswold has been attacked and is now in a coma, and no one knows anything about the epic new game he had been poised to launch. Then Emily and her new friend James discover an odd book, which they come to believe is from Griswold himself, and might contain the only copy of his mysterious new game.
Note from Karina: This fabulously smart book series is for puzzle loving readers who enjoy mystery and intrigue. These books are addictive!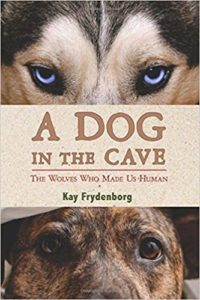 Nonfiction Book Recommendation: A Dog in the Cave: The Wolves Who Made Us Human by Kay Frydenborg
Fossils show we've shared our work and homes with dogs for tens of thousands of years. Now there's growing evidence that we influenced dogs' evolution—and they, in turn, changed ours. Even more than our closest relatives, the apes, dogs are the species with whom we communicate best. Combining history, paleontology, biology, and cutting-edge medical science, Kay Frydenborg paints a picture of how two different species became deeply entwined—and how we coevolved into the species we are today.
Note from Karina: Oh my goodness, when I first read this book last summer it absolutely blew my mind. The evolution of dogs from wolves is so fascinating, and this book is filled with so many interesting facts. Definitely check this out!
Giveaway!
This month's giveaway opportunity is 16 awesome books featured on the Recommended podcast! Enter here by August 31.
I'd love to know what you are reading this week! Find me on Twitter at @KarinaYanGlaser, on Instagram at @KarinaIsReadingAndWriting, or email me at karina@bookriot.com.
Until next week!
Karina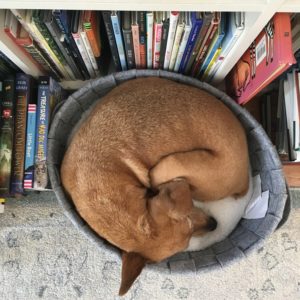 Wishing you all a reading spot as perfect as this one.
*If this e-mail was forwarded to you, follow this link to subscribe to "The Kids Are All Right" newsletter and other fabulous Book Riot newsletters for your own customized e-mail delivery. Thank you!*