Hi Kid Lit friends!
My kids don't go back to school until the first week of September, but the school excitement buzz is already building in our household. There are lots of great new books about school covering various topics (starting a new school, dealing with school friendships, school shenanigans), so check these out and let me know what you think! All descriptions come from Goodreads.
---
Sponsored by Graphix, an imprint of Scholastic.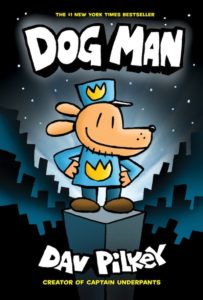 There's a new breed of justice in town, and he's ready to sniff out criminals — as soon as he stops chasing his own tail!
From the creator of Captain Underpants, it's Dog Man, the #1 New York Times bestselling, crime-biting canine who is part dog, part man, and ALL HERO!
George and Harold have created a new hero who digs into deception, claws after crooks, and rolls over robbers. This heroic hound has a real nose for justice, but can he resist the call of the wild to answer the call of duty?
---
Picture Books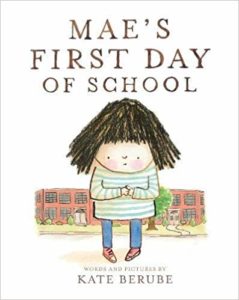 Mae's First Day of School by Kate Berube
As Mae's first day of school approaches she decides she IS. NOT. GOING. School is scary! What if the other kids don't like her? Or what if she's the only one who doesn't know how to write? Or what if she misses her mom? Mae's anxiety only builds as she walks to school. But then she meets Rosie and Ms. Pearl. Will making new friends show her that they can conquer their fears together?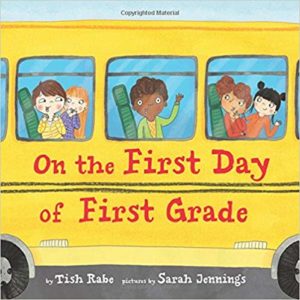 On the First Day of First Grade by Tish Rabe, illustrated by Sarah Jennings
From choosing books to read to building things with clay to performing in a play, there are many exciting firsts to look forward to. Saying good-bye to mom and dad can be hard, but when the school bus pulls up, it's time for some first-grade fun!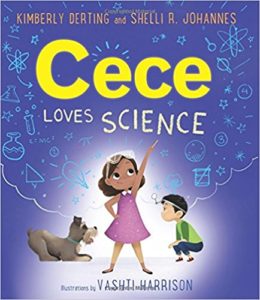 Cece Loves Science by Kimberly Derting, illustrated by Vashti Harrison
Cece, a budding and inquisitive scientist, and her equally curious best friend, Isaac, conduct experiments to see whether Cece's dog, Einstein, will eat his vegetables.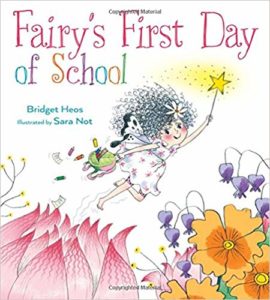 Fairy's First Day of School by Bridget Heos, illustrated by Sara Not
In this humorous and reassuring picture book from the author of Mustache Baby, a sweet fairy has a fun-filled first day at school. Her experience is remarkably similar to the first day of preschool for human children. From circle time (sitting crisscross berry sauce) to center time (art, spells, tooth), all the activities one might encounter at school are explored, with sweet fairy-like touches.
Hello School! by Priscilla Burris
A diverse class of excited youngsters are about to start school and experience all its wonders! Small moments like discovering one's own cubby space and big moments like a first nature walk are all brought to life with inviting artwork. This is a great book to help familiarize children with all the activities they can expect at school, from circle time to snack time to goodbye time, all the while sharing the experiences with lots of great new friends.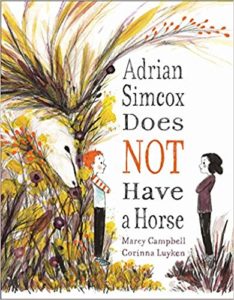 Adrian Simcox Does Not Have a Horse by Marcy Campbell, illustrated by Corinna Luyken
Adrian Simcox tells anyone who will listen that he has a horse–the best and most beautiful horse anywhere. But Chloe does NOT believe him. Adrian Simcox lives in a tiny house. Where would he keep a horse? He has holes in his shoes. How would he pay for a horse? The more Adrian talks about his horse, the angrier Chloe gets. But when she calls him out at school and even complains about him to her mom, Chloe doesn't get the vindication she craves. She gets something far more important.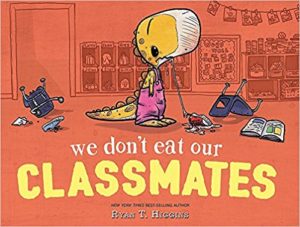 We Don't Eat Our Classmates by Ryan T. Higgins
It's the first day of school for Penelope Rex, and she can't wait to meet her classmates. But it's hard to make human friends when they're so darn delicious! That is, until Penelope gets a taste of her own medicine and finds she may not be at the top of the food chain after all. . . .
Chapter Books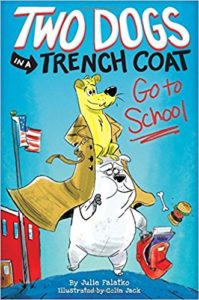 Two Dogs in a Trench Coat Go to School by Julie Falatko, illustrated by Colin Jack
Sassy and Waldo are good dogs. They spend the day keeping their house safe. Has a squirrel ever gotten inside? No! But every day their boy, Stewart, comes home from this terrible place called school smelling like anxiety and looseleaf paper. Sassy and Waldo decide to save Stewart. But they don't let dogs into school. So Sassy and Waldo decide to get creative. They put on an old trench coat, and now everyone at Bea Arthur Elementary thinks they are a new student named Salty from Liver, Ohio. Well, everyone except Stewart. Sassy and Waldo love school! Everything smells like meat and dirty socks. And they discover a whole other way to help out Stewart!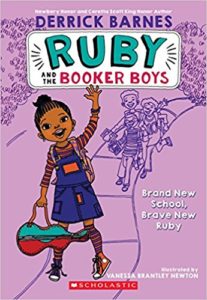 Ruby and the Booker Boys: Brand New School, Brand New Ruby by Derrick Barnes
Eight-year-old Ruby Booker is the baby sis of Marcellus (11), Roosevelt (10), and Tyner (9), the most popular boys on Chill Brook Ave. When Ruby isn't hanging with her friend, Theresa Petticoat, she's finding out what kind of mischief her brothers are getting into. She's sweet and sassy and every bit as tough as her older siblings. She sings like nobody's business; she has a pet iguana named Lady Love; her favorite color is grape-jelly purple; and when she grows up, she's going to be the most famous woman animal doctor on the planet. She's the fabulous, oh-so-spectacular Ruby Marigold Booker!
Middle Grade Books
Harbor Me by Jacqueline Woodson
It all starts when six kids have to meet for a weekly chat–by themselves, with no adults to listen in. There, in the room they soon dub the ARTT Room (short for "A Room to Talk"), they discover it's safe to talk about what's bothering them–everything from Esteban's father's deportation and Haley's father's incarceration to Amari's fears of racial profiling and Ashton's adjustment to his changing family fortunes. When the six are together, they can express the feelings and fears they have to hide from the rest of the world. And together, they can grow braver and more ready for the rest of their lives.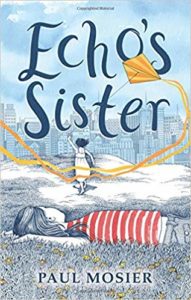 Echo's Sister by Paul Mosier
Twelve-year-old El has planned on making her first week at a new school fantastic. She won't go by her given name, Laughter. She'll sit in the back of the classroom where she can make new friends. She won't even have time to think about all the fun her old friends are having without her. Everything will be great. But when her dad picks her up after school and tells her that her younger sister, Echo, has a life-threatening illness, her world is suddenly turned upside down. And with her parents now pressed for time and money, El feels lost and powerless. Then she befriends Octavius, the only other kid in school who gets what she's going through. As El begins to adjust to her new life, she soon finds that maybe a little hope and a lot of love can overcome any obstacle.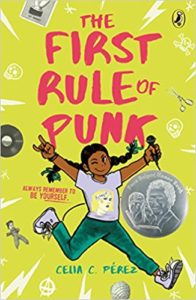 The First Rule of Punk by Celia C. Perez
There are no shortcuts to surviving your first day at a new school—you can't fix it with duct tape like you would your Chuck Taylors. On Day One, twelve-year-old Malú (María Luisa, if you want to annoy her) inadvertently upsets Posada Middle School's queen bee, violates the school's dress code with her punk rock look, and disappoints her college-professor mom in the process. Her dad, who now lives a thousand miles away, says things will get better as long as she remembers the first rule of punk: be yourself. The real Malú loves rock music, skateboarding, zines, and Soyrizo (hold the cilantro, please). And when she assembles a group of like-minded misfits at school and starts a band, Malú finally begins to feel at home. She'll do anything to preserve this, which includes standing up to an anti-punk school administration to fight for her right to express herself!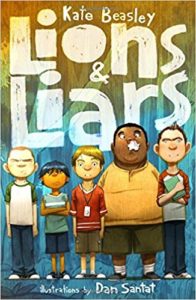 Lions and Liars by Kate Beasley, illustrated by Dan Santat
Frederick Frederickson has a food-chain theory about life. There are lions, like the school bully. Gazelles, like the bullied kids. There are meerkats, and the fleas that live on the butts of meerkats. Frederick's a flea. Fifth grade is off to a terrible start when Frederick is sent to a disciplinary camp for troublesome boys. His fellow troop mates―Nosebleed, Specs, The Professor, and little-yet-lethal Ant Bite―are terrifying. But in between trust-building exercises and midnight escape attempts, a tenuous friendship grows between them. Which is lucky, because a Category 5 hurricane is coming and everyone will have to work together―lions and fleas alike―to survive!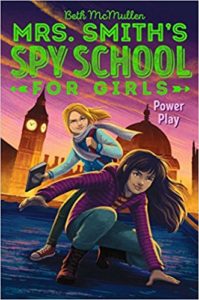 Mrs. Smith's Spy School for Girls: Power Play by Beth McMullen
Everyone at The Smith School is obsessed with Monster Mayhem, the latest reality video game craze. But when Drexel Caine, the mastermind behind the game is suddenly kidnapped, it becomes clear that the kidnappers are playing for more than just special badges. After Drexel's son—who is Abby's friend, Toby—receives a cryptic message, Abby and her friends discover the kidnapping is part of a bigger scheme that could take down The Center for good.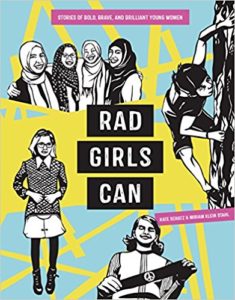 Rad Girls Can: Stories of Bold, Brave, and Brilliant Young Women by Kate Schatz, illustrated by Miriam Klein Stahl
In Rad Girls Can, you'll learn about a diverse group of young women who are living rad lives, whether excelling in male-dominated sports like boxing, rock climbing, or skateboarding; speaking out against injustice and discrimination; expressing themselves through dance, writing, and music; or advocating for girls around the world. Each profile is paired with the dynamic paper-cut art that made the authors' first two books New York Times best sellers. Featuring both contemporary and historical figures, Rad Girls Can offers hope, inspiration, and motivation to readers of all ages and genders.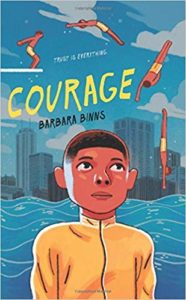 Courage by Barbara Binns
Ever since T'Shawn's dad died, his mother has been struggling to keep the family afloat. So when he's offered a spot on a prestigious diving team at the local private swim club, he knows that joining would only add another bill to the pile. But T studies hard and never gets into trouble, so he thinks his mom might be willing to bear the cost… until he finds out that his older brother, Lamont, is getting released early from prison. Luckily, T'Shawn is given a scholarship, and he can put all his frustration into diving practices. But when criminal activity increases in the neighborhood and people begin to suspect Lamont, T'Shawn begins to worry that maybe his brother hasn't left his criminal past behind after all.
Graphic Novels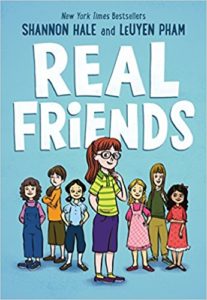 Real Friends by Shannon Hale, illustrated by LeUyen Pham
Shannon and Adrienne have been best friends ever since they were little. But one day, Adrienne starts hanging out with Jen, the most popular girl in class and the leader of a circle of friends called The Group. Everyone in The Group wants to be Jen's #1, and some girls would do anything to stay on top . . . even if it means bullying others. Now every day is like a roller coaster for Shannon. Will she and Adrienne stay friends? Can she stand up for herself? And is she in The Group―or out?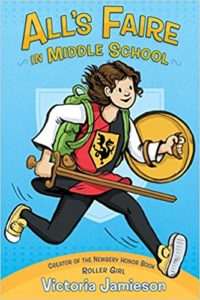 All's Faire in Middle School by Victoria Jamieson
Eleven-year-old Imogene (Impy) has grown up with two parents working at the Renaissance Faire, and she's eager to begin her own training as a squire. First, though, she'll need to prove her bravery. Luckily Impy has just the quest in mind—she'll go to public school after a life of being homeschooled! But it's not easy to act like a noble knight-in-training in middle school. Impy falls in with a group of girls who seem really nice (until they don't) and starts to be embarrassed of her thrift shop apparel, her family's unusual lifestyle, and their small, messy apartment. Impy has always thought of herself as a heroic knight, but when she does something really mean in order to fit in, she begins to wonder whether she might be more of a dragon after all.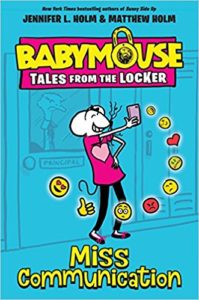 Babymouse Tales from the Locker: Miss Communication
Ping! Ping! The sound of texting is in the air. Everyone at middle school has a cell phone. Babymouse just has to get one, too. But having a phone is a lot of work! Building up a following on SoFamous, learning text lingo, keeping up with all the important koala videos . . . Babymouse is ready to tear her whiskers out. Why does it suddenly feel like she has no friends? Somehow, Babymouse needs to figure out how to stop worrying and love her smartphone . . . if Locker doesn't eat it first.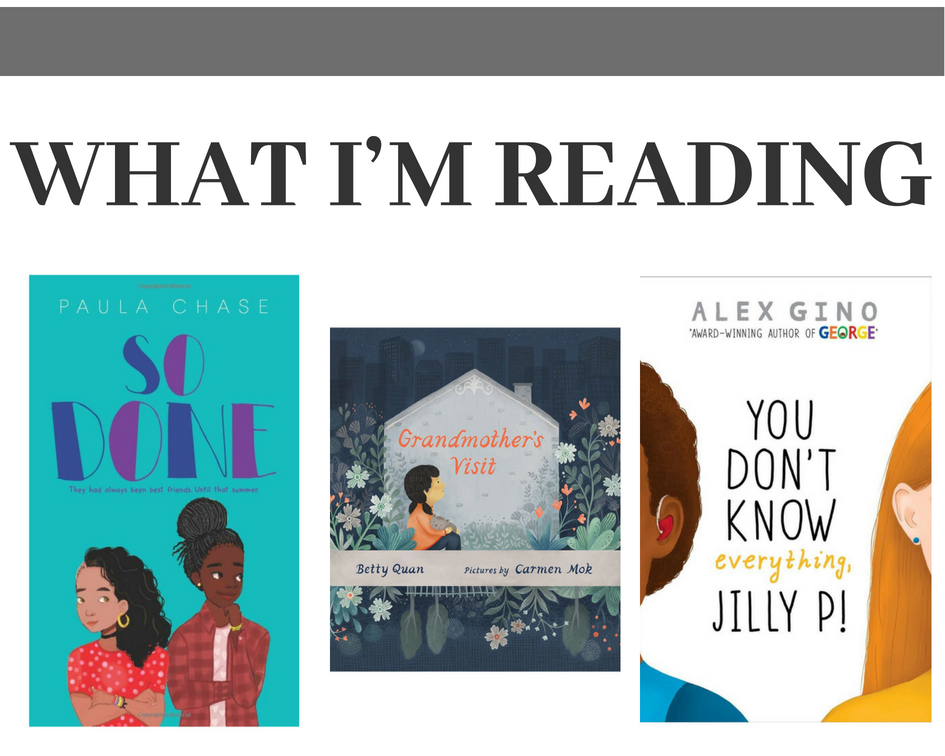 So Done
by Paula Chase is a wonderful book about friendships and growing up. Jamila Phillips and Tai Johnson have been inseparable since they were toddlers, having grown up across the street from each other in Pirates Cove, a low-income housing project. As summer comes to an end, Tai can't wait for Mila to return from spending a month with her aunt in the suburbs, but when she returns, Mila is different. I would recommend this book for upper middle grade and YA readers.
I really loved Grandmother's Visit by Betty Quan, illustrated by Carmen Mok. It is the story of Grace and her relationship with her grandmother. The subject matter of Grace's grandmother's declining health is treated in a beautiful, sensitive way for young readers.
You Don't Know Everything, Jilly P! is Alex Gino's second middle grade novel following the success of his first book, George. I enjoyed reading about Jilly and her realizations that there are many things she doesn't know–and by seeking to do better she is also working to discover how to support her family and her friends.
Around the web…
Check out this activity kit from the National Ambassador for Children's Literature, Jacqueline Woodson!
13 Awesome Children's Libraries Around the U.S. That Make You Want to Be a Kid Again, via Book Riot
50 Must-Read Fairytale Retellings for Middle Grade and Picture Book Readers, via Book Riot
Check out the new list of books for Little Free Library's Action Book Club!
New Giveaway Alert!
Hey, we have a new giveaway for August! Get 16 awesome books featured on the Recommended podcast. Enter here by August 31!
I'd love to know what you are reading this week! Find me on Twitter at @KarinaYanGlaser, on Instagram at @KarinaIsReadingAndWriting, or email me at karina@bookriot.com.
Until next time!
Karina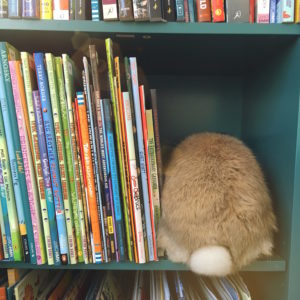 Found in my book stacks!
*If this e-mail was forwarded to you, follow this link to subscribe to "The Kids Are All Right" newsletter and other fabulous Book Riot newsletters for your own customized e-mail delivery. Thank you!*