Hey YA readers: I'm so excited to share this interview with you all to start your week!
"What's Up in YA?" is sponsored by #murdertrending by Gretchen McNeil from Freeform Books.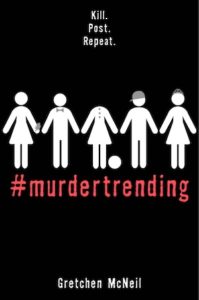 When seventeen-year-old Dee Guerrera wakes up, in a haze, on the ground of a dimly lit warehouse, she realizes she's about to be the next victim of the app. Knowing hardened criminals are getting a taste of their own medicine in this place is one thing, but Dee refuses to roll over and die for a heinous crime she didn't commit. Can Dee and her newly formed posse, the Death Row Breakfast Club, prove she's innocent before she ends up wrongfully murdered for the world to see? Or will The Postman's cast of executioners kill them off one by one?
---
With the release of a new series of Fear Street books and the enduring love for horror, it felt only appropriate to talk to the king of scary books for young readers: R.L. Stine. The first installment in the new Fear Street line, You May Now Kill The Bride is the campy, fun, and creepy horror you have come to know from his teen books, with a package that looks straight out of the 90s. His next entry into the new series, The Wrong Girl, will hit shelves September 25, and a third, Drop Dead Gorgeous, will come out in early February 2019.
In addition to the series, though, Stine has offered up even more excellent horror this year. Scream and Scream Again hit shelves in late July, and it's an anthology featuring the voices of some of the scariest writers today. It includes many well-known YA authors, including Robin Wasserman, Emmy Laybourne, and Tonia Hurley, alongside authors like Megan Abbott, known for her immense YA crossover appeal.
One of the things about interviewing someone as well-known and loved as Stine is this: how do you ask a good question? I had some ideas for what I knew you all might want to know, but because I found myself wondering what else might be interesting to know that I couldn't come up with myself, I opened up the opportunity for some of Book Riot's Insiders to ask a question. What they added to this interview was awesome.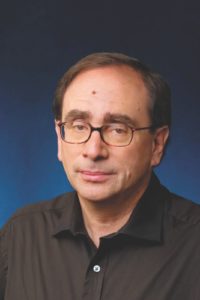 Without further ado, a few minutes with R.L. Stine!
What made you interested in revisiting your Fear Street series with the recent Return to Fear Street series? This is the series second reboot in recent years: what makes it still exciting to write?
The world of the Fear Family is hard to leave. I don't get to write about that kind of dark evil in Goosebumps. A lot of my original Fear Street readers from the 90's are nostalgic for Fear Street. They keep asking me to do new ones. And I'll do anything for my 90's readers!
Can you talk about some of the new projects on the horizon for you, including your upcoming graphic novels?
There are two more new Return to Fear Street novels coming. And I'm doing four graphic novels for middle-grade kids for BOOM! Studios. The series title is JUST BEYOND, and they are scary Goosebumps-type stories only in comics form. Fun!
Also, I'm really looking forward to the release of our movie sequel, Goosebumps 2: Haunted Halloween, on October 12.
What are your thoughts on the new Goosebumps movie coming soon and what, if any, parts of the process have you been involved with? 
The movie features a whole new cast and tells a brand-new Halloween story. Of course, the evil dummy Slappy is the star villain. I don't get too involved in the process. I made some comments on the script. And I MAY have another cameo. I'm not allowed to say.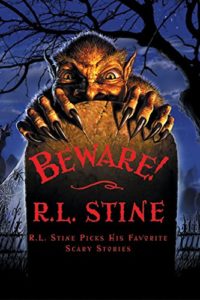 Of all the books for young readers you've written, what has been your favorite and why?
I compiled a book for HarperCollins called BEWARE! It's an anthology of all of MY favorite authors and poets and illustrators. I'm very proud of that book.
Why do you enjoy writing books that scare kids and teens? What makes it continue to be fulfilling this many years and books on? 
I just like scaring kids.
Imagine for a moment you don't write fear. What genre would you be writing? Why?
That's an easy one. I wrote about a hundred joke books and I was editor of a humor magazine called BANANAS for ten year before I got scary. I never planned to write horror. I always wanted to be funny.
(Editor's note: you can find those funny books under the author Jovial Bob Stine)
What has been your all-time favorite interaction with a young reader, be it in person, via mail, via email?
My all-time favorite letter, from a boy:
Dear R.L. Stine,
I've read 40 of your books, and I think they're really boring.
What were some of your favorite horror writers or books growing up?
I LOVED the EC horror comics, Tales from the Crypt and The Vault of Horror. They were very influential on my writing later on. Also, I was nuts about MAD Magazine.
If you were to recommend adult books for fans who grew up with your books and are now adults, what would be your top picks for them?
First of all, I always recommend my favorite Ray Bradbury book: Something Wicked This Way Comes. And I recommend what I think is the scariest Stephen King book ever: Pet Semetary.
____________________
Big thanks to R.L. Stine for chatting & a big thank you to all of you who are reading this now.
See you again later this week!