Happy Friday, bards and Beyonders! Today we're going to talk about (the lack of) diversity in speculative fiction publishing, celebrity D&D feuds, alien encounters, unicorns, and much more, and the review of the day is for Daughters of the Storm by Kim Wilkins. Allons-y!
---
This newsletter is sponsored by Bellewether by Susanna Kearsley.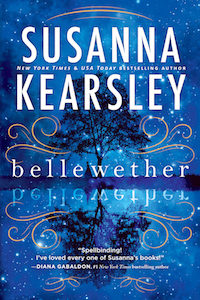 It's late summer and war is raging. In this complex and dangerous time, a young French Canadian lieutenant is captured and billeted with a Long Island family, an unwilling and unwelcome guest. As he begins to pitch in with the never-ending household tasks and farm chores, Jean-Philippe de Sabran finds himself drawn to the daughter of the house. Slowly, Lydia Wilde comes to lean on Jean-Philippe, true soldier and gentleman, until their lives become inextricably intertwined. Legend has it that the forbidden love between Jean-Philippe and Lydia ended tragically, but centuries later, the clues they left behind slowly unveil the true story.
---
Black writers are disproportionately rejected from the major publishing markets in speculative fiction, and there are numbers to prove it. If you're a writer of color, this report is essential reading; if you're a reader who wants to make your TBR as inclusive as possible, ditto. And I strongly urge you to look through Fireside magazine's back issues, if you love short fiction; they're cheap and contain great work by both established and new authors! For example, Issue 43 (only $2) has stories from Kevin Hearne, Mikki Kendall, and Malka Older. Shout-out also to FIYAH, started by former Book Riot contributors Troy Wiggins and Justina Ireland (whose book Dread Nation I just got done gushing about).
In ridiculous news, this my favorite feud ever: Joe "I Play a Werewolf On TV" Mangianello has questioned Vin "The Last Witchhunter is Based on My D&D Character" Diesel's D&D cred. I demand a live nerd-off!
Do you remember the worst witch? I sure do, and so does Annika, as evidenced by her witchy round-up.
The truth is out there! I love this round-up of all books alien-inclined, and extremely cosign the Octavia Butler, Ursula Le Guin, Cixin Liu, and Ted Chiang recommendations.
Need more lady love in your SF/F? We've got a post for that.
Ahoy! There's also a pirate round-up, me hearties! Arrrrrr! (Related: National Talk Like a Pirate Day is approaching, and I can't promise that I won't take advantage of it.)
The Doctor is ALMOST in, and here are some books to tide you over while you await her arrival.
Need a feel-good rabbithole to fall down? Have the videos of the Matilda Challenge.
For even more feel-good-ness, have some unicorn bookmarks.
You've still got time to enter the Recommended giveaway! It's for 16 great books, and it closes on August 31st.
Today I've got a meaty historical fantasy for you to sink your brain-teeth into.
Daughters of the Storm by Kim Wilkins
Trigger warning: self-harm, harm to children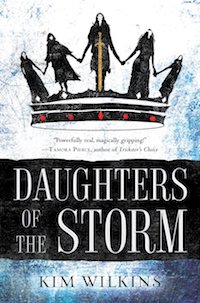 It's been a minute since I read a historical fantasy I enjoyed as much as Daughters of the Storm. Kim Wilkins is an Australian author of quite a few books, only a handful of which are available in the US currently. Let's all read this one (and its sequel) so that more come our way, mmkay?
In this Nordic-inspired family saga, King Athelrick of Almissia has been laid low by a sudden brain fever and his second wife, Gudrun, is at her wits' end trying to keep his illness a secret. When the king's oldest daughter, a warrior named Bluebell, finds out that her father is sick and that she's been kept in the dark, she summons her other four sisters back home and imprisons Gudrun, whom she distrusts completely. The sisters' quest to cure their father — at any cost — makes up the bulk of this first in a series, and had me spellbound from start to finish.
It's not often that you get complex sibling relationships on this level in epic fantasy, and I am here for it. Bluebell is pragmatic, stubborn, and just generally furious; Rose, the next oldest, has been married off for an alliance and is struggling with her role as mother, queen, and a woman with her own needs; Ash is terrified of her developing magical powers, but knows that she needs to use them for her family; and the teenaged twins, Ivy and Willow … What to say about the twins? Possibly the least traditionally likable, they were also immediately familiar to me. Ivy is boy-crazy and self-absorbed, while Willow is a zealot and an outsider, and both of them sent me back to my (highly uncomfortable, please let me never have to relive them) teen years.
And then of course there's Gudrun's son Wylm, the one male POV in the whole book, who is determined to carve out a destiny for himself no matter what it does to his stepsisters. But Wylm has his own sympathetic moments despite his (truly terrible) choices. And this is Wilkin's genius — no one is a hero, but several characters are heroic in their own way. The complexities and intersections of their lives are beautifully rendered, as is the world they move through. And the ending, while clearly setting the stage for a second book, is extremely satisfying.
If you're a fan of Hild by Nicola Griffith, Naomi Novik's fairytale rewrites, sister stories, magic and politics, and great world-building, pick this one up.
And that's a wrap! You can find all of the books recommended in this newsletter on a handy Goodreads shelf. If you're interested in more science fiction and fantasy talk, you can catch me and my co-host Sharifah on the SFF Yeah! podcast. For many many more book recommendations you can find me on the Get Booked podcast with the inimitable Amanda.
Your fellow booknerd,
Jenn