Amigos! Welcome to In The Club, a newsletter of resources to keep your book group well-met and well-read.
This feels like the right time to confess that every time I type the words "in the club," I most definitely start rapping my very own remix of what was once a college party anthem:
You can find me in the club… of books so there's no snubs
Look buddy I got the blurbs if you're into bookish plugs
I'm into reading ARCs from the big and the indie pubs…

What's that? I'm a loser? Right. Let's get back to bookish things.
---
This newsletter is sponsored by Amazon Deals.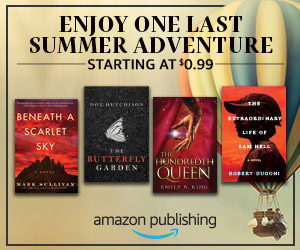 Save the best read for last. Finish your summer reading list with titles as low as $0.99.
---
Don't forget to enter to win 16 of the awesome books featured on the Recommended podcast!  Enter here to win by August 31.
Library Love… Lots and Lots of Love: According to a survey by the Institute of Museum and Library Services, people visited public libraries more than a billion times in 2015. Yes folks: billion, as in 1,000,000,000 reasons why that Stupid McStupidface suggestion that Amazon should replace public libraries can go suck it.
Book Club Bonus: If you're lucky enough to live somewhere with multiple libraries within a reasonable distance, plan a library tour as a fun field trip (I totes did this on my own one day and had a total nerd blast). Explore each library's reading/study rooms, outdoor spaces, and maybe find a good spot to hold your next meeting. If you come across a Friends of the Library book sale, maybe make a game of hunting for your next club read there.
Related: If you should so happen to find any live snakes at your local library… eek. Thoughts and prayers.
Love Wins, Bitches! And Bookstores Too. In a feel-good update to a story of shitty people being shitty, over 500 booklovers showed up in a display of solidarity to support Bookmarks Bookshop, a socialist bookstore in London that was recently attacked by a group of crazies. 
Book Club Bonus: If you usually (or just occasionally) buy your book club reads and want to do a little good with your purchase, consider getting your books from your favorite progressive, socially conscious indie (or discover a new one!). The store may already have a book club of their own going that your group can tack onto. The indie where I work offers a month-long discount on our current book club pick and will even offer a small discount to book clubs who want to place a bulk order for picks of their own.
Space Force: Nah. Astronomy: Yes! So that Space Force thing can pound sand. You know what doesn't suck though? Science. If you too are on the side of science and looking to learn more about astronomy, I salute you. Get into some space science with this list of books on the subject for beginners. Also, I hope 45 steps barefoot on tiny LEGOs.
Book Club Bonus: Gather your book club for an evening of stargazing! Discuss the most interesting facts you came across in your reading, or maybe draw up a quiz of fun astronomical facts, myths, etc. to test your club's knowledge. Then stare up at the sky (an adult beverage might be nice here, just saying) and try to pinpoint a few constellations. Kudos if you have access to a telescope invitemepleasepleaseplease.
Rock Your Bookshelf: Justin Timberlake took to Instagram last week to announce the upcoming release of his book Hindsight: & All the Things I Can't See in Front of Me. It's a collection of pictures and stories from his life and I won't lie: I'm into it. This Señorita is ready to bring SexyBack and you can Cry Me a River if you've got a problem I'M SORRY I CAN'T HELP MYSELF.
Book Club Bonus: There are so many fantastic memoirs, biographies and autobiographies by and about music and musicians, so why not go for a music-themed book club? Pick a musician or musical genre that piques your interest and use related music as the soundtrack for your club meeting. I think it would be super interesting to listen with a new understanding of the music's origin and historical context.
Related: This list of fiction and non-fiction books about music will get you started.
So You Never Got Your Hogwarts Letter. I feel you, fam. It still stings. But how cool would it be to take a college course that uses Harry Potter to teach its curriculum? I'd take that consolation prize.
Book Club Bonus: I heart the idea of crafting a curriculum around a book. Have everyone in your book group come to your club prepared to discuss what creative course they'd teach around the plot of your club pick.
---
That's it for today, clubgoers. If you want to be friendly on the innanets, you can find me on el Twitter @buenosdiazsd or on the gram @buenosdiazsd. Shoot me an email at vanessa@riotnewmedia.com if you have any feedback or just to say hola.
Stay bad & bookish, my friends. Till next time!
Vanessa