Hey Kid Lit friends,
Sometimes you just need books about unicorns, so I thought I would give you that gift today. Somehow, life is a little bit better knowing that kids love and believe in these magical creatures.
---
Sponsored by Graphix, an imprint of Scholastic.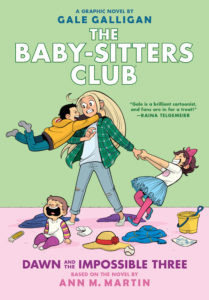 Dawn Schafer is the newest member of The Baby-sitters Club. While she's still adjusting to life in Stoneybrook after moving from sunny California, she's eager to accept her first big job. But taking care of the three Barrett kids would be too much for any baby-sitter. The house is always a mess, the kids are out of control, and Mrs. Barrett never does any of the things she promises. On top of all that, Dawn wants to fit in with the other members of the BSC, but she can't figure out how to get along with Kristy. Was joining The Baby-sitters Club a mistake?
---
Picture Books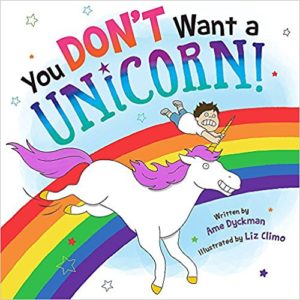 You Don't Want a Unicorn by Ame Dyckman, illustrated by Liz Climo
When a little boy throws a coin in a well asking for a pet unicorn, he has no idea what kind of trouble he's in for. Unbeknownst to him, unicorns make the absolutely worst pets: they shed, they poke holes in your ceiling, and they make a big mess.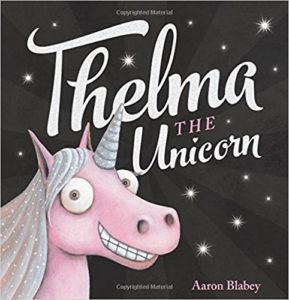 Thelma the Unicorn by Aaron Blabey
Thelma dreams of being a glamorous unicorn. Then in a rare pink and glitter-filled moment of fate, Thelma's wish comes true. She rises to instant international stardom, but at an unexpected cost. After a while, Thelma realizes that she was happier as her ordinary, sparkle-free self. So she ditches her horn, scrubs off her sparkles, and returns home, where her best friend is waiting for her with a hug.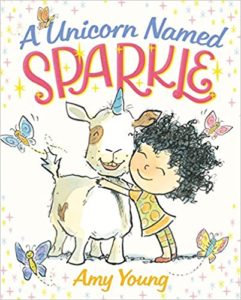 A Unicorn Named Sparkle by Amy Young
When Lucy sees an ad in the newspaper for a unicorn, she sends in her twenty-five cents and waits four to six long weeks for her very own unicorn to arrive. She imagines the flowers that she'll braid into his beautiful pink mane, and she even picks the perfect name for him: Sparkle. But when Sparkle arrives, his ears are too long, his horn is too short, he smells funny–and oh, he has fleas. Lucy isn't pleased, but in the end she warms up to Sparkle and realizes that even though he wasn't exactly the unicorn she wanted, he might be just the one she needs.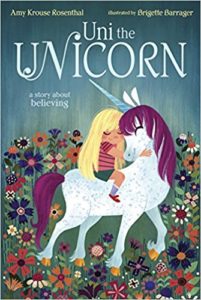 Uni the Unicorn by Amy Krouse Rosenthal, illustrated by Brigette Barrager
Uni is just like all the other unicorns . . . except for one thing: she believes that little girls are REAL. This magical story by Amy Krouse Rosenthal (author of I Wish You More) illuminates Uni's not-so-fantastical dream and celebrates the sparkle of believing. Uni the unicorn is told there's no such thing as little girls! But no matter what the grown-up unicorns say, Uni believes that little girls are REAL. Somewhere there must be a smart, strong, wonderful, magical little girl waiting to be best friends. In fact, far away (but not too far away), a real little girl believes there is a unicorn waiting for her, too. This magical story of friendship reminds believers and nonbelievers alike that sometimes wishes really can come true.
Middle Grade Books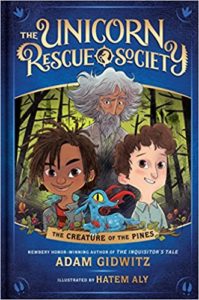 The Unicorn Rescue Society by Adam Gidwitz, illustrated by Hatem Aly
Elliot Eisner isn't exactly thrilled with the first day at his new school. His class is going on a field trip to a creepy forest called the Pine Barrens. The trip is being led by Professor Fauna, the weirdest teacher Elliot has ever met. And the only kid who will talk to Elliot, Uchenna Devereaux, isn't afraid of danger. She likes danger. Elliot and Uchenna are about to become part of a secret group of adventurers, The Unicorn Rescue Society, whose goal is to protect and defend the world's mythical creatures. Together with Professor Fauna, Elliot and Uchenna must help rescue a Jersey Devil from a duo of conniving, greedy billionaires, the Schmoke Brothers.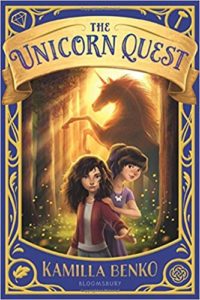 The Unicorn Quest by Kamilla Benko
Claire Martinson still worries about her older sister Sophie, who battled a mysterious illness last year. But things are back to normal as they move into Windermere Manor . . . until the sisters climb a strange ladder in a fireplace and enter the magical land of Arden. There, they find a world in turmoil. The four guilds of magic no longer trust each other, the beloved unicorns have disappeared, and terrible wraiths roam freely. Scared, the girls return home. But when Sophie vanishes in the night, it will take all of Claire's courage to climb back up the ladder, find her sister, and uncover the unicorns' greatest secret.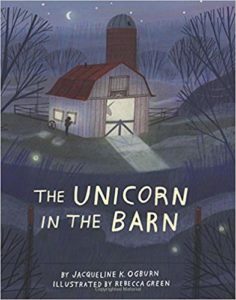 The Unicorn in the Barn by Jacqueline Ogburn, illustrated by Rebecca Green
For years people have claimed to see a mysterious white deer in the woods around Chinaberry Creek. It always gets away. One evening, Eric Harper thinks he spots it. But a deer doesn't have a coat that shimmers like a pearl. And a deer certainly isn't born with an ivory horn curling from its forehead. When Eric discovers the unicorn is hurt and being taken care of by the vet next door and her daughter, Allegra, his life is transformed.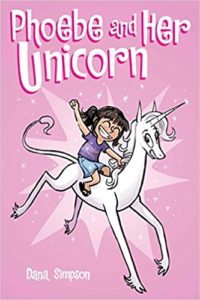 Phoebe and Her Unicorn by Dana Simpson
A boy and his dog . . . a girl and her . . . unicorn? It all started when a girl named Phoebe skipped a rock across a pond and accidentally hit a unicorn in the face. Improbably, this led to Phoebe being granted one wish, and she used it to make the unicorn, Marigold Heavenly Nostrils, her obligational best friend. But can a vain mythical beast and a nine-year-old daydreamer really forge a connection? Indeed they can, and that's how Phoebe and Her Unicorn unfolds.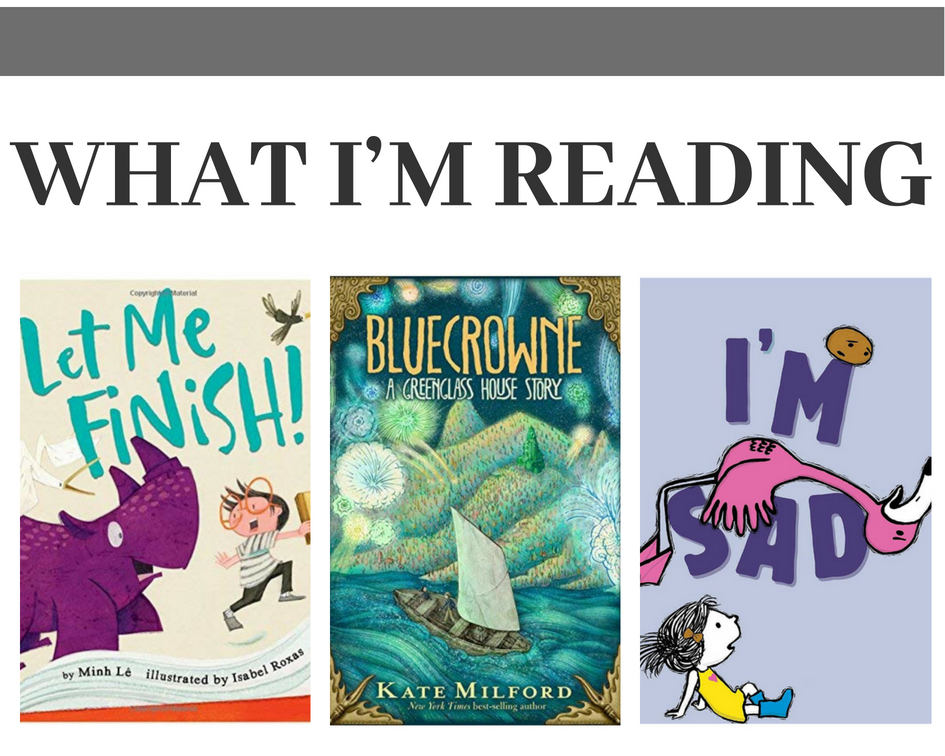 This week I'm reading Let Me Finish by Minh Le, illustrated by Isabel Roxas, which is a great book for any bibliophile who wants to read in peace without interruption. Bluecrowne is a prequel to the Edgar Award winning Greenglass House by Kate Milford, and the world is as rich and vibrant as Milford's previous books. I'm Sad by Michael Ian Black, illustrated by Debbie Ridpath Ohi, is a wonderful picture book about feelings, and how it's okay to be sad and that friends don't always have to cheer you up; they just have to stay by your side.
Don't forget to enter our current giveaway: $500 of the year's best YA fiction and nonfiction so far. Only two days left to enter!
I'd love to know what you are reading this week! Find me on Twitter at @KarinaYanGlaser, on Instagram at @KarinaIsReadingAndWriting, or email me at karina@bookriot.com.
Until next week!
Karina
*If this e-mail was forwarded to you,
follow this link to subscribe
to "The Kids Are All Right" newsletter and other fabulous Book Riot newsletters for your own customized e-mail delivery. Thank you!*