Hey YA Fans: Let's talk about some of the books that haven't been talked about enough so far this year.
"What's Up in YA?" is sponsored by The Edge of Over There by Shawn Smucker.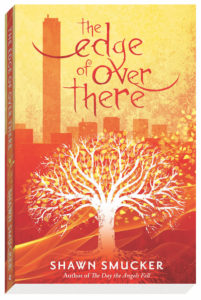 Abra Miller carries a secret and a responsibility she never expected.
Abra finds a clue to the whereabouts of the next Tree of Life when an ominous woman—who looks exactly like a ghost from her past—compels her to travel to New Orleans where she'll find one of seven gateways between this world and Over There. As Abra enters the Edge of Over There and begins her pursuit of the Tree once more, she doesn't know whom to fear or whom to trust.
She's also starting to think that some doorways should never be opened.
____________________
Welcome new subscribers and long-timers! This week kicks off "What's Up in YA?" going twice a week. You'll see all of the YA news and talk in your inboxes on Mondays and Thursdays.
Those who've been around the newsletter for a while know that every year I like to ask for your favorites, and this mid-year is no exception. Today, I'll share a small number of YA titles from the first half of 2018 that I think deserve a little more love, and I'd love if you'd fill out this quick, painless survey to tell me what 1. your favorite YA book published so far in 2018 has been and 2. what YA book published so far this year you think deserves a shout out. I'll do a top ten of each and round them up later this month. Drop your picks in this form by July 23 to be included.
Here are a few of the books I think deserve a little more reader love this year. All have been published and are available now from your favorite bookstore or library. My reading tends toward a lot of contemporary fiction, so know this list reflects that (which is precisely why I like asking y'all to throw your titles at me!):
This was my first Chan book but it will certainly not be my last. Set in a small town in Indiana, the story follows 15-year-old Ronney as he navigates a father struggling with mental illness, a little sister who is a genius, a crush on a girl who has been his best friend but seems like she's keeping a secret from him, and oh, a bunch of wild animals on the loose thanks to a heavy wind storm.
At times funny, this book is ultimately a slice of life about a boy who doesn't know how to be who he truly is around people who aren't the people he thought they were. The exploration of mental illness here is powerful, and the way that we see Ronney deal with his crush's pulling away from him makes the heart ache (and never does she become a manic pixie dream girl nor become faulted for her decisions). Be aware this one talks about suicide.
…And I didn't even talk about the kid who is stalking Ronney, begging him for his jeans. Worth noting, too, that Ronney is a mixed-race kid in small town Indiana and that plays an important role in the book.
When I say this is a book to hand to fans of John Green, I mean it.
Scott has a history of being a quitter, and this is something his immigrant parents cannot stand. They want him to have a better life, and they're determined to help him do so by encouraging him to discover grit and power through the things he doesn't love.
But when the parents go out of the country, Scott decides to ditch his internship and travel down to Washington, D.C., in order to befriend a professor who studies grit. He believes she'll be able to help him solve his problems.
Except, of course, he only encounters more along the way. This book is about finding your own path, about crossword puzzles, and about how to live up to the expectations of your parents (though maybe without the running away from home part? Or maybe WITH it).
Part comic, part verse, and entirely nonfiction, this book blew me away with how well constructed and creative it was. As the title suggests, it's a look at the life of Mary Shelley and how it was she created the classic Frankenstein.
It's not what you think.
Judge's book shows us the back story of Shelley, from her youth through her publication of the famous book, and it explores in depth the truth behind the myth that she wrote the book on a dare. Sure, there was a dare involved, but by leveling her talent with that, her hard work and thinking about the story prior to that are undermined.
Smart, captivating, and one you'll want to pick up for the construction itself.
I've tried to highlight books I haven't talked about in the newsletter so far (or featured an author interview/essay for), but I honestly cannot remember if this is one I've talked about yet. In either case, it's worth mentioning (again, maybe).
Goo writes some of the best rom-coms in YA. This one follows Clara Shin, perhaps best described as a bit…squirrely. She likes to have attention and cause trouble, but it's nothing that's especially destructive. Just mildly disruptive. But one joke that goes too far causes her father to step in and decide that her punishment will be a summer spent working his food truck….with the girl from school she absolutely cannot stand.
It goes about as well as you might expect.
Toss in a boy named Hamlet, a sweet relationship between Clara and her father, and food trucks (!!), the recipe here is for a satisfying and funny romp. Maybe pair this one up with Siobhan Vivian's Stay Sweet for two great reads about girls working in food over the summer…with weirdly similar outcomes, despite very different means of getting there.
____________________
See you again on Thursday, where we'll round up some recent YA news, great book deals, and more. And don't forget to drop your favorite reads and most underrated YA picks of 2018 so far in the form.