Welcome back to In The Club, a newsletter of resources to keep your book group well-met and well-read. Let's dive in.
---
This newsletter is sponsored by Portrait of a Sister by Laura Bradford.
Two Amish sisters, who made vastly different choices in life, are forced to come together after the death of their mother. One sister has chosen the Amish life, while the other enjoys the freedoms of an "English" lifestyle. National bestselling author Laura Bradford delivers a poignant novel of what it means to be torn between two worlds, the duty of family, and the desires of one's own heart.
---
Announcing our latest giveaway! Want to win $500 worth of this year's best YA books (so far)? You can enter right here.
Speaking of best: Our Best Books of 2018 So Far is live!
Book group bonus: Which of these has your group read? Which are on your list? Which will you add?
The Tonight Show is starting a book club, and the first pick is Tomi Adeyemi's Children of Blood and Bone!
Book group bonus: This is a great example of how book group voting can work on a large scale; Fallon originally picked 5 books and let his audience choose. If you've never done a book group vote, there's no time like the present!
Put all this sunshine to good use: Susie picked the top beach reads of 2018.
Book group bonus: Poll your club for their top beach reads and then plan a trip to the beach with a book swap!
Let's talk about neurodiversity! Jaime put together 50 must-reads across both fiction and nonfiction.
Book group bonus: If you want to tick two boxes with one read, Talia Hibbert's A Girl Like Her is not only an #ownvoices novel about a woman on the autism spectrum, it's a lovely feminist romance with a ton of fodder for discussion. Traditional male and female roles, relationship dynamics, family dynamics, small-town situations, it's really got it all.
And speaking of how brains work, June was Brain Awareness Month and I forgot I was sitting on this round-up.
Book group bonus: The adaptation of Brain on Fire is now on Netflix, so you could do a great Page-to-Screen discussion for this one!
Does your summer reading have a playlist? Thanks to this post, I'm now inspired to make one.
Book group bonus: This would be a fun exercise both to do as a group and to do separately and then discuss! Plus you get to argue about what your book group's theme song would be. And then maybe stage a slow-motion walk towards a camera while playing it. (What, y'all don't do that?)
Spotlight on: Anger is a Gift by Mark Oshiro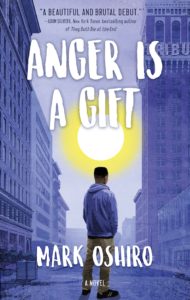 I first met Mark at LeakyCon (before it was GeekyCon), and was so impressed with his humor and thoughtfulness as he spoke on various panels. And then I fell down the rabbithole of Mark Reads, which is one of the most interesting interactive fan projects I've had the pleasure to see. Then he came to Book Riot Live, both years! So to say that I was excited when his debut novel came out was an understatement — and then I read it.
I could summarize it for you, but I'll let Mark do that with this great video. You can immediately see why I think it will make a great book club pick — there's so much to talk about both within the novel itself, and in terms of the connections Mark is drawing to what's going on in the present-day United States. And to help you out a bit more with discussion points, here's an interview with Mark from Book Riot.
Mark mentions in the interview that he originally conceived the novel as sci-fi. We didn't get that (and I can see why he changed it), but we did get a short sci-fi story Mark wrote as part of the Future Tense project. Using that as a writing sample, you could talk about his style with sci-fi verses contemporary fiction as well.
And that's a wrap: Happy discussing! If you're interested in more science fiction and fantasy talk, you can catch me and my co-host Sharifah on the SFF Yeah! podcast. For many many more book recommendations (including the occasional book club question!) you can find me on the Get Booked podcast with the inimitable Amanda.
Your fellow booknerd,
Jenn
More Resources: 
– Our Book Group In A Box guide
– List your group on the Book Group Resources page